Harry Potter and the Deathly Hallows: Parts 1 and 2
The three main characters, Harry Potter, Ron Weasley, and Hermione Granger, were perfectly cast with Daniel Radcliffe, Rupert Grint, and Emma Watson, respectively. Audiences got to see these three kids grow up as people and actors over the years, and Warner Bros. executives were able to keep them and the rest of the all-star cast together until the final film in 2011.
While the first six books were adapted to the big screen in single installments, the seventh was split into two films for a couple of reasons: first and most important, to convey the story without leaving too much on the cutting-room floor; and second, to maximize profits—call me cynical. This seemed to work out OK for the studio since the franchise is the highest grossing in Hollywood history. Regardless, I believe the studio left a lot of money on the table, as from Goblet of Fire onward, each film could have been split into two parts and fans wouldn't have minded one bit.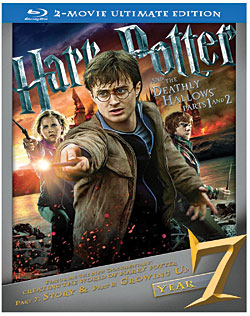 In Part 1, the wizarding world has become a dangerous place. The long-feared war has begun, and the Dark Lord has seized control of the Ministry of Magic and Hogwarts, terrorizing and arresting all who might oppose him. Harry, Ron, and Hermione are on the run in search of the magical Horcruxes and must discover a way to destroy them in order to defeat Voldemort once and for all.
While Part 1 is a slow build toward a cliffhanger ending, Part 2 is a pure action film from the first moment that Voldemort steals the Elder Wand from Dumbledore's casket. But all is not lost; Harry and his friends continue to hunt down and destroy the Horcruxes that hide tiny pieces of Voldemort's soul. Their quest takes them to Gringotts Bank and into the vault of Bellatrix Lestrange, eventually leading them back to Hogwarts. It is there that Harry confronts the new headmaster, his nemesis Professor Snape.
Both films are extremely dark in tone and look and will test the ability of your display to render deep blacks and revealing shadows. The color palette looks like a Dementor has had its way with it, as it's generally drained of any life. But there are times when it really jumps to life with a vault full of gold or a colorful trip to the past. Detail is generally good in close-ups and midrange shots, but longer, sweeping camera pans are a tad soft by comparison. The DTS-HD Master Audio 5.1 soundtracks are outstanding and feature enveloping mixes, impressive imaging across the soundstage, and window-rattling bass—demo-worthy in every respect.
The six-disc Ultimate Edition release complements the other UE sets with plenty of swag and hours of supplemental features. The box design is the same and looks good on a bookshelf. In addition to the disc-based featurettes, it also includes a 48-page hardcover book, four character cards, a standard DVD of each film, and the dreaded UltraViolet codes for both films. All of the disc-based featurettes are the same as on the previously released Blu-rays, but the true reason to buy all of the UE sets is for the eight-part documentary Creating the World of Harry Potter. The last two installments, "Story" and "Growing Up," complete the all-inclusive inside look at the franchise. A must-own for any Harry Potter fan.
My only gripe about the Ultimate Edition set is it doesn't include the Blu-ray 3D versions of the films—maybe a more appropriate name would be Almost Ultimate Edition. Regardless, all seven Ultimate Edition sets are definitely worth the money for the extra swag and especially for the exclusive documentary. If bonus features do nothing for you, then keep your original Blu-ray releases and enjoy them for years to come. However, if you want to know all there is to know about the Harry Potter universe, then you'll need to complete your collection with this final installment. Highly recommended.
Part 1
Studio: Warner Bros., 2010
Aspect Ratio: 2.40:1
Audio Format: DTS-HD Master Audio 5.1
Length: 146 mins.
MPAA Rating: PG-13
Director: David Yates
Starring: Daniel Radcliffe, Rupert Grint, Emma Watson
Part 2
Studio: Warner Bros., 2011
Aspect Ratio: 2.40:1
Audio Format: DTS-HD Master Audio 5.1
Length: 130 mins.
MPAA Rating: PG-13
Director: David Yates
Starring: Daniel Radcliffe, Rupert Grint, Emma Watson
The seven Harry Potter novels have sold more than 450 million copies and are the best-selling book series in history. With such a rabid and loyal fan base, it was a foregone conclusion that Hollywood would come knocking on author J.K. Rowling's door. In 1998, Warner Bros. purchased the rights to the first two novels for more than $1 million, and director Chris Columbus had the pleasure— and challenge—of casting all the various characters who would entertain audiences for the next 10 years.