Hamlet (Blu-ray)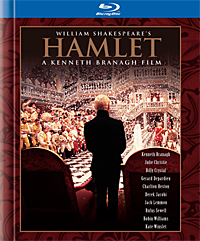 Penned over 400 years ago,
Hamlet
is the tale of a young Prince (Kenneth Branagh) who's approached by his father's ghost describing in intimate detail how he was murdered by Claudius (Derek Jacobi), Hamlet's uncle. Filled with rage, Hamlet vows to avenge his father's death and won't rest until he fulfills his pledge.
Hamlet is Shakespeare's longest play and actor/director Branagh's adaptation doesn't compromise any of the text. The result is a four hour marathon that virtually flies by, if you're a fan of Shakespeare. I had the pleasure of studying Hamlet three times throughout high school and college and was surprised how much of the text I remembered all these years later. Branagh transports the story from twelfth-century Denmark to the nineteenth, which may raise some eyebrows, but the result is magnificent given the lavish sets and all-star cast.
Video Highlights

VC-1/1080p encode on a BD-50 disc
Shot on Panavision Super 70 (65mm) with a 2.20:1 aspect ratio
Virtually grain free
Daytime scenes look fabulous with vivid color saturation
Nighttime shots lack depth
Inconsistent detail
Audio Highlights

DTS-HD MA 5.1 soundtrack
Consistently clear dialog
Front-loaded presentation
Ghost scene feature room-shaking bass and exceptional use of the surround speakers
Cramming over four hours of video onto on BD-50 pushes the envelope of what can fit on a dual layered Blu-ray Disc. Surprisingly, the results are quite good with only the occasional scene suffering from bit starvation. The audio track is solid, especially when Hamlet meets his father's ghost in the forest.
Bonus Materials

Introduction by Kenneth Branagh
Audio commentary by Branagh & Shakespeare scholar Russell Jackson
To Bo on Camera: A History with Hamlet featurette (SD)
Cannes promo (SD)
Theatrical trailer (SD)
Digibook packaging
Sir Laurence Olivier's 1948 production is considered by many the ultimate adaptation of Shakespeare's tale, but Branagh's version is no slouch. The Blu-ray presentation is solid but should have been split over two discs given the runtime. Recommended for fans.
Click here to email any comments or questions!
Release Date: August 17, 2010
Studio: Warner
Movie: 8/10
Picture: 8/10
Sound: 8/10

Review System
Source
Oppo BDP-83 Blu-ray player

Display
JVC DLA-RS1 projector
Stewart FireHawk screen (76.5" wide, 16:9)
Electronics
Onkyo Pro PR-SC885 pre/pro
Anthem PVA-7 power amplifier
Panamax M5400PM power conditioner
Speakers
M&K S-150s (L, C, R)
M&K SS-150s (LS, RS, SBL, SBR)
SVS PC-Ultra subwoofer
Cables
Monoprice HDMI cables (source to pre/pro)
Best Deal analog-audio cables
PureLink HDC Fiber Optic HDMI Cable System (15 meters) from pre/pro to projector

Acoustical treatments from GIK Acoustics
LATEST VIDEO