GoVideo VR2940 DVD/VHS Recorder

Most of the DVD recorders we test nowadays are pretty routine devices. They're great for displacing your aging VCR for time-shifting TV programs or making archival DVDs of precious and fragile camcorder footage. Sure, they have their individual quirks and capabilities, but by and large they perform the same functions in more or less the same way with just about the same visual and sonic results. Then there's GoVideo's VR2940. While its recording performance does resemble that of other DVD recorders (see "in the lab," at the end of this article), it has some innovative and useful features we haven't seen before.
Fast Facts
DIMENSIONS (WxHxD) 17 x 4 1/4 x 14 inches PRICE $350 MANUFACTURER GoVideo, www.govideo.com, 800-736-7679
Key Features
• One-button VCR/DVD dubbing • AutoPlay skips straight to the start of DVD movies • YesDVD automatically creates discs with chapter markers and menus • inputs/outputs i.Link (FireWire) input; 2 composite-video inputs (1 on front panel), composite/S-video and component-video (switchable between interlaced and progressive-scan) outputs, all with stereo analog audio; coaxial digital audio output
The YesDVD feature takes a lot of the drudgery out of making a nicely produced DVD+RW disc from your recordings. If you're willing to forgo any manual editing (a YesDVD disc can't be edited), the feature inserts chapter markers at "natural scene breaks" (as the manual calls them) and uses those markers to create an interactive disc menu with thumbnail images from each chapter. It also automatically finalizes the disc, making it playable on other DVD players (and, in the process, making it uneditable). And then there's AutoPlay, which lets you go right to the movie when you watch a DVD, without having to sit through the FBI warning, previews, menus, or other annoying distractions.
Among the more conventional features is the built-in, four-head VHS Hi-Fi VCR for playing both prerecorded and homemade tapes. If the tape isn't copy-protected, you just have to press one front-panel button to start copying it to a blank DVD+R or +RW. Uncopyrighted DVD programs are just as easily dubbed to tape.
As a DVD player, the VR2940 is simple, with all the basic features but few advanced ones. It has zoom, for example, but no bookmarking. Only manual controls are provided for timer recording on either the VCR or DVD deck - there's no onscreen program guide and no VCR Plus+.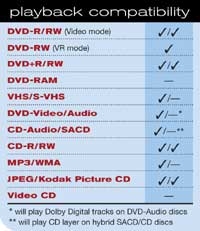 SETUP The VR2940 is simpler to connect than some other combination DVD/VCR recorders. Instead of separate inputs and outputs for each recorder, they share the composite/S-video and analog stereo connections. Your control settings determine whether these are used for tape or disc. The DVD deck can use such advanced connections as a digital i.Link (FireWire) input on the front panel and a progressive-scan component-video output on the back, but there's no S-video input. This won't be a drawback if you're copying VHS tapes, because the VCR feeds its signals to the DVD recorder in S-video form (though without S-VHS resolution - the deck also won't play S-VHS tapes). But feeding S-video from an external source (such as a non-VHS camcorder) is impossible, and using the composite inputs can lead to image-degrading effects such as moirés on finely patterned clothing.
The remote control is straightforward and well laid out, with no hidden buttons or multibutton command sequences. But it controls only the recorder and doesn't have backlighting, glow-in-the-dark buttons, or illuminated labels, making it tough to use in the dark. The onscreen setup menus are easy enough to follow.