Google TV & Logitech Revue Demo
I have seen the future of television, and it is Google TV. On Wednesday, I attended a demo of the much-ballyhooed service as well as a new suite of products from Logitech that brings it to consumers in a simple yet sophisticated way, and I was highly impressed.
Google TV is a system that integrates broadcast television (satellite, cable, and over-the-air), online audio/video content, the web, and media files on local networked computers under one umbrella, and any source can be bookmarked as depicted in this screen shot from the demo. Many online content providers are already signed up, including Netflix, YouTube, Napster, Pandora, and CNBC, and others—such as Hulu—are in negotiations with Google. Also, many websites, such as The New York Times, have developed versions optimized for Google TV, though you can easily access their primary sites as well. Another important content partner is Dish Network, whose set-top boxes can communicate with other Google TV devices via Ethernet.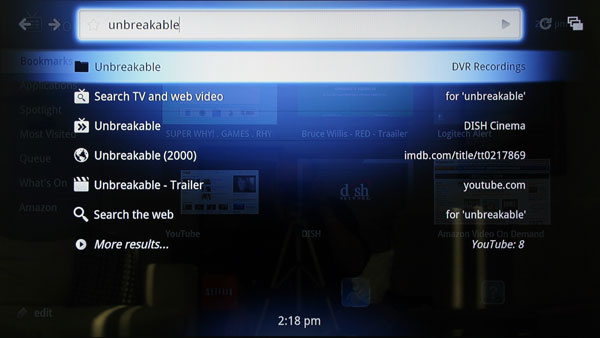 Even more importantly, the system leverages Google's advanced search algorithms to quickly find whatever content you want from any and all available sources. In this screen shot from the demo, searching for "unbreakable" found the movie recorded on a connected Dish DVR and playing live on Dish Cinema as well as the movie's entry on IMDb and a trailer on YouTube. (It can't find recorded content on a DirecTV, cable, or over-the-air DVR because they are not yet Google TV-enabled. However, it can find live-broadcast content from any provider by looking at that provider's electronic program guide.)
Searching for my Home Theater Geeks podcast immediately found it on YouTube and other sources.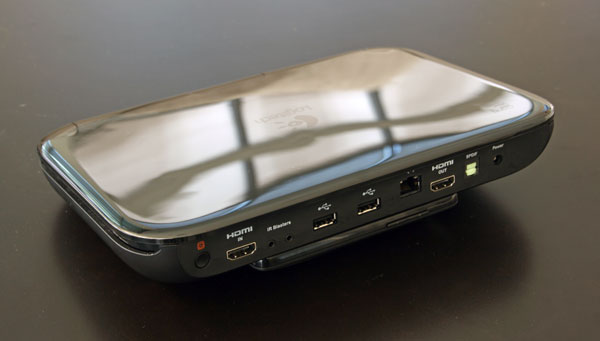 Google TV is initially available in products from two companies—Sony and Logitech. Sony is incorporating the service into some of its TVs, while Logitech has developed a standalone suite of products that can be used with any TV or home theater. The heart of the Logitech system is the Revue set-top box. Simply connect the HDMI output from a source device, A/V receiver, or pre/pro to the Revue's HDMI input and its HDMI out to the HDMI in of the display. Also, connect the Ethernet port to your router so the box can access the Internet and other devices on the home network.
The Revue is basically a computer dedicated to Google TV. Using an Intel Atom processor, it runs the Android operating system and Chrome web browser (with Flash), which are open-source and expandable. Logitech has also implemented its Harmony Link technology, which empowers all the Harmony universal remotes, including my favorite universal remote of all time, the Harmony One. Up to six controllers can be used with the box at once, which receives signals via IR, RF, and WiFi and provides a strong IR blaster that floods the room with IR commands for other devices. If the components are hidden in a cabinet, you can use "chicklet" blasters on cables connected to the Revue's two IR outputs. (The box communicates with Dish Network receivers via Ethernet, not IR, and it will do the same with other Google TV-enabled devices as they become available.)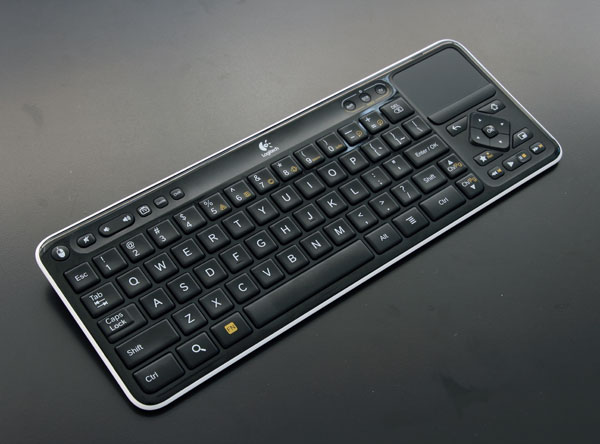 Included with the Revue is a wireless keyboard controller that communicates with the box via 2.4MHz RF (radio frequency). In addition to a full-size QWERTY keyboard, which lets you easily type URLs, search terms, Tweets, IMs, etc., it also provides a trackpad and basic set of universal-remote buttons. The price for the Revue and keyboard is a very reasonable $300.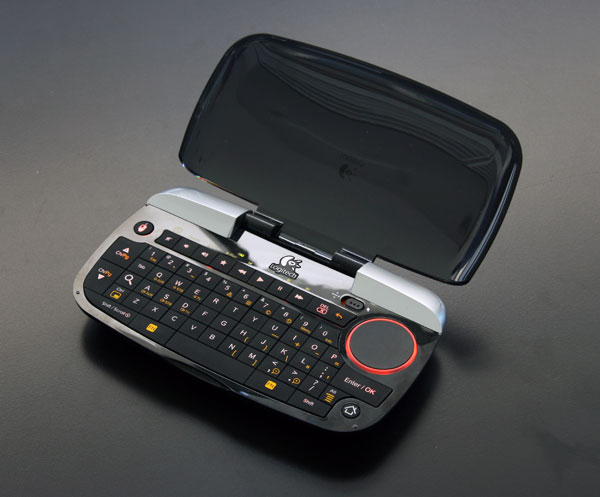 An optional mini controller ($130) offers much the same functionality as the full-sized keyboard in a smaller, backlit device for those who don't mind typing with their thumbs. The Revue can also be controlled from any Harmony remote (IR or RF) as well as an iPhone or Android phone via WiFi running a control app that's included with the Revue. Interestingly, these apps even let you search for things by voice—say "the price is right," and the search function finds it.
Another option is Logitech's TV Cam ($150), a webcam optimized for use with a TV. It connects to the Revue via USB and features a wide-angle lens, 5x zoom, pan and tilt, low-light sensitivity, and two microphones that can easily pick up voices from 10 feet away. Using Logitech's free Vid software, you can make TV-to-TV and TV-to-computer video calls to other Vid users. (So far, you can't use Skype or other VoIP services, though that could be developed by third parties).
The camera's native resolution is 720p, but you will see that resolution only if you and the person you're calling have sufficient online bandwidth to support it—a minimum of 1Mbps up and down is required for HD. The Vid software analyzes the bandwidth at both ends of the call and automatically optimizes the resolution as needed.
One of the coolest features here is the ability to call another Google TV user while you're watching something, which enables what could be called "social TV." My mother is going to love this—she enjoys watching shows like Survivor and American Idol, and she has a friend who enjoys the same programs. They often phone each other after each episode, but with Google TV and Logitech TV Cams, they could discuss it while watching as if they were in the same room.
The only drawback is that the TV Cam image occupies most of the screen while the show is in a relatively small inset window. At this point, these images can't be swapped, but Logitech is working on adding that feature, which is important for this particular application. Similarly, you can open the Chrome browser to look for something on the web while watching TV, but the show is relegated to a small inset window that can't yet be swapped with the browser; Logitech is working on that as well.
The demo was held in a penthouse apartment on the 35th floor of the swank WaterMarke Tower in downtown Los Angeles. Even with views like these from the corner balcony, I was drawn to the TV. The seamless, easy-to-use integration of television and the web embodied by Google TV and Logitech Revue is something I've been wanting for a long time, and there it was staring me in the face. This is finally the "convergence" we've been promised for so many years, and I can't wait to try it out in my own system!