KEF Blade Speaker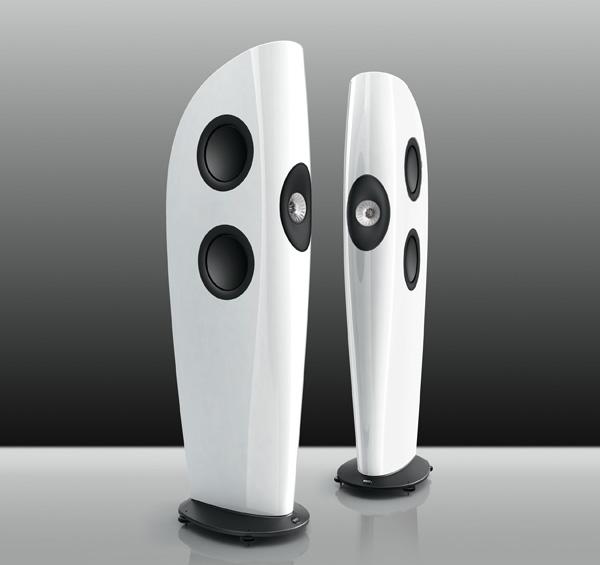 Two years ago, I wrote an
Ultimate Gear blog about the Concept Blade
, a one-off speaker built by British stalwart
KEF
as a research project to push the envelope of speaker design. Now, that project has yielded a product you can actually buy—
the KEF Blade
.
The conceptual foundation of the Blade is called Single Apparent Source technology, in which the entire frequency range appears to emanate from a single point. According to KEF, this creates a sonic picture that is "virtually indistinguishable from a live performance." Putting aside the fact that the sounds of different instruments and voices come from different locations in a live performance, many speaker makers do strive for this type of coincident radiation for time-alignment purposes.
Four newly developed 9-inch woofers are arranged in two opposing pairs on the sides of the curvaceous cabinet, effectively cancelling out their vibrational forces. Centered between them on the front is the company's latest Uni-Q driver with a 1-inch aluminum-dome tweeter at the apex of a 5-inch midrange cone made of a lithium/magnesium/aluminum alloy backed by a liquid-crystal polymer.
What KEF calls the Tangerine Waveguide in front of the tweeter is designed to disperse the high frequencies, expanding the sweet spot to everywhere in the room. Those high frequencies reach all the way to 35kHz, while the bass extends down to 40Hz (±3dB) with a -6dB point at 28Hz, a sensitivity of 91dB/W/m, and a nominal impedance of 4Ω.

Standing over five feet tall, the ported cabinet was created in collaboration with Eric Chan of Ecco Design in New York. Its graceful parabolic curvature is more than visually stylish—it contributes to the structure's rigidity, as does the glass-reinforced composite material from which it is made. The drivers are fully decoupled from the enclosure, which adds nothing to the sound as a result.
Given the amount of technological sophistication in this speaker, I was actually surprised that it costs only $30,000/pair. Yes, that's more than most folks would spend on a pair of speakers, but it's far less than many speakers I've featured here. And from what I heard of the original Concept Blade, the consumer version should be well worth that much.