Remaking a Classic: The B&W 800 D3 Speaker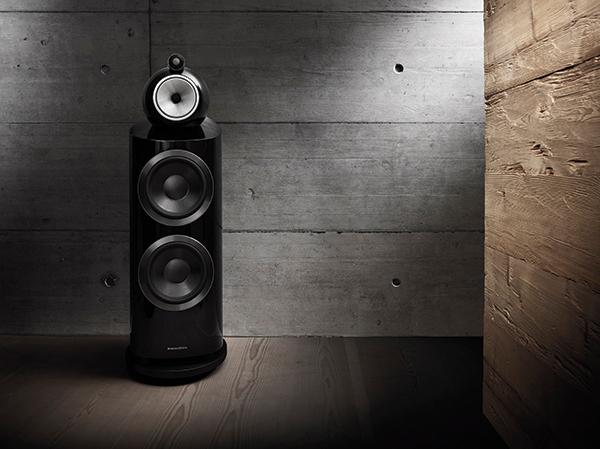 Editor's Note: Enjoy this full-length version of the interview published in our October 2016 print edition.
My first encounter with B&W's coveted 800 Series speakers is ingrained in my memory. It was the summer of 1981 and a musician friend invited me over to see and hear his newly acquired pair of 801s. As I entered the rehearsal space in his finished basement, I remember thinking how unusual they looked compared with my boxy Fishers. Minutes later I was sinking into a cushy chair at the apex of a triangle formed with the speakers, listening to the White album feeling that I had somehow been transported into the studio during the making of a great album. The sound was authentic. I felt closer to the music—music that was very special to me. Today, more than three decades after John Bowers proudly unveiled the original 801 in 1979, B&W has reinvented its flagship under the aegis of Martial Rousseau, head of research. Here Rousseau shares the story behind the remaking an iconic speaker.
S&V: Let's start with the history of the iconic 800 series. When was it launched and what generation does the new 800 D3 represent?
Martial Rousseau: The 800 Series began in 1979 with a single loudspeaker model, the 801. We gave it that name because in our view it represented the definitive speaker design for the decade to come (the 80s). 2016's 800 D3 is both the flagship of the new 800 Series Diamond range and the latest incarnation of the original 801 design. It's clearly a considerable evolution of the original model in every sense, but the ideal behind it remains constant: it's designed to be the state of our art, the best loudspeaker that we can make.
S&V: Talk about the role of the 800 series through the years. What has it meant for Bowers & Wilkins?
Rousseau: If you really want to understand Bowers & Wilkins, look at an 800 D3. John Bowers famously said that the best loudspeaker "isn't the one that gives the most, it's the one that loses the least." That sentiment can also be expressed more succinctly as 'True Sound' and that's precisely what the original 801—and every model that followed it—was designed to achieve. We want you to hear what the artist intended with no coloration or distortion. That sounds simple to achieve but in practice, it's anything but. In addition, we want you to hear sound levels close to those of a live performance with no apparent sense of stress or strain from the loudspeaker.
Delivering a loudspeaker with that level of capability isn't a trivial task: rather, it requires every ounce of effort we can muster.
Delivering a loudspeaker with that level of capability isn't a trivial task: rather, it requires every ounce of effort we can muster. Developing each generation of 800 Series loudspeaker consumes enormous effort from the R&D team at our
Steyning Research Establishment (SRE)
. That's why it usually takes quite a few years to deliver! But the outcome is always a real statement, a showcase of what we can do when we're let off the leash and given the freedom to develop the best products we can, free from constraints or limitations of cost.
We designed the 801 from scratch: it didn't use off-the-shelf parts because to do so would impose unnecessary compromises on its behavior. It used computer-optimized components in its crossover design too—yes, even in 1979—because that removed trial and error from the development process. In other words, it was a loudspeaker shaped by research, not guesswork. That philosophy is just as true today except that of course now, modern computers let us optimize so much more and in a much shorter period of time.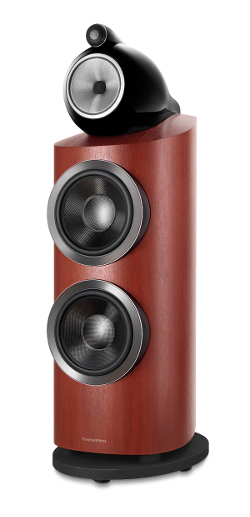 So in essence, our approach is this: we like learning. The more we learn, the more we can do. With every 800 Series loudspeaker generation, we learn a lot—and that helps us to make our other, more affordable loudspeakers better too.
S&V: How did 800 series speakers become the standard for recording studios worldwide?
Rousseau: The 801 was designed to be neutral and transparent—it would relay what was fed into it without changing the character of the original signal. It was also able to deliver realistic sound pressure levels, yet at the same time be very durable, with very high power handling: In fact, in the 801 we stated that it had 'no upper limit.' To achieve that, we fitted it with advanced but easily re-settable thermal protection for the loudspeakers' drive units. Those traits made it an excellent choice as a monitor in recording and mastering. Soon after its introduction it was rapidly adopted by EMI's Abbey Road Studios in London, CBS in the USA, EMI Pathé in France, EMI Electrola in Germany, and many other studios worldwide. These days you can find 800 Series Diamond loudspeakers in installations across the USA, including Sterling Sound in New York, The Boston Symphony Hall, Skywalker Sound in Marin County, California, and Sony Pictures Studios in Culver City.
S&V: When was the decision made to revisit the flagship 800 D3 and upgrade it to its current standing? What made this the right time?
Rousseau: We began the process of developing the new 800 Series Diamond range back in October 2012. However, some of the research elements go back way before 2012: we began work on our new midrange cone technology, which we call Continuum, in 2007.
What made it the right time? It's simple: we had a new story to tell. We don't stick to fixed time lines for our replacement "cycle" with the 800 Series Diamond range: We'll only replace it when we have something new to talk about, something better to offer. In this case, the Continuum cone—which by 2012 was a mature, proven technology and ready for use in a loudspeaker—offered such a huge leap forward in transparency over our famous Kevlar designs that we felt compelled to put it into production in a loudspeaker. And the obvious choice for that public debut was clearly the 800 Series Diamond range because, as I've already said, it represents the state of our art. Of course, we could have just put Continuum into the existing 800 D2 models and left it there but, well, we like to try a bit harder than that whenever we can. So we did!
S&V: Given that the 800 D3 has been revamped across the board, what are the key technological advancements and which contribute the most significant improvements in sound?
Rousseau: As we've redesigned most of the components of the latest generation of 800 Series Diamond models, there are a large number of key innovations in those products.