Go-Video D2730 Networked DVD Player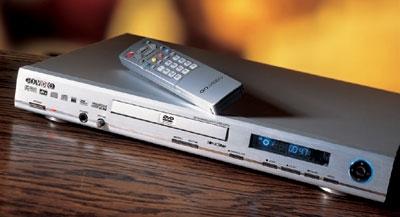 Photos by Tony Cordoza Using a standalone DVD player in the connected home seems so inappropriately standoffish. Why live by disc alone? That's the thinking behind the Go-Video D2730, a richly featured DVD player that's also adept at playing music or videos, or displaying photos stored on a Windows-based computer. What makes this $299 player different from ordinary DVD players is an Ethernet port. A rear slot accepts a supplied PC Card adapter. Slide it in, attach the 7-foot cable to an Ethernet jack on your home network, and you'll be able to enjoy the same multimedia content you'd typically experience hunched over a PC. But now you're seeing and hearing it in the comfort of your home theater, living room, or bedroom. And if your home network contains a Wi-Fi access point, you can skip the Ethernet adapter and cabling and substitute a wireless card instead.
Half the height of my 3-year-old black DVD player and with a bluish glow emanating from its silver front panel, the Go-Video offers a host of useful features, like progressive-scan output (with 2:3 pulldown processing to compensate for the different frame rates of movies and video) and enhancement controls for adjusting brightness, sharpness, color intensity, and contrast. It also has its share of audio features, like a front headphone jack with volume control and Dolby Digital and DTS decoding with a multichannel analog output. Though it also has coaxial and optical digital audio outputs, I attached the six RCA-jack audio outputs to my receiver, which has only a single coaxial input already assigned to my digital cable TV box.
FAST FACTS
KEY FEATURES • Streams MPEG-1 and MPEG-2 video, MP3 and WMA music files, or JPEG photos from your home network or a disc • Supplied Ethernet card can be swapped out for Wi-Fi card • Progressive-scan video output with 2:3 pulldown processing • Full Dolby Digital and DTS decoding
OUTPUTS component video (switchable interlaced or progressive-scan); composite/S-video; coaxial and optical digital audio; multichannel analog audio; headphone; PC Card slot with wired Ethernet adapter
DIMENSIONS 2 1/4 inches high, 17 inches wide, 11 1/2 inches deep
PRICE $299
MANUFACTURER Go-Video, Dept. S&V, 7835 E. McClain Dr., Scottsdale, AZ 85260-1732; www.govideo.com; 480-998-3400
The remote handles a bunch of DVD functions, including six fast forward and reverse speeds (even a mind-blowing 100x!), four slow-motion speeds, and 12 levels of zoom - handy for zeroing in on the deep blue eyes of characters in the
Children of Dune
DVD. You can also zoom in on disc-based photos, and it has volume controls - rare for a DVD player - for when the analog outputs are engaged.
The D2730 performed well, delivering a crisp picture and noticeably smooth scans when fast forwarding at the slower speeds. The lightweight remote is well designed except for smallish play and enter buttons inconveniently off to the side. About the only standard DVD features lacking are bookmarks, reverse slow motion, and backward frame stepping.
I was able to play MP3 and Windows Media Audio (WMA) files, display JPEG image files, and play MPEG-1 video files from CD-Rs that I'd burned on my PC's CD-RW drive. With either compressed music files or photos on disc, I could program an on-the-fly playlist or slide show by using the remote to select songs or photos from the onscreen list in the order I wanted them to play or display. For regular CDs, there are six fast-forward and reverse speeds with audible sound. (You can't scan through an MP3 or WMA disc track at all.)
Enamored as I was with the D2730 as a DVD player, I was ready to check out its ability to play digital content from a home network. I installed the Go-Video D5 Media Server software from the supplied CD-ROM on a Windows XP machine in my home office. (The software supports Windows 98 and above but is not Macintosh-compatible.) You run it to scan your hard drive for JPEGs, MP3 and WMA songs, and MPEG-1 and MPEG-2 videos.