The Gear's the Thing Page 3
Dear Mr. Guy, A $30,000 windfall profit came my way (frankly, this is lunch money for me), and I thought I'd spend it on some entertainment toys. Needless to say, I'm looking for a really topnotch home theater setup. But I also need a system that can keep up with the demands of my globe-trotting lifestyle - which means portable gear that doesn't skimp on quality. When I entertain I like to play DJ, so I need something that will let me generate custom music playlists. And, I not only want to watch DVDs but to edit and burn them, too. Please advise. Financial Wiz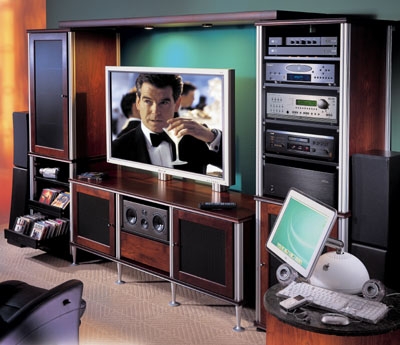 PIONEER PDP-5030HD plasma display ($15,500) www.pioneerelectronics.com 800-746-6337

DENON DVD-9000 DVD-Audio/Video player ($3,500) www.usa.denon.com 973-396-0810

ESCIENT FireBall music server ($2,000) www.escient.com 800-372-4368

ANTHEM AVM-20 preamplifier/processor/tuner ($3,400) www.anthemav.com 905-826-4575
SHERBOURN 7/2100 power amplifier ($2,850) www.sherbourn.com 978-663-7385
NHT Evolution M5 speaker system ($3,850) www.nhthifi.com 800-648-9993
APPLE G4 17-inch iMac computer ($1,999) APPLE iPod 20-GB portable music player ($499) www.apple.com 800-692-7753

Alternates:

MITSUBISHI WS-65711 rear-projection TV ($6,500)www.mitsubishi-tv.com 800-332-2119

DENON AVR-5803 receiver ($4,000) www.usa.denon.com 973-396-0810
Salamander Designs Synergy System triple-wide modular wall unit with two Towers and optional Plasma Mount in walnut/aluminum finish ($4,900 as shown) www.salamanderdesigns.com 860-313-0525
Dear Mr. Wiz, Okay, big shot. You're probably not a billionaire like Bill Gates or Oprah. But $30,000 will suffice to realize your home theater dreams, getting you topnotch components for serious movie and music enjoyment. The system I'm about to recommend is so good, in fact, that every one of the primary choices won a 2002 Reviewer's Choice Award (except the Sherbourn amplifier, which was reviewed in 2003).
Let's start with the Pioneer PDP-5030HD plasma display (reviewed October 2002 - it has a list price of $15,500, but it can be bought off the Web from authorized dealers for less than $10,000). Plasma has come a long way since its early blotchy days, and this 50-inch (diagonal), 1,280 x 768-pixel plasma panel "looked stunning when displaying HDTV," said reviewer Al Griffin. The Pioneer's Media Receiver has dual NTSC tuners and handles A/V switching, and its front panel lets you jack in a laptop, videogame console, or camcorder.
For $4,500 less you can get Mitsubishi's WS-65711 rear-projection TV ($6,500, reviewed November 2002) with its massive 65-inch (diagonal) screen and a built-in HDTV tuner for receiving over-the-air high-def broadcasts. Its NetCommand system will let you control your entire home entertainment system from onscreen, and it interfaces with FireWire devices such as camcorders. Picture quality? "Revelatory" said Al Griffin.
Sure, you can buy a DVD player at the grocery-store checkout lane. But you want something special, something heavy, something expensive - like the Denon DVD-9000 ($3,500, reviewed October 2002). This 41-pound THX-certified DVD-Audio/Video player can handle all the usual suspects, except SACD, and sports digital audio inputs to feed its high-tech 24-bit digital-to-analog converters. And you can apply its bass management to everything it plays, including DVD-Audio discs (a rarity in players - or receivers, for that matter). David Ranada said the Denon's video output was "extraordinarily filmlike" and called its audio reproduction "state of the art."
For your music-server needs, go with the Escient FireBall ($2,000, reviewed November 2002). Its 40-GB hard drive stores almost 900 hours of stereo MP3 music at 96 kilobits per second (kbps) - but for better sound I'd recommend going with 192 kbps, which stores 435 hours. The FireBall has a CD-R/RW burner for transferring compilations from the hard drive to removable discs, and vice versa, and its analog inputs let you copy LPs and tapes to the drive. You can use the Escient to control your CD megachangers, and it comes with access to the Gracenote service so you can download album information and cover art from the Web. A program guide shows the content on the hard drive or in your changers, and you can also use the FireBall to access Internet radio stations. There's even a built-in Jacuzzi. (Sorry, I made up that last one.)
Your megasystem demands separates - separate pre- and power amplifiers, that is. For the former, I'd recommend Anthem's AVM-20 preamp/processor/tuner ($3,400, reviewed November 2002), which provides full Dolby Digital EX and DTS-ES for 6.1-channel playback as well as Dolby Pro Logic II and THX modes. Rather unusually, it also provides two outputs for supplying both audio and video to other rooms. To take full advantage of those outputs, it has XLR jacks for balanced cables that resist noise over long runs. You can also feed it multichannel analog signals - from a DVD-Audio player, for instance - and convert them to 24-bit/96-kHz digital so you can use the Anthem's digital-domain bass management. This sophisticated preamp comes with a steep learning curve, but your study time will be richly rewarded.
A man like you wants power - lots of it. And the Sherbourn 7/2100 power amplifier ($2,850, reviewed April 2003) will deliver it, specifically, 200 watts into each of seven channels. To handle the current, it employs not one but two AC cords. For even more power per channel, you can bridge Channels 1 and 2, 3 and 4, and 5 and 6. The amplifier also has both RCA and balanced XLR inputs. And don't forget - when you pick up this 115-pound beast, lift with your legs, not your back. Better yet, have the servants do it for you.
If you decide to conserve space, you can consolidate the preamp and power amps into one high-end receiver - like the awesome Denon AVR-5803 ($4,000, reviewed July/August 2002). It performs Dolby Digital EX and DTS-ES decoding plus Dolby Pro Logic II and DTS Neo:6 processing. And at 170 watts per seven channels, it's not power shy. Along with standard THX processing, it provides THX Ultra2 enhancements and also includes the Dolby Headphone mode, full bass management, and a backlit LCD touchscreen remote. David Ranada deemed its power at clipping "exceptional" and called the Denon a "masterpiece." One more perk - you can use the Denon Link to send multichannel audio digitally from the DVD-9000 player to the Denon receiver.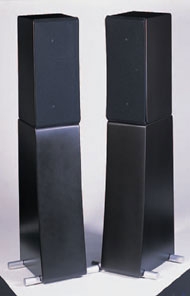 When used as surrounds, the NHT M5 satellite speakers can be placed on P5 pedestals that match the B5 subwoofer pdestals used for the left/right speakers.
You're going to want great speakers, of course - so get the NHT Evolution M5 speaker system ($3,850, reviewed September 2002). Unlike your typical self-contained cabinets, the NHTs are modular and require their own electronics. Each of the five M5 satellites contains a 1-inch tweeter, a 5-inch midrange, and two 6 1/4-inch woofers. For the front left and right channels, mate two of those satellites with B5 subwoofer/pedestal modules, each of which has a 12-inch woofer, to form a pair of T5 towers. To complete the system, you'll need an external X1 crossover and an A1 mono power amp, which delivers 100 watts to each of the B5s.
Once everything is set up, you (or your installer) will want to tweak the X1 to tailor the bass to your room's acoustics. The result will be uncolored sound, an excellent blend between sats and sub, and smooth, deep bass response. Best of all, these speakers produce exceptionally clean sound even when you crank it way up.
Since you mentioned DVD editing and portable audio as big priorities, let's add an Apple G4 iMac and a sexy Apple iPod (iMac, $1,999; iPod, $499, reviewed December 2002). The G4 has a 17-inch (diagonal) widescreen LCD monitor, which is supplied with gorgeous video from the NVidia GeForce4 MX graphics card. The iMac's picture quality prompted Al Griffin to opine, "this is the kind of performance that any HDTV would be proud to deliver."
Apple's SuperDrive burns audio and video to CD or DVD, and the package includes first-rate iMovie2 and iDVD2 software for video editing and DVD authoring, iTunes3 for music management, and iPhoto for photo editing and management. "A multimedia wonder," as Al put it. As for the iPod: palm-size hard-disk audio recorders are the coolest invention since the CD, and the iPod is among the best. With up to 20 GB of memory, you can take your whole music library with you.
There you have it. This dream system will set you back less than $30,000, once you take advantage of street prices - or a shade over $22,000 if you decide to go with the Mitsubishi TV instead of the Pioneer plasma display and the Denon receiver instead of the separate amp and preamp. Dreams hardly ever come cheap, but at least this one can come true.
LATEST VIDEO