The Gear's the Thing Page 2
Dear Gear Guy, My family and I watch lots of movies, but my current system just can't deliver the goods in our decent-size family room. I want a full-size, full-power home theater system, and I've put aside 10 to 12 grand to pay for it. My room's big enough for a video projector - and I want to impress the neighbors anyway - but I don't want anything complicated. I also need to time-shift programs so the kids don't fight over the big screen. Do you have anything that will take my home theater from a megaplex to The Majestic? Movie Maven
Dear Maven, I can package you a first-rate system that includes both a front projector and a hard-disk recorder for about $11,000. Let's start with the big-ticket item, Yamaha's LPX-500 LCD projector ($5,500, reviewed May 2003). This high-definition-TV-ready model has Faroudja DCDi processing for an extra-clean picture and a 1.35x zoom lens so you can place it 10 to 14 feet from a 100-inch (diagonal) screen. You can mount it on the ceiling or place it on a tabletop, and its cooling fan is quiet. Its native resolution of 1,280 x 720 pixels matches the HDTV 720p (progressive-scan) format, and it can also display the 1080i (interlaced), 480p, and 480i formats as well as a computer's output. Reviewer Al Griffin said the picture was impressively bright and had great color rendition.
If you're willing to forsake full HDTV resolution, you might want to consider instead the Plus Piano Avanti HE-3200 projector ($3,300, reviewed December 2002). It displays standard-definition sources and can accept high-def signals but can't display them at full resolution. However, it has excellent scaling, line-doubling, and black-level performance and will do a great job lighting up an 84-inch screen. Use the $2,200 you save to pay the orthodontist.
For your source, I'd recommend the Toshiba SD-4800 DVD-Audio/Video player ($280, reviewed January 2003). Surprised by the low price? Me, too. Even more surprising, it plays not only DVD-Audio discs, but DVD-R/RW and +RW recordable discs as well as CD-R/RWs, including those loaded with MP3 and JPEG files. Plus it features progressive-scan component-video output and has a built-in Dolby Digital decoder. The only drawbacks are that the bass management doesn't let you switch the front left/right speakers to "small" - most receivers handle that anyway - and it lacks bass management for DVD-Audio. But it more than makes up for those minor inconveniences with rock-solid audio/video performance.
Your receiver? The Harman Kardon AVR 8000 ($2,800, reviewed October 2002). This flagship THX Ultra-certified model is as big, black, heavy, and expensive as a gangster's Mercedes - but that money's well spent. The AVR 8000 provides all the Dolby and DTS decoding and processing you'll need. And it cranks out 100 watts into each of five channels. There's an eight-channel analog input for DVD-Audio or SACD playback, and it has beefy banana-plug-compatible binding posts. It also provides Harman's Logic 7 as an alternative to Dolby Pro Logic II and DTS Neo:6 for extracting multichannel playback from stereo sources. It delivered "stellar" performance on the test bench and "sonic excellence and imposing power" in the listening room, according to reviewer Daniel Kumin.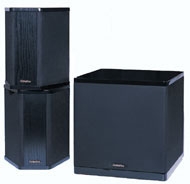 The Definitive Technology BP1.2X surrounds and SuperCube II subwoofer.
Big rooms don't necessarily need big speakers, and you can't go wrong with the deceptively small Definitive Technology StudioCinema speaker system ($2,246, reviewed November 2002), one of last year's Reviewer's Choice Award winners. Covering the front left and right positions is the StudioMonitor 350, which augments its 1-inch tweeter and 5 1/4-inch woofer with a side-firing 8-inch passive radiator. Tiny, but packed with 1,250 watts of power, the SuperCube II subwoofer uses the same trick, fortifying its long-throw 8-inch cone with two 8-inch passive radiators to move more air. The C/L/R center speaker is about twice as big as the StudioMonitor 350 to accommodate 5 1/4-inch woofers on either side of its 1-inch tweeter. The BP1.2X surrounds are bipoles, with two angled faces to spread the sound around - great for movie soundtracks. Daniel Kumin said the system was "warm and full," providing "very high-quality sound for music and movies." And lab tests revealed that the sub rumbles all the way down to 25 Hz.
I almost forgot - you said you needed to do some heavy-duty time-shifting. Welcome to the brave new world of hard-disk recording. The SonicBlue ReplayTV 5000 recorder ($300, reviewed February/March 2003) will blow your TV-viewing mind. Its 40-gigabyte (GB) hard drive (drives up to 320 GB are available) stores video programs and lets you play, pause, and slo-mo them - and skip commercials. Use the program guide to see what's on TV and select programs to record by series, title, lead actor, and so on. (The guide service costs $9.95 a month, or you can pay $250 for the life of the recorder.) The ReplayTV 5000 has both dial-up and Ethernet ports, plus a 480p component-video output - but be aware that the data compression used to crunch the video can limit picture quality.
There you have it! A movie lover's dream system that adds up to just over $11,000 - or just under $9,000 with the Plus projector. That leaves plenty of money for Milk Duds and popcorn.
LATEST VIDEO