Fuse InTune Headphones: Tuned to Your Taste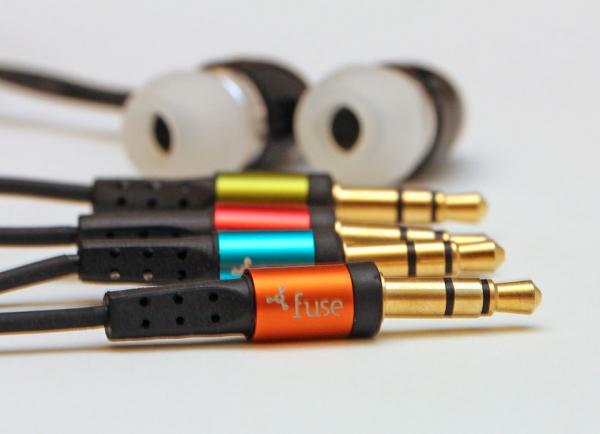 When I got the press release for the new InTune in-ear headphones from Fuse, it made me think: How is any particular genre of music supposed to sound? And does it already sound that way, or do you have to do something to it to make it sound like it's supposed to?
The InTune headphones inspired this question because they're available in four varieties, each tuned for a certain type of music: red for rap and hip-hop, orange for rock, blues and country; blue for jazz and classical; and green for pop and easy listening. Visually, the $24.99 headphones are distinguishable only by color bands on the plug and the cable. I couldn't resist borrowing one of each, just out of curiosity to hear what kinds of assumptions Fuse had made about how these genres of music are supposed to sound — and to find out if one really can effectively tune headphones to suit, say, Lil Wayne, Katy Perry, or John Coltrane.
When I received the headphones, I felt like I'd just jumped into a Toyota Corolla at Alamo Rent a Car. Whenever I rent a car, my first priority is always to try to get the radio sounding good before I leave the lot. This often involves auditioning the radio's various sound modes to find the one that sounds best. Now I faced the same task with four different headphones instead of four different sound modes.
I tried all four InTune varieties with my Fireye II USB headphone amp, playing tunes off my computer. I tried each headphone with a tune from its designated genre, and also tried other tunes to get a handle on the overall performance of each headphone. Material included Steely Dan's "Aja," Soulja Boy's "Crank That," Katy Perry's "California Girlz," jazz organist Larry Young's "Tyrone," Led Zeppelin's "Dancing Days," and the San Francisco Symphony/Michael Murray recording of Joseph Jongen's "Symphony Concertante."