Fluance XL7F Speaker System Page 2
You would definitely get better sound by adding a good subwoofer, but I found that the downward-firing 8-inch woofers in the towers provided plenty enough bass for music and most movies. If you need more oomph, Fluance offers a 10-inch, 150-watt sub for just $250.
Music
Was I showing bias when I assumed the XL7 system would sound better with movies than with music? Well, so be it. I often begin my speaker reviewing process by exploring what I think a speaker's weakness will be, so I indulged my bias by starting with an especially demanding music recording: "I Only Have Eyes for You," a super-ambient recording by the late jazz trumpeter Lester Bowie and his group Brass Fantasy, which comprised Bowie, three other trumpeters, two trombones, a French horn, a tuba, and a drummer. I started using "Eyes" way back in the early 1990s, and it's still one of the most spacious and detailed recordings I own. But I've found that only electrostatic, planar magnetic, or excellent dynamic speakers can capture that ambience.
Did the XL7F give me the ambience I craved? No. In fact, the sound was rather simplistic, without a lot of detail or sense of space. But that said, the tonal balance was spot-on, with no noteworthy emphasis of bass, mids, or treble. Personally, I'll take a neutral tonal balance over dramatic soundstaging and lifelike imaging any day. So even though I didn't hear the huge sound that I wanted, I did enjoy the XL7F's sound on this tune.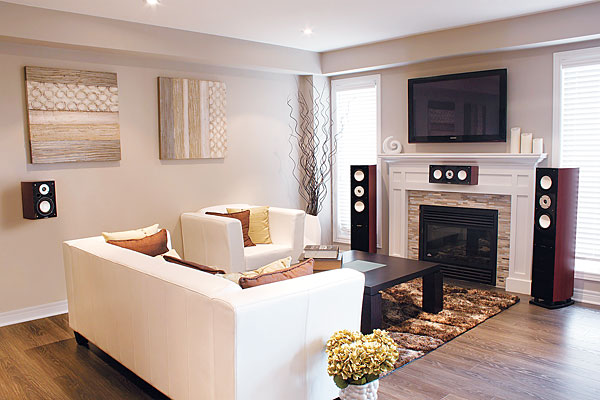 With its midranges relieved of handling bass or lower midrange, and all the grunt work shuffled down to the 8-inch woofer, the XL7F seems like it should kick ass. Indeed it does. Soundgarden's "Outshined" played loud as hell through the XL7F but stayed super-clean the whole time. Again, the tower's natural tonal balance made up for its lack of refinement. The woofer easily handled the relentless throbbing of Ben Shepherd's bass and Matt Cameron's kick drum, but the bass didn't sound particularly well defined; it lacked punch and immediacy. Then again, you could always improve the bass by adding a subwoofer. The tower's treble also sounded a little soft; there didn't seem to be much energy above about 10 kHz, so I could hear the cymbals but they didn't have a sense of ambience or air. The upside is that it avoids the glaring brightness so common in inexpensive speakers. Singer Chris Cornell's voice sounded good, but a little coarse. Still, the XL7F maintained its nice tonal balance even at high volume, and I found myself listening to all my faves on the band's Badmotorfinger CD, then indulging in a few tracks from extreme metal pioneers Celtic Frost's Monotheist just as a double-check.
At this point, not having checked the price, I was thinking, "If this speaker's $700 or $800 a pair, it's a good deal."
I wasn't quite as impressed when I put the XL7S satellites in the XL7Fs' place. The balance of bass to treble was good, but it sounded like part of the midrange was recessed, which made some voices and instruments sound thin. Also, I noticed that the lower treble sounded somewhat coarse and raspy.
For example, when I played saxophonist Jerry Bergonzi's Tenorist, Bergonzi's normally polished sound got a bit buzzy, as if he'd switched to a much lighter reed. It wasn't any better with pop music; Joni Mitchell's voice on Blue sounded edgy, uneven, and rough. I listened to a few more music tracks through the XL7S, but it was clear that it wasn't living up to its big brother's reputation.
Movies
For home theater, the system worked quite well—amazingly well when you consider its price. As I'd expected, the idiosyncrasies that were easy to hear in music were almost lost in movie soundtracks. When I played Django Unchained, streamed in Dolby Digital Plus 5.1 through Vudu, the system had no problem at all handling the dynamics of the (spoiler alert!) climactic gunfight at the end. The sound was always full; the down-firing woofers never seemed to compress the bass or run out of gas, so to speak. I heard no obvious distortion in the mids and just a little bit in the bass. Not bad at all for a subwoofer-less system.
The XL7C center speaker impressed me, too. It seemed to match the timbre of the XL7F well, and all of the voices in Django sounded natural. When I switched to a tougher test, James Taylor's Live at the Beacon Theatre DVD, I could hear some coloration in Taylor's vocals: a trace of upper-midrange coarseness that made his always-smooth voice sound just a little rough. Some of the delicate background details that fill this recording, such as glockenspiel, chime tree, and brushed cymbals, were mostly buried in the mix, but again, the smoothness of the treble made the sound much more enjoyable than it usually is with inexpensive speakers. I did notice that the XL7C's sound changes somewhat as you move off axis—i.e., toward the end of the couch rather than in the center—but the effect was fairly subtle, and of course it's a problem only if you have multiple listeners who care about sound quality.
Conclusions
The real prize of the XL7 system is the XL7F tower; it's the first good-sounding full-range speaker I've heard under $500 per pair. In fact, you could even call it the ultimate budget rock 'n' roll speaker. You could spend the same money on good minimonitors and get more refined sound, but you'd lose out on the bass and dynamics. The XL7C mates well with the XL7F, too. I wouldn't buy the XL7S on its own—there are better minimonitors for less—but it'll do as a surround speaker for an XL7F/XL7C system. I'd be tempted to experiment with the XLBP bipolar surround, though, especially considering Fluance offers a 30-day satisfaction guarantee.
So are these speakers for you? That's like asking if you'd rather spend the same money for a six-pack of Lagunitas Maxiumus double IPA or three sixes of Budweiser. There's no right answer to the question. For my taste, I'd prefer a little more refinement, but audio's a big deal for me and I'm fortunate enough to have a decent disposable income. For a budget-strapped listener wanting an affordable system that doesn't compromise on muscle or style, the XL7's about as good as it gets.