First Take: Little Steven Van Zandt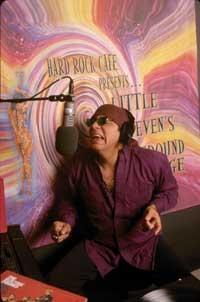 How does it feel to have the two Sirius channels that you created - Underground Garage (Channel 25) and Outlaw Country (Channel 36) - broadcasting 24/7? I feel like we made history already, you know? It's not easy to create a new format in radio, and I created two. They really serve an important purpose in both the rock world and the country world - turning people on to great new and historical artists. I just hope Sirius manages to stay innovative, open-minded, and adventurous, and doesn't turn into the conservative business model that Wall Street likes and then quickly disposes of.
The 2-hour syndicated version of Underground Garage is on about 140 terrestrial stations, right? Something like that. We're in over 200 markets now, and we just went over the million-listener mark.
That's great. Has the BBC version started yet? Yes. Right now, we're on only about once a month. We're also on in Stockholm, Singapore, Rome, and Copenhagen, and that's nice.
Have you felt any difference on terrestrial radio now that the show has widened its reach? I've actually been encouraging people to steal my format on the radio. Please! They tried to copy what I was doing with this format called Jack, a pathetic sort of imitation.
Yeah. You certainly can't call it "Happy Jack"... [laughs] Heh heh, no. Jack really doesn't work so well. The main thing I'm still hoping is that affiliates would loosen up the playlists a little more and play more new music. I don't quite understand why they won't even play their own core artists' new music. We're the only ones playing Ray Davies' new record [Other People's Lives] - I mean, he's the lead singer and songwriter in the Kinks...
...the third most important British Invasion band, according to you... That's correct. I don't think there's any debate about that. I don't get it - the Kinks will get played all day long, but they won't play Ray Davies' new record. Eric Clapton's new material won't get played, even Bruce Springsteen's new stuff very rarely gets played. And yet they'll play the catalog regularly. What do they think the audience is gonna do? Run and hit the button if they hear a new Bruce Springsteen record? It's just not true.
I'm hoping at some point the classic-rock stations start playing new music, at least from their core artists. And I'm hoping we affect the alternative stations, even though none of them will put our show on. I mean, God forbid the Ronettes get played on an alternative station.