Final Sonorous III Headphones
PRICE
$399
AT A GLANCE
Plus
Uber clarity
Titanium drivers
Made in Japan
Minus
Doesn't fold for compact storage
THE VERDICT
The Final Sonorous III is in a class of its own because it doesn't sound like anything else, and that's a good thing.
The Final Audio Design Sonorous III showed up when I was in the midst of working on reviews of some very high-end, very expensive headphones. I usually try to avoid simultaneously working on reviews of products that would put one at a serious disadvantage. No problem this time: The Sonorous III held its own against the new HiFiMan HE1000 V2 ($2,999) and the AKG K872 ($1,495). I'm not saying the Sonorous III was in the same league as those two heavyweights, but I've never heard a mid-price dynamic driver headphone as transparent as the Sonorous III.
There, I've said it, about as plainly as I can. I wondered what's so special about the Sonorous III's technology that makes it so good, but it just comes down to Final's overall approach. The Sonorous III shares some design DNA with the top-of-the-line Final headphone, the $4,999 Sonorous X. Both headphones integrate the driver with the front baffle plate to minimize resonance. Final maintains a high level of precision in its designs from development to manufacture; everything is conducted in-house. I briefly heard the Sonorous X, and it's spectacular, all right. There's a tremendous soundstage, uninhibited dynamics, glorious mid- range, and delicious highs. The Sonorous III shares those attributes, just less so. I've also checked out some of Final's wildly unconventional in-ear headphones, like the titanium-bodied Lab II. Its out-of-head soundstage was unlike any other in-ear headphone I've heard. Final goes down roads less taken, that's for sure!
I knew that Final made its high- end headphones in Japan but was surprised to find the same is true for the $399 Sonorous III. And frankly, I didn't expect the Sonorous III to sport 50mm titanium drivers. The only obvious cost saving to the more premium model was the headphones' ABS plastic earcups, but even there the fit and finish are definitely up to snuff. Earpad pressure is moderate, and so is comfort over extended sessions. The user-replaceable cables are fitted with locking 3.5mm plugs, and the beautifully machined metal plug housings are a step up in quality from what you usually get with headphones in the Sonorous III's price class. For once I never had to waste time figuring out which channel is which; the headband has easy- to-read "L" and "R" markings.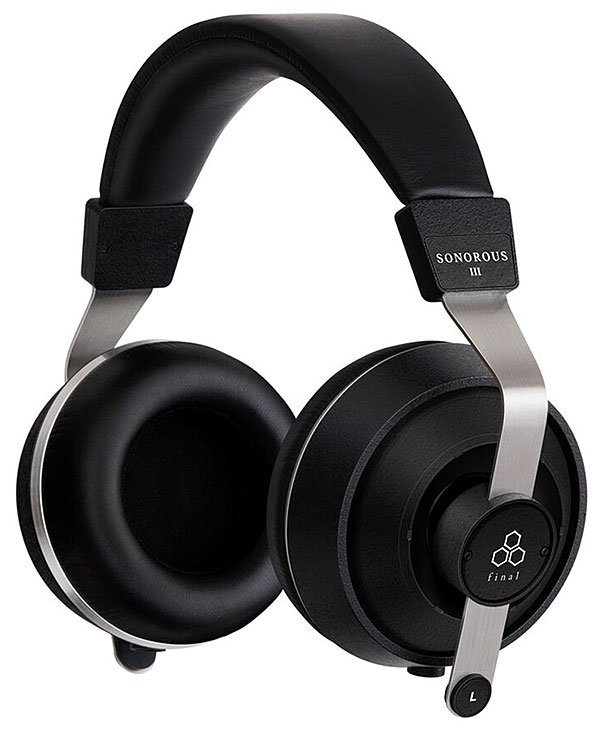 Teamed up with my Linear Tube Audio MicroZOTL 2.0 headphone amp, the Sonorous III's effortless sound really shined with orchestral film scores from Bernard Herrmann (Psycho) and Hans Zimmer (The Thin Red Line). There were huge expanses of sound that stretched outside the Sonorous III's earcups, and I was treated to soundstage depth that's rare for closed-back headphones. Turns out all full-size Final headphones are closed-back, not open-back designs.
For those craving a sweet and mellow tone, the Sonorous III won't be a good fit; something more along the lines of the Bowers & Wilkins P7 'phones will better do the trick. The Sonorous III's bass can seem a little light, until you play recordings with deep bass. I have an ongoing fascination and hunger for dub reggae tracks, and the Sonorous III did not disappoint with them.
Listening to Tidal's streaming, lossless music on my iPhone 6S, the Sonorous III belted out vivid transients with trumpeter Wadada Leo Smith's brilliant Wisdom in Time album. His horn had terrific power and nuance, and it never turned harsh.
Final Audio Design's Sonorous III is exactly the sort of headphone I recommend to people when they want to get a taste of what's so special about high-end audio but can't go overboard on the budget. If you're feeling flush, pony up for the Sonorous X!