Fanboys (Blu-ray)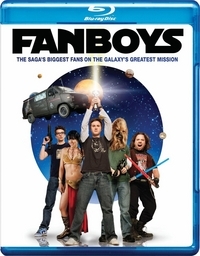 Four estranged buddies embark on a road trip across the country in a last ditch effort to reclaim their friendship.
Star Wars
fans since childhood, their goal is to break into George Lucas' Skywalker Ranch in an attempt to see a rough cut of
Star Wars: Episode 1 - The Phantom Menace
before its worldwide theatrical release in 1999.
My name is David Vaughn and I have been a Star Wars fanboy since 1977. Yes, I stood in line for more hours than I would like to admit to see The Empire Strikes Back and Return of the Jedi when I was an adolescent. Furthermore, I did the same in 1999 at the ripe young age of 30 in order to be one of the first to see The Phantom Menace. With that out of the way, you can certainly see how I can relate to this film. Sadly, the screenplay by Ernest Cline and Adam F. Goldberg takes what could have been an awesome story and loads it will too many sophomoric detours and paper-thin character development. I occasionally laughed, but there were a couple of scenes that had no place in the story and detracted from the experience.
Video Highlights

AVC/1080p encode on a BD-50 disc
Dim and lackluster picture
Inconsistent detail
Accurate color palette
Inconsistent black levels
Audio Highlights

DTS-HD MA 5.1 soundtrack
Adequate surround presence
Intelligible dialog
Decent dynamics
The audio and video really show the low budget nature of the production so don't expect much.
Bonus Materials

Introduction to the film by the director and producer
Commentary by cast and crew
Deleted scenes
The Truth about Fanboys
Star Wars Parallel
4 Fanboys and 1 Fangirl
The Choreography
Disturbances in The Force: A Series of Webisodes
Fanboys, Goes Global
Fanboys, The Comic Book
Fanboys, The Gallery
Despite some over-the-top sophomoric moments, every Star Wars fan should take 90 minutes out of their life and watch Fanboys. The presentation is nothing to write home about and a couple of scenes feel out of place but the underlying message of friendship and fandom warrant at least one viewing.
Click here to email any comments or questions!
Release Date: July 27, 2010
Studio: The Weinstein Company
Movie: 6/10
Picture: 6/10
Sound: 7/10

Review System
Source
Oppo BDP-83 Blu-ray player

Display
JVC DLA-RS1 projector
Stewart FireHawk screen (76.5" wide, 16:9)
Electronics
Onkyo Pro PR-SC885 pre/pro
Anthem PVA-7 power amplifier
Panamax M5400PM power conditioner
Speakers
M&K S-150s (L, C, R)
M&K SS-150s (LS, RS, SBL, SBR)
SVS PC-Ultra subwoofer
Cables
Monoprice HDMI cables (source to pre/pro)
Best Deal analog-audio cables
PureLink HDC Fiber Optic HDMI Cable System (15 meters) from pre/pro to projector

Acoustical treatments from GIK Acoustics
LATEST VIDEO