DVD Review: Blades of Glory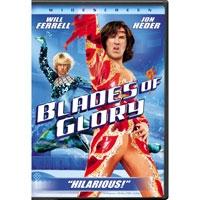 DreamWorks
---
Movie ••• Picture •••• Sound ••• Extras •½
Will Ferrell has been impressive in films like
Stranger than Fiction
and
Elf
, but here he comes across as a poor man's Adam Sandler. Don't get me wrong: The deadly serious but satirical skating sequences are brilliant and thrilling. But when the characters interact off the ice, the dialogue is crude and strives too hard to be funny. The script always goes that one word too many, changing what could have been humorous into something distinctly unfunny.
Since the visuals are the film's best feature, it's a good thing that the DVD transfer is crisp and simply drips with color. In the opening scene, for example, Jimmy McElroy (Jon Heder) performs in a fey peacock costume of multiple shades of blue and green accented with sparkling sequins, all of it in extremely rich tones. And in the background, the bright reds, golds, and hot pinks of the crowd's clothing all really pop. At the same time, skin tones remain natural and even. Detail is accurate - good enough that you can sometimes tell that Heder and Ferrell are playing against a green screen, with the background obviously added in later.
The soundtrack is okay, with clear enough dialogue and a decent presence to the music. But a lack of transparency (and the same volume level for all effects) means that there's little subtlety throughout, with the final result being a little flat. The surrounds are used with almost no imagination, doing little to enhance what's on the screen.
The extras don't help much either. In fact, they're the lamest on any DVD I've seen recently. The best one is the photo gallery, because it has no sound. (That way, you can enjoy the colorful, outrageous costumes and hairdos without any of the script's banal words getting in the way.) There are plenty of extras - 14 different kinds - but it's a case of more being less. This is mainly because Farrell and (to a lesser degree) Heder and the others mug and try to be cute and funny, when they're really just obnoxious.
For the record, the extras include a making-of featurette and interviews with skating legend Scott Hamilton (who plays a sports anchor), Will Arnett and Amy Poehler (a husband-and-wife team who play a husband-and-wife team in the film), Nick Swardson (Hector the psychofan), choreographer Sarah Kawahara (who helped train the stars), and Julie Weiss (who designed the costumes). You also get bloopers, deleted scenes, and alternate takes (unfortunately, all of them dialogue scenes, no skating); Moviephone Unscripted with Ferrell, Heder, and Arnett; and even more, including a Bo Bice music video, MTV spots, and trailers.
Why did I give the movie a rating of three bullets? Because the five-bullet skating is good enough to balance a lot of one-bullet humor. Just turn down the volume before you watch, and you'll be fine.
more Entertainment reviews Back to Homepage What's New on S&V
LATEST VIDEO