DVD Review: Across the Universe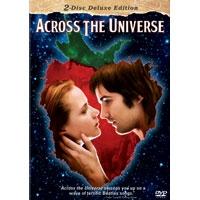 Sony
---
Movie ••½ Picture •••• Sound •••• Extras •••
A movie musical based on the brilliant and beloved Beatles catalog, sung (and danced) by little-known 20-somethings in a lukewarm romantic story vaguely inspired by the Fab Four's lyrics: Anyone think this is a good idea? It's not, but that doesn't stop director Julie Taymor from piling on the wild visuals and free-spirited characters. Across the Universe is a special-effects romp paired with a sincere if misguided attempt at re-imagining the Beatles' tunes for a Hollywood musical. All of the participants clearly love the songs. But when cameos by Bono and Joe Cocker feel like breaths of fresh air, something is amiss.
That psychedelic stew of optical trickery and outrageous costumes pulses with energy in its finest moments, and the DVD's clean, bright, and color-drenched images send us back to the '60s in fine style. The well-crafted (if somewhat lifeless) adaptations of the Beatles' music occasionally soar in the dense 5.1 mix.
An hour's worth of documentary footage addresses all the obvious challenges built into the project - but "Why?" remains the 800-pound gorilla on this movie set. A mind-numbing commentary by Taymor and composer Elliot Goldenthal certainly doesn't offer any answers.
more Entertainment reviews Back to Homepage What's New on S&V
LATEST VIDEO