Dog Headphones Reviewed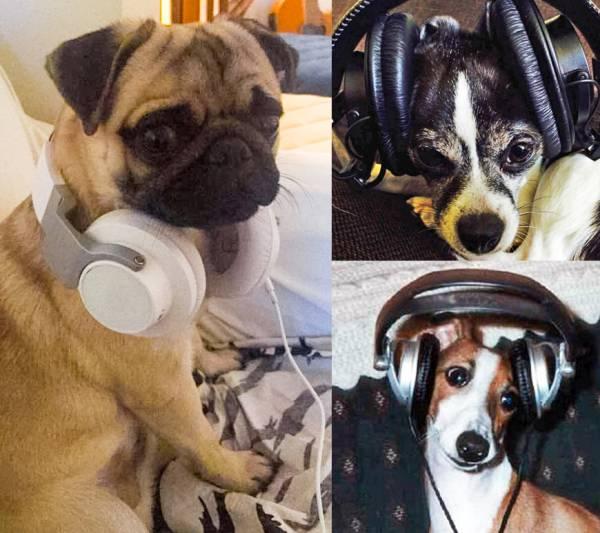 CES 2016 proved to be a massive year for the petcare gadgets industry. People love their furry family, and the electronics world is finally catching up. The biggest innovation? Headphones for dogs. More than the thunder-dampening earmuffs of yesteryear, these high-fidelity canine cans promise "better than human range fidelity" and "high definition to howl about." Obviously, we needed to test them out.
Of course, we couldn't listen to these beyond-audiophile-level headphones with our paltry human ears. So we recruited some of our favorite pups to try them out.
AK9G Dog Pounds
The Dog Pounds are part of AKG's new pooch-specific line, cheekily named "AK9G." They're noise cancelling and Bluetooth, and styled after the K 845BTs. Frequency response has been tweaked to for better treble performance, with AKG claiming -3dB at 60,000 Hz. The faux-leather band and earcups are treated with a special anti-odorant, so as not to encourage munching and to keep them from absorbing too much fido funk.
Funk, however, is one of our tester's favorite genres. We put on some George Clinton and the P-Funk All-Stars for Smeagol. Pugs are not known for subtly, and he certainly let us know how much he enjoyed the groove. He also seemed to enjoy the adjustable ear cups, given his smaller head size and sensitive ears.
The Dog Pounds are available now for $499. A larger size for pit bulls and above is $529.
Bose QC20 Canine Edition
Bose's entry into the dog headphone market is unique: in-ears. Well, sort of. Like their other headphones, the QC20CE use special silicone tips that hold the buds in place. On humans, it works great. On dogs, not as much. Chai, an Italian Grayhound, liked the quiet the Bose's noise cancelling provided, but the fit didn't hold during mad dashes through the countryside at his lure coursing training ground. "No," he told us.
The Bose QC20 CEs are available now for $399.
Action Pie Pow! Extra Bass! Dog Extreme!!!
Action Pie Pow! Extra Bass! Dog Extreme!!! are the latest export from Shenzhen. While technically not on the US market yet, we were able to get advance samples shipped to us. Although the APP!EB!DE!!! are really marketed to the Pekingese-set, we thought our mutts might enjoy their lightweight styling and claimed low frequency response of 14 Hz. Originally developed for elephant hearing tests, the planar magnetic drivers of these headphones have been repurposed to allow our paw-having pals to really feel the bass.
Chai was amazed by the precision and detail; hearing things in the music he never had before. He was especially impressed with the fidelity of the organ in Olivier Latry's performance of Vierne's 6th Symphony. "It has never sounded better; his superior footwork really comes through perfectly. I think Messian called him 'the new Marcel Dupre', and hearing this recording through these headphones, I am beginning to agree. That said, I generally prefer open-backed for serious listening."
The Action Pie Pow! Extra Bass! Dog Extreme!!! have an estimated price of $299.
Beats by Dre Big Dogs
Of course the biggest headphone company in the world would leap at this new market. The Big Dogs are about what you'd expect from Beats: brash design, oversized everything.
Featuring Bluetooth, ANC, and a touch-sensitive earpad made for use with the new iPhone 6SE, the Big Dogs come complete with a Beyoncé-designed stylish armband.
Lily, a chihuahua, greatly disliked the Big Dogs, possibly due to fit. These are clearly aimed towards, well, big dogs. "Look, I appreciate the form factor from an aesthetics standpoint, I really do. But what's up with this optional cable? A single-button remote? No iPhone-specific controls? And Bluetooth 3.0? What is this, 2007? I mean, I enjoy feeling like a puppy again, but seriously," she snorted.
Ouch, not a fan, it seems. Additionally, the "armband" was more of a belt on her. "How am I supposed to check my Snapchats on this thing?" she derided.
Smeagol was more neutral, "I'm a DJ, so I like deadly deep subs. These feel just right when the bass drops. I can't wait to try them at my dubstep/jungle/D&B gig this weekend." Lily's eye roll was noted by everyone, except Smeagol. "I can totally get you guys in," he told us. Again.
"I would never to listen to such... bombast such as this," Chai said with a shiver, adding, "Clearly for the plebs."
The Beats Big Dogs are available now in over a dozen different blue and yellow color combinations for $699. A limited edition, rose gold-studded cat-fur headband model is $999.
Bottom Line
With the test panel becoming less and less interested in headphones and more and more interested in sniffing butts, we decided to call it a day.
Suffice it to say, we don't expect dog headphones to really take off.