Director John Badham Reflects on 40 Years of Saturday Night Fever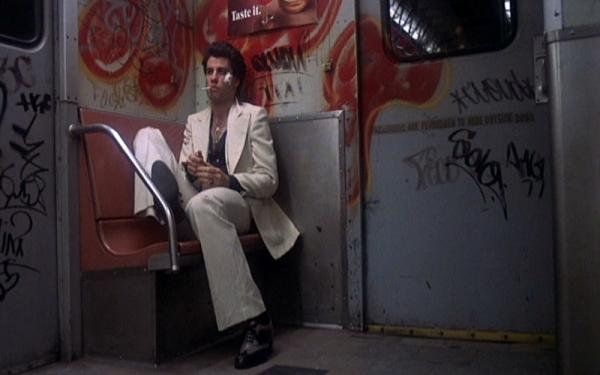 "Well, you can tell by the way I use my walk, I'm a woman's man, no time to talk." With the Bee Gees' indelible "Stayin' Alive" as his personal walking soundtrack, John Travolta strutted down the boulevard in Bay Ridge, Brooklyn with a can of paint in one hand and '70s swagger oozing out of every pore — and all of it done in perfect rhythm with the chart-topping song that played while he moved along. That infamous opening sequence helped propel
Saturday Night Fever
into becoming an instant zeitgeist classic upon its release into theaters on December 16, 1977.
Besides the film's undeniable success — SNF has grossed over $94.2 million to date — its enduring soundtrack itself has sold over 15 million copies. And if the recent Bee Gees tribute during this year's Grammy Awards is an indication, any lingering disco-era backlash has essentially been deemed irrelevant, as the impact of the music they both made and oversaw for the film has gone on to both influence and be admired by subsequent generations, 40 years and counting after its initial release.
"It's just part of our audio culture," believes SNF director John Badham (Blue Thunder, War Games, Stakeout), who supervised the 4K 1080p print restoration and English 5.1 Dolby TrueHD surround sound updates for the Saturday Night Fever Director's Cut, which was released by Paramount on Blu-ray on May 2 in celebration of the film's imminent 40th anniversary. "I'm pretty sure the original mix was done at Ryder Sound at Paramount, with help from Dolby," Badham continues. "For our remixes, we went back to the basic tracks."
SNF has seen a number of home-video releases over the years, and I asked Paramount to clarify who did what for the various soundtrack upgrades. Here's what they told me:
In 1998, the first 5.1 mix was created at Pacific Ocean Post (POP) Sound with mixer Ted Hall. It was used for the original DVD release as well as for future cable-market airings, primarily on HBO. In 2002, the existing 5.1 mix was sweetened, and 5.1 foreign dubs were also created of the theatrical version, again done at POP Sound with Ted Hall. The surround mix for the new Director's Cut was done using the 2002-era 5.1 as a base while adding in the extended/additional scenes, revising some portions of other scenes (primarily to make dialogue clearer), and improving distortion and other transient anomalies. This mix was done at Deluxe Audio (formerly Chace Audio by Deluxe), with mixer Tom Biener. (Now you know! Mix fever, mix fever. . .)
To further analyze SNF at 40, Badham, 77, called in from Southern California to discuss how to maintain a gritty look in 4K, matching song tempo to what was being filmed, and the song originally used during the infamous dance-contest rehearsal that had to be replaced at the literal last minute. If current national discourse is an arbiter, we're all continuing to try to understand The New York Times' effect on man while the city is breaking and everybody is shaking.
Mike Mettler: John, I've really been enjoying viewing the 4K enhanced version of Saturday Night Fever. You must be pleased with the film's updated look.
John Badham: Oh my gosh. Honest to God, it looks better than the original prints.
Mettler: The movie is infamous for having that perfect 1970s Brooklyn, New York "grit" look to it. Did you feel like you had to maintain a balance between that classic look and how great 4K looks these days?
Badham: Well, I think the grittiness was going to come through no matter what, because the lighting is the lighting, and we didn't try to change any of that. We just tried to clarify that, and make the negative as strong as it could possibly be.
I don't think we wound up glamorizing it any. It just looks better and crisper. There aren't any pixilated bits of grain crawling all over the place — which there used to be in some shots.
Mettler: Those opening helicopter shots over the Verrazano-Narrows and Brooklyn Bridges and New York City are so clear, it opens up us viewers to having an entirely new reaction to what we're now seeing.
Badham: It does — and it certainly pays off really well in the disco, which is the whole fantasy side of the film. That's where all these kids in the movie fantasize about how to get out of their everyday, dreary world.
Mettler: Right — to get away from all that paint, and the hardware store [where John Travolta's character, Tony Manero, worked].
Badham: Yes, to get away from the paint, the backaches, and all of that humdrum stuff, and get to something that is way more fun.
Mettler: I imagine getting all the lighting just right during all the 2001 Odyssey disco sequences had to be a major task.
Badham: Oh, it got me into terrible trouble, I can tell you that. We were a very low-budget movie, a $2.5-to-$3 million movie, so we were shooting out on the streets great guns — bam bam bam bam. We were going like the wind, and the actors were great; it was all moving fast. But when we go into the disco, every setup would take quite a while to set up, because we started in the dark, and we couldn't just flood the place with light. (chuckles)
Everybody was coming up and asking, "What's taking you guys so long?" I don't think any of us realized how long it would take to shoot a musical dance number if you weren't trying to shoot it like a half-hour sitcom with three cameras all over the place. You were trying to light it so it would look really nice and wonderful — and that took time.
Thank God the producer, Robert Stigwood, was smart enough to know that's where the heart of the movie was — in that disco. Yeah, it was taking a few more days, but it was going to pay off.
Mettler: Being able to get the surround sound mix that you've overseen for this Director's Cut Blu-ray just right is critical in making us really feel like we're there in the disco in those scenes, wouldn't you agree?
Badham: Yes. Thank goodness that, over the years, we've been able to fix the sound mix, which originally was right at the birth of Dolby Stereo on 35mm film, when the technology was really rough and buggy. Our original mix only went out into about 25 theaters, and 95 percent of those theaters were monaural.
Mettler: Some of the energy we can clearly see and feel onscreen was probably lost to some degree in the theaters because of that. I was at the Consumer Electronics Show in Las Vegas back in January, and I was talking with Albhy Galuten, who's been the Bee Gees' producer for many years. Naturally, Saturday Night Fever came up, and I said to him, "Wouldn't it be great if we could get the full soundtrack on an audio disc in surround sound, all on its own?" He was absolutely interested in the idea, and actually pulled out his phone to type out a note to himself about it. Is that something you'd be interested in as well?
Badham: Wouldn't that be great? Yes!
Mettler: We'll have to get Universal on that, then. [Universal/UMe controls the rights to any format issues/reissues of the original soundtrack, which is currently available via the label's Polydor imprint.]
It might be hard to say, but do you have a personal favorite musical moment in the film, one you feel works the best?
Badham: Uh, well. . . (slight pause) The songs are so powerful, and so different. There's the high energy of "Stayin' Alive," but then "How Deep Is Your Love" is very touching.
Mettler: Yeah, and it has two important placements in the film, especially in the back end of it.
Badham: And the Bee Gees really knew what they were doing when they wrote these songs. They just fit like a glove in certain places.
Mettler: Did you have other songs in position while you were filming?
Badham: No, I had all five of those songs in temp. [While he was filming, Badham had in hand the Bee Gees' still-in-progress tracks for "Stayin' Alive," "How Deep Is Your Love," Night Fever," "More Than a Woman," and "You Should Be Dancing," but not their final mixes.]
Mettler: Ah, good. I think some people assume a lot of it happened in post [i.e., post-production].
Badham: For the opening number, "Stayin' Alive," I had one of their first temps while we were out on the street, and was playing them on big speakers so that John [Travolta] could be walking in tempo to it.
Mettler: It is hard to separate the sound and the visual when you're watching him go down that street, because they go together so well like hand in glove, as you said — or maybe it's foot in glove, in this case. (both chuckle)
Badham: What I said to Barry Gibb and the other Bee Gees was, "As you're developing these numbers and finishing them, please please please, don't change the tempo! I'm having people dancing to your temps, and they're walking to them too, and they'll just look clumsy if you change the tempo on them."
Mettler: How much discussion did you have with Barry and the guys once the film came out and had turned into such a phenomenon? Did you feel it worked out even better than you could have imagined?
Badham: I think everybody was surprised — except for Robert Stigwood, who had the unshakable faith that it was going to be a huge hit. Paramount was very nervous about it because of all the language, the sexism, the racism, and the homophobia. They thought everyone was going to turn off this movie.
But probably because of all the dancing and the music and everything, it succeeded in spite of what people thought was going to happen.
Mettler: On the movie's original DVD commentary, it was noted that during the rehearsal sequence with John Travolta and Karen Lynn Gorney [who played dance prodigy Stephanie Mangano], "Lowdown" by Boz Scaggs was originally the song that was playing at the time, is that correct? It was in the hold positon there before you had to change it?
Badham: It was. The Bee Gees didn't want every song in the picture to be Bee Gees — and I think they were wise that way. So we thought, "Oh, great, here's this Boz Scaggs number that we can use here."
And you're absolutely correct that we shot a whole scene using that song. No sooner had I finished shooting the scene and had come out to get a drink of water that I get a phone call saying, "Boz Scaggs wants to make his own disco movie, and wants that song back. We can't have it." And I go, "Oh no! I just shot everything with that!" (laughs)
So I asked my good, lifelong friend David Shire, who had come in to do all the incidental music, to "write something that has the same tempo and same feeling, but won't get us sued by Boz Scaggs."
Mettler: Did you ever hear from Boz about that switch? Did he think it was a mistake not to have a song of his in Saturday Night Fever? ["Lowdown" was ultimately used in 1977's Looking for Mr. Goodbar.]
Badham: Well, he never called me up to say that! (both chuckle) But there was a sweet moment, because what David composed, which he called "Manhattan Skyline," was something CBS used in its football game broadcasts for years, going into commercial.
Mettler: That's right; I remember that. Final question: John: How do you assess the audio and musical legacy of the film now, 40 years later?
Badham: It's amazing. I get into elevators, I go into restaurants, and I keep hearing these songs, year after year after year. Sometimes, if I'm a little down or depressed, I'll pick it out: "Oh my God, I'm listening to 'How Deep Is Your Love'!" (chuckles) I mean, it's just part of our audio culture.