The Dilemma (Blu-ray)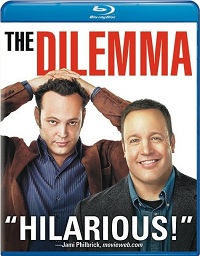 Since college, confirmed bachelor Ronny (Vince Vaughn) and happily married Nick (Kevin James) have been through it all. Partners in an auto design firm, the pair are vying to land a dream project with Chrysler that will launch them into the big time, but when Ronny inadvertently sees Nick's wife kiss another man, he makes it his mission to get answers.
Off the top of my head, I can't think of a bad film Ron Howard has directed over his career, so I'm going to cut him some slack for this middling effort. While the two stars are supremely talented when it comes to comedy, the editing is this film is terrible and it really kills the pacing. Scenes drag on forever and there are certain subplots that could have been cut altogether (sorry Queen Latifah) that would have improved it immensely.
Video Highlights

AVC/1080p encode on a BD-50 disc
Excellent detail
Strong colors
Inky blacks with plenty of shadow detail
Occasional soft shot
Audio Highlights

Dolby TrueHD 5.1 soundtrack
Engaging score
Clear dialog
Amble bass, especially when the petal hits the metal
While the movie isn't great, the video and audio are outstanding. The video encode features plenty of detail, especially on the city streets of Chicago, and the audio track packs quite a punch.
Bonus Materials

Alternate Ending
Deleted Scenes
Gag Reel
This is The Dilemma
Tour Chicago
On Ice
BD-Live with pocket BLU
I've seen far worse bromances, but I expected more out of Ron Howard given his track record. There are a few laughs scattered throughout the nearly two hour flick, but there are plenty of cringe-inducing moments as well, so you'd be better off throwing this in your rental queue before making a purchase.
Release Date: May 3, 2011
Studio: Universal
Movie: 5/10
Picture: 9/10
Sound: 9/10

Review System
Source
Oppo BDP-93 Blu-ray player

Display
JVC DLA-RS40 projector
Stewart FireHawk screen (76.5" wide, 16:9)
Electronics
Integra DTC-80.2 pre/pro
Anthem PVA-7 power amplifier
Belkin PVA-PF60 power conditioner
Speakers
M&K S-150s (L, C, R)
M&K SS-150s (LS, RS, SBL, SBR)
SVS PC-Ultra subwoofer
Cables
Monoprice HDMI cables (source to pre/pro)
Best Deal analog-audio cables
PureLink HDC Fiber Optic HDMI Cable System (15 meters) from pre/pro to projector

Acoustical treatments from GIK Acoustics