Denon: New Headphones, New Docks, New Look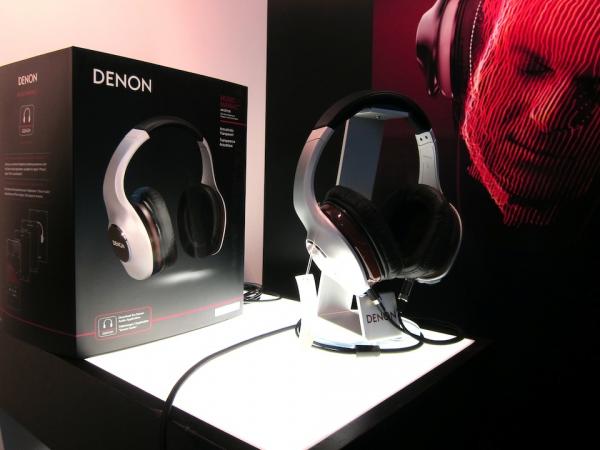 Denon's been to headphones what the Rolling Stones have been to rock: Both enjoy an unassailable reputation even though they haven't done anything significant for a long time. I'm betting the Stones stick to that plan, but as of yesterday, Denon's back in play with a new line of 11 headphones — plus a couple of cool new AirPlay/DLNA speakers, too. Sister company Marantz (joined with Denon, Boston Acoustics, McIntosh and other brands in the D+M Group, formerly know as D&M Holdings) also showed a new luxury iPod/AirPlay dock.
The new headphones are divided into four lines: Music Maniac (for audiophiles), Urban Raver (youth/DJ-oriented), Globe Cruiser (for business travelers), and Exercise Freak. Denon has even created iOS (iPhone)/Android apps for each line, configured to suit the needs of that application.
Denon global headphone product manager Petro Shimonishi said the new headphones are all designed so they can be driven with the source device most people use with headphones: a smartphone. All models include an iPhone-compatible microphone/remote; on the Globe Cruiser, Urban Raver, and Exercise Freak models the controller is integrated into the headphones themselves, the audiophile models ship with both a 3-foot iOS-remote cable and a 10-foot, remote-free cable for at-home listening.
Both over-ear and on-ear models are designed with unique pentagonally shaped earpads, intended to fit the human ear better than the usual round or oval shapes. The frames utilize composites in place of the magnesium and aluminum used in previous Denon models; the shaping has a unique organic look, and the materials are said to increase overall stiffness.
Target ship dates fall between July and September, depending on model. The companion apps ($0.99 each) are available now for iOS, if you're interested in playing around with them in advance of the headphones themselves; the software should be available soon for Android.
Music Maniac: For Audiophiles
Top of the Music Maniac line is the $1,299 AH-D7100 over-ear model, replacing the outgoing (and somewhat long-in-the-tooth) flagship, the AH-D7000. It's distinguished by mahogany ear cups, a glass-fiber-reinforced body, and Denon's new Free Edge Nano Fiber driver. Shimonishi said that Denon uses a rubber surround to connect the cone to the basket (just like a typical speaker driver), instead of gluing the cone straight to the basket. The AH-D7100 comes with a 10-foot oxygen-free copper cord plus a 3-foot cord with an integral iOS-compatible mic/remote.
Also in the Music Maniac line are the $499 AH-D600 over-ear and the $349 AH-C400 in-ear. The AH-C400 is a dual balanced armature design with a diecast zinc body. The Denon Audio app for the Music Maniac line combines a music player, TuneIn Radio, various EQ presets, and a 100-band user EQ that allows saving and storing your fave settings (in addition to letting you while away a four-hour layover trying to adjust 100 separate bands of equalization).
Globe Cruiser: For Biz Travelers
Finally we can fly without worrying about our headphone cable drooping into our glass of Jim Beam. Automatic noise cancelling is de rigueur in a biz'phone, but add to that the $499 AH-NCW500 on-ear model adds a feature long overdue in this category: a wireless Bluetooth connection (employing CSR's high-quality aptX codec). Conveniently, plugging in a cable automatically disables the wireless functionality (handy for airplane use).
An interesting all-in-one rotary control on one earpiece lets you adjust volume, skip tracks, etc. — and if you press and hold the center of the control, it calls up Siri on your iPhone. The $179 AH-W200 in-ear model also includes Bluetooth, along with a smaller version of the on-ear model's all-in-one control.
Denon's Travel Mobile iOS/Droid app has most of the same features—100-band EQ, music player, TuneIn Radio—as the Denon Audio app, but subtracts the EQ presets and adds a travel portal that combines several popular travel apps such as Kayak, FlightView, TripIt, etc.
Urban Raver: Big Bass
Kids who listen to hip-hop or electronic or dance music or whatever tend to favor headphones with tons of bass. Denon's new $249 AH-C300 may be the biggest, bassiest in-ear monitor in headphone history. Each of the IEM's seemingly bulky earpieces has one of Denon's patented Double Air Compression Drivers. It's an arrangement with dual 11mm drivers, both firing at each other into a chamber that vents directly to your ear. A miniature control wheel gives the same functionality as on the over-ear and on-ear models.
There's also an over-ear Urban Raver, the $399 AH-D400, which has an internal amp said to provide massively boosted bass. You can also run it with the amp switched off for a flatter response. For added flash, an LED-lit blue ring surrounds the control wheel.
The Denon Club app combines the features from the Denon Audio app with LyricWiki which if activated automatically finds and displays the lyrics to the song you're listening to.
Exercise Freak: Cable-Free Workouts
Another place where Bluetooth is much more convenient than a cable is at the gym or when you're out running. (I have to take Shimonishi's word on this — I cannot confirm this statement through personal experience.) Thus Denon's new $149 AH-W150, which includes Bluetooth plus a reflective back band that should make you slightly more visible at night to oncoming traffic. Air cushions on the insides of the earpieces improve comfort and ventilation.
The Denon Sport app has a music layer plus GPS to track and automatically log your runs. There's also vocal coaching — a synthesized voice prompts you if, for example, you're falling below your target speed.
Compact/Portable systems
Denon and Marantz are also getting into the iPod dock business, albeit at a more elevated level than most of the stuff at the Apple store.
First among the new offerings is the $1,199 (yep) Marantz Consolette, which has an appealingly retro name, look and finish, incorporating a real wood back panel and Marantz's trademark "porthole" display. (Can a Bakelite version with tubes be far off?)
The Consolette features a retractable iPod dock, AirPlay, Internet Radio with six station presets, and streaming from networked hard drives and computers via DLNA. The unit incorporates two BMR (Balanced Mode Radiator) drivers as midrange/tweeters (as seen previously in the Cambridge Audio Minx and other systems), with left and right 4-inch woofers in separate chambers. Each driver is fine-tuned with a nine-band internal EQ. Each woofer has a 50-watt amp, while each BMR has a 25-watt amp.
Denon's new $599 Cocoon and $499 Cocoon Portable share some of the Consolette's functionality: Internet radio with three presets, AirPlay, and DLNA. The Cocoon is intended for indoor use, while the 25% smaller Cocoon Portable is water-resistant and has a built-in battery so you can easily haul it around with you.
All of the new units can stream at up to 24-bit/96-kilohertz resolution, and include a USB port so you can play music stored on USB sticks. Marantz and Denon will also offer smartphone control apps for all the new docks.
Needless to say, we're eager to run some of the new Denon and Marantz stuff past our listening panel to see if the final products live up to their promise.