Denon DVM-4800 DVD-Audio/Video Changer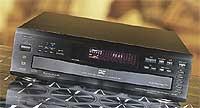 At least some things in life are predictable. And one of them is the progression of value-added features in consumer electronics. For example, when DVD-Video first came in almost five years ago, everyone predicted that in a few more years we'd be able to buy a super-combo changer able to play movie DVDs and other formats with better performance than those first-generation, single-disc models. Well, the prediction was accurate. Case in point: the five-disc Denon DVM-4800 DVD-Audio/ Video changer.
Rather than list every format it can play, it's easier to list what it can't play: vinyl records and Super Audio CDs (SACDs). Otherwise it can play and decode just about every optical disc format out there, including not only DVD-Video, DVD-Audio, and standard CDs but also DTS- and HDCD-encoded CDs and home-burned CD-Rs and CD-RWs with MP3 files. It provides full decoders for Dolby Digital and DTS, with six analog audio output jacks for these as well as DVD-Audio programs. On the video side, it sports a progressive-scan component output. And, of course, it supports an onscreen menu system filled with the kind of video and audio selections and adjustments you'd expect on an upscale DVD changer.
Like most changers, the DVM-4800 reserves many of its operating controls for the remote. Still, its front panel has plenty, including a Progressive Scan on/off button, an Audio Only button that defeats the video output so it can't interfere with the audio, and a Bass Enhancer button to send low frequencies from the main channels to the subwoofer (it works with DVD-Audio and PCM tracks on DVD-Video discs, but not with Dolby Digital or DTS soundtracks). A blue fluorescent display keeps you fully apprised of the player's operating status.
Under the changer's hood, you'll find a plethora of high-tech parts. Denon has always seriously pursued state-of-the-art electronics, and the DVM-4800 is no exception. The progressive-scan circuit features a de-interlacer with 2:3 pulldown, the video digital-to-analog converter (DAC) is a 12-bit chip (most DVD players use a 10-bit DAC), a 4-megabyte (MB) buffer memory helps smooth out or eliminate layer-change freezes and prevent skipping, 24-bit/192-kHz DACs are used for the front left and right channels, and 24-bit/96-kHz DACs are used for the center, surround, and subwoofer channels. Bottom line: this player packs some serious silicon.

In The Lab
---