Denon DVD-A1UDCI Universal Blu-ray Player
Price
: $4,500
At A Glance
: Full interactivity and advanced audio • Reference-level picture and sound • HQV video processing • Slow disc access and load times
The Chosen One?
This isn't the first player we've reviewed in the high-end price category. In some respects, we've walked away impressed by the high-end players we've reviewed, but none of the high-end designs we've looked at has earned their pay grade by making our Top Picks list. It's possible that this tells us more about the less expensive players on the market than the more expensive ones. Blu-ray's inherent quality, advances in video processing, and the proliferation of HDMI have resulted in sub-$500 players that will satisfy even the most finicky videophile with a front-projection system. In short, midrange and even entry-level players have gotten so good that, although we've been waiting to be floored by a high-end player, so far it hasn't happened. Whether it's lack of speed, audio or interactivity features, or performance, we've been waiting for a player that makes us stand up and shout, "Noooo!" when the UPS man comes to take the player back to the manufacturer. With regards to both its price and its performance aspirations, the $4,500 Denon DVD-A1UDCI is the most ambitious Blu-ray player we've yet reviewed. Is it the chosen one?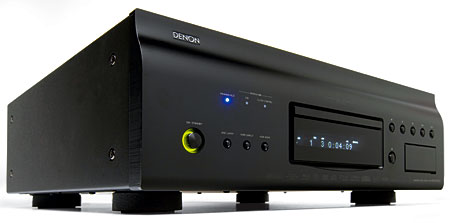 Universal Player: Files and Formats
In spite of the misleading model designation, the DVD-A1UDCI is a Blu-ray player first and foremost—but that's just for starters. It not only plays DVDs and CDs, it plays SACDs and DVD-Audio discs. DVD-Audio is gone as far as new releases go. And SACD lives as a niche within a niche, with a small number of new releases primarily confined to boutique jazz and classical labels. But then, this player isn't limited to those traditional disc-based formats, either. From its disc tray and SD card slot, the DVD-A1UDCI also plays files encoded in the following formats: AVCHD, MP3, WMA, AAC, and DivX. It can also display JPEGs in case you want the player to act as a conduit for your family photos.
Features: The Usual and the Not So Usual
Let's talk about the features the Denon has in common with other recent-generation BD players first. It has name-brand HQV video processing, and it serves up advanced audio in every conceivable way. Over HDMI, the DVD-A1UDCI can transmit Dolby TrueHD and DTS-HD Master Audio as native bitstreams. It can also decode either lossless format to PCM and includes a set of 7.1-channel analog outputs. On the interactivity front, Bonus View PiP was active from the get-go. But when the player shipped to me in mid-July, BD-Live capability was dependent on a firmware update that Denon released a couple of weeks later.
What's disappointing in a player at this price point is the fact that it doesn't include the local storage required for BD-Live. As with some popular players in the sub-$500 price range, you must buy an SD card before you can go BD-Live. This isn't a deal breaker for most people, and truthfully, BD-Live isn't distinguishing itself as a strong value-add to the format. But since we call out cheap players on this front, this one doesn't get a pass, either.
Now that we've covered that ground, the big Denon player gets more interesting. Top-shelf video processing solutions that aim to offer superior upconverted DVD playback aren't uncommon in BD players. The solution here is the HQV Realta, which could be considered overkill even in an A/V receiver. The Realta offers superb deinterlacing and scaling, 1080p/24 with standard-def DVDs, and a range of image adjustments and enhancements. You could argue that these enhancements would add more value in a component that accepts incoming sources that need more help than DVD and Blu-ray typically do, and there's truth in that. But this is a solution that can make Blu-ray and DVD look their absolute best, as you'll read.
It's also worth noting that Denon includes the necessary video processing for constant-height display when used together with a projector equipped with an anamorphic lens (no black bars on widescreen movies). You can change the video output resolution on the fly, and there's a Source Direct mode that outputs the native resolution of the video encoded on the disc. In addition, if you want to stroke your inner tweaker, you can force an RGB output over HDMI and enable interpolated Deep Color output (also over HDMI) to a compatible display.
With audio, the Denon has a broad variety of performance-oriented features that you can apply whether you're using analog or digital outputs. The first is the Denon Link 4 connection, which Denon claims is a jitter-free connection. The concept of eliminating jitter is welcome. However, connection using the DL4 interface is only possible when the DVD-A1UDCI is connected to a Denon surround processor or AVR. I wasn't able to test this feature for this review.
The Denon offers bass management adjustments plus speaker distance (delays) and levels for each channel, together with internal test tones for setting the levels. You can apply these settings not only to the analog outputs, but to the decoded PCM output over HDMI as well. Most AVRs and surround processors I'm aware of that process multi-channel PCM over HDMI also offer sophisticated bass management, levels, and delays, so the Denon's PCM bass management is redundant for most users.
Of course, the player decodes legacy Dolby Digital and DTS, but it also includes Dolby ProLogic IIx and DTS Neo:6 processing. So, someone using the multichannel analog outputs can decode a two-channel soundtrack to surround sound and/or play back a 5.1-channel track at 6.1 or 7.1 channels.
While it's nice that the DVD-A1UDCI plays back lossy compressed audio formats like DD, DTS, MP3, and AAC, I'm far more impressed that Denon takes steps to make them sound better with its Restorer technology. I'm not (quite) contentious enough to say this is a must for Dolby Digital and DTS. But man, if there isn't a moving picture there to distract you, low-bitrate MP3 and AAC need all the help they can get.