Denon DVD-5910 Universal DVD/SACD Player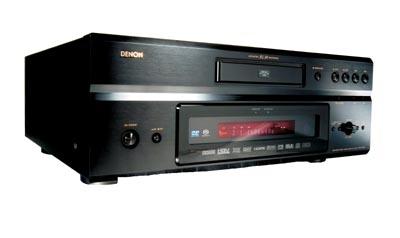 What We Think
This player's superb audio and video performance and full range of adjustments define "state of the art".
In a world overrun by lightweight, throwaway players, Denon's 42-pound, $3,500 DVD-5910 is a breed apart. It's unusually well equipped in all the key areas - audio/video technology, performance, adjustability, and hookup options - making it a prime candidate for hard-core home theater enthusiasts who seek a true cinemalike experience.
The DVD-5910 has more connectors than any other DVD player I've seen. Most important are the digital outputs: DVI for video only, HDMI for video and audio, and IEEE 1394 for multichannel audio. Like many of today's players, the DVD-5910 "upconverts" standard-definition DVD video to an HDTV format - its DVI and HDMI outputs scale to your choice of 720p or 1080i. Actually, these connections can't produce HDTV-quality picture detail from DVDs, though if you have a fixed-pixel display - such as on a DLP, plasma, or LCD HDTV - they do offer an all-digital connection that will bypass the player's digital-to-analog video conversion (which in the Denon is outstanding) as well as the TV's analog-to-digital conversion (sometimes of questionable quality).
Using the DVI, HDMI, or component-video connections engages the DVD-5910's sophisticated processing power to carefully convert the interlaced 480i signal off the DVD into the progressive-scan 480p format. This is the starting point for any 720p or 1080i upscaling and is where the Denon stands out: for progressive conversion it uses a Silicon Optix Realta HQV processor, a high-end device with an impressive pedigree and an outstanding reputation. Scaling is in turn done by another video processor, this one from DVDO. Audio conversion is handled by 24-bit Burr-Brown digital-to-analog converters, which also carry all-star status among aficionados.
The player's exceptional array of fine-tuning adjustments goes beyond the standard video controls (contrast, brightness, hue, saturation, and sharpness). The most interesting of these is "gamma," which controls the translation between the signal level on a DVD and the image brightness on your TV. Adjusting gamma can have an enormous influence on the visibility of objects in the darkest parts of an image without affecting overall brightness or contrast, and the DVD-5910's multistep gamma control is considerably more versatile than most.
Full bass management and speaker-distance compensation are provided for the multichannel analog outputs, and - even more rare - the processing is applied identically, as it should be, to all the formats the player handles, including DVD-Audio, Super Audio CD, MP3, WMA, and CD as well as DVD-Video. You even get a generous selection of crossover frequencies (40, 60, 80, 100, and 120 Hz) for optimizing the bass.
SETUP Using any of the player's multitude of audio or video outputs was straightforward. While its provision of professional-style BNC jacks to carry component-video signals is a bit extravagant (since there are also parallel-driven RCA jacks), this will please custom installers who prefer these ultra-reliable twist-lock connectors. Like most of the HDMI outputs I've checked out, Denon's will carry multichannel digital audio (including, for once, an SACD bitstream), which greatly simplifies connection to an HDMI-equipped receiver.
The remote control is nicely laid out, with fewer buttons than you'd expect thanks to the extensive use of onscreen menus. All of the remote's buttons are backlit, but you'll need to memorize their positions since most of the labels remain dark.