Denon AVP-A1HDCI Surround Preamp/Processor and POA-A1HDCI 10-channel Power Amplifier
Like any job, once in a while a project comes along to remind us why we chose our profession in the first place, something that really gets us excited and enthusiastic again. So, it was with great pleasure and even a sense of honor that I accepted the assignment to review the Denon AVP-A1HDCI surround preamp/processor and POA-A1HDCI 10-channel power amplifier for
UAV
.
It's been a while since I've had a chance to review some extreme audio components, and I was eager to receive the new Denon gear. Upon firing them up, it took all of about 30 seconds for me to realize that I was going to seriously miss these bad boys once the review was over.
Why are separates still the holy grail of A/V components now that AVRs are so powerful and feature-rich? For one thing, separating the preamp and power amplifier isolates the audio and video signal paths from the power circuitry, preventing extraneous noise and signal interference that inevitably occurs with single-enclosure devices.
Also, manufacturers of separate components tend to pay extra attention to the small details that make a huge difference in performance. For example, the AVP-A1HDCI is equipped with six power transformers (most receivers have only one) to eliminate any interference between the various audio and video processes.
Features—AVP-A1HDCI
The AVP-A1HDCI is packed with pretty much every feature imaginable. You might feel you need training or a special license to drive it. Honestly, it's a little overwhelming but definitely manageable if you take your time and not try to learn all its capabilities overnight.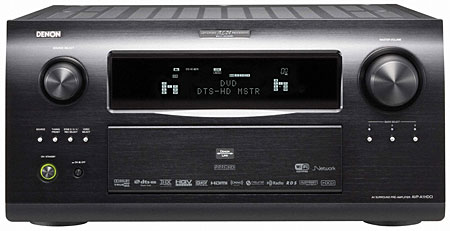 The AVP is THX Ultra2-certified and incorporates onboard decoding for every conceivable surround codec, including, of course, Dolby TrueHD and DTS-HD Master Audio. It's outfitted with three 32-bit floating-point surround processors and a total of 48 24-bit/192kHz Burr-Brown DACs in a dual-differential configuration, which is to say four per channel!
The AVP provides balanced (XLR) and unbalanced (RCA) preamp outputs to match the companion POA-A1HDCI 10-channel power amplifier. The 2-rack-height component provides various configurations for channel allocation and a plethora of I/O connections, both digital and analog.
For instance, there are six HDMI 1.3 inputs and two HDMI 1.3 outputs, more than any other component I have reviewed. There are also six component-video inputs plus a slew of S-video, composite, and digital audio I/Os. Thanks to the HDMI 1.3 implementation, the AVP-A1HDCI supports Deep Color (increased color bit depth) and xvYCC (expanded color gamut) for video displays with these capabilities.
Made for the most sophisticated and expansive custom installations, the AVP provides up to four zones of audio and video, allowing it to serve as a central hub for whole-house music and video distribution in addition to a dedicated home theater. The pre/pro offers component video for zone 2 and composite video for zone 3. None of the HDMI sources can be sent to the remote zones. Audio can be transmitted via analog or optical outputs to zones 2 and 3. Zone 4 is strictly for audio distribution from an optical output.
The onboard HQV Realta video processor handles video deinterlacing, upscaling, and conversion. Of course, the AVP converts all analog video sources to be output via HDMI, and it's possible to activate or deactivate video conversion for each source individually. Only the HDMI output can send 1080p—if you use component video to your monitor or zone 2, the maximum output is 1080i or 720p.
Networking is a major feature on the AVP, allowing, among other things, access to Internet radio, where you can find an endless selection of stations from around the world. Neural Surround offers Internet radio stations broadcast in surround. You can also access NAS (network-attached storage) devices that are connected to your network.
An Ethernet port connects the preamp to a wired network. It can also connect wirelessly via 802.11b/g. This functionality allows streaming audio and video directly from your computer, including photos in both the JPEG and BMP formats. The AVP can also be controlled via Internet Explorer by entering the unit's unique IP address into the browser.
Not only that, the unit's firmware can be updated directly online—in fact, I upgraded the firmware during this review. It took two hours to complete, after which the AVP had Audyssey Dynamic Volume and Sirius satellite radio capabilities. The new firmware also upgraded the Realta chip to provide 1080p/24 scaling.
There are two USB ports, one in the front and one on the rear panel, though only one can be used at a time. Connecting a flash drive or external hard drive lets you play stored media.
For integration with third-party control systems such as Crestron, two RS-232 ports are provided along with IR repeaters (in and out) and four 12-volt trigger outputs. The Control Link connector couples the preamp to the POA-A1HDCI, allowing both units to be powered up and down together.
Equipped with Audyssey's auto-calibration system and MultEQ XT room equalization, the AVP provides simple, intuitive, and highly accurate speaker calibration in less than 30 minutes using the supplied microphone. MultEQ XT is unique in that it takes measurements from up to eight locations for optimum audio performance throughout the room.
Additionally, certified Audyssey technicians have access to the MultEQ XT circuitry and can use special PC software along with a more-sensitive microphone to measure and calibrate room EQ for up to 32 locations. This is no doubt overkill for the average home, but for owners of large dedicated theaters, this is like a commercial-cinema calibration.
The AVP also includes Audyssey's Dynamic EQ, which provides consistent sound quality and balance between channels when the volume is turned up and down. At lower playback levels, sound characteristics can change, such as vocal timbre, bass balance, and a less-enveloping surround soundstage. To address this phenomenon, Dynamic EQ selects the correct frequency response and surround volume levels in real time, resulting in octave-to-octave balance and a consistent surround soundstage at any volume.
As mentioned earlier, a recent firmware update added Audyssey Dynamic Volume, which keeps the volume at a consistent level from one program to another as well as between programs and commercials. This is a godsend for anyone who keeps changing the volume while watching TV.
If you prefer to set up or fine tune your pre/pro manually, there is a separate section with a plethora of parameters that go way beyond basic calibration. For example, you can widen the center image or create a more spacious panorama with the surround speakers.
Thanks to its THX certification, the AVP offers a range of THX features, including Timbre Matching, which filters the surround sound speakers so they match the tonal characteristics of the front speakers. Adaptive Correlation changes the time and phase relationship between the two surround speakers to expand the listening position and create a more spacious surround effect, resembling the multi-speaker array in commercial cinemas. There are, of course, the usual THX Cinema, Music, and Game surround modes as well.
The AVP-A1HDCI is equipped with Denon's Advanced AL24 processing, which expands 16-bit digital data to 24 bits. The intended result is to reproduce more spatial information such as delicate musical nuances, the position of the musicians in the mix, and a sense of space in which the depth, height, and breadth of the room are apparent.
The Denon provides Direct and Pure Direct modes for the purest audio reproduction possible. The Direct mode bypasses the tone controls, while Pure Direct also turns off the LCD and GUI displays. In Pure Direct mode, video signals are only output via HDMI.
Controls for adjusting picture quality are becoming more common in pre/pros. In the AVP, you can adjust contrast, brightness, sharpness, hue, and more for video sources other than 1080p material.
Features—POA-A1HDCI
The massive 132-pound POA-A1HDCI is also THX Ultra2-certified, delivering 150 watts of high-current output from each of its ten channels, measured across the full audio bandwidth at 8 ohms with less than 0.05% THD.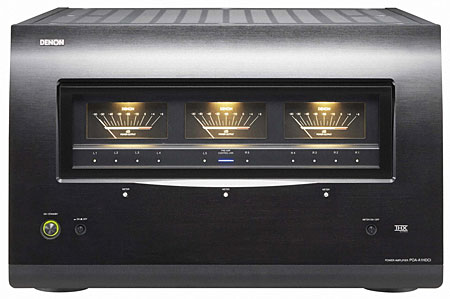 Depending on the channel assignments, the POA is powerful enough to drive seven channels and a couple of passive subwoofers for a 7.1 system that would easily fill a large theater. Another option is a 5-channel system with the remaining channels used for whole-house audio.
For audiophiles, it's the ultimate solution. No longer is it necessary to have two separate systems, one for serious 2-channel music and another for movies. You can bi-amp four channels to feed two speakers with 300 watts each and use the other six channels to create a 5.1 or 6.1 system.
A no-compromise amplifier of this stature uses every design advantage. For instance, each of the 10 channels is outfitted with a discrete power-amp assembly to eliminate interference between channels. Every channel also has a dedicated DC power supply. The high-current DC rectifiers and companion high-current filter/storage capacitors ensure stable performance with low-impedance (4-ohm) speaker loads, even in bridged mode. Direct mechanical grounding with extensive shielding further prevents interference between the individual amplifier channels as well as the low- and high-power circuits.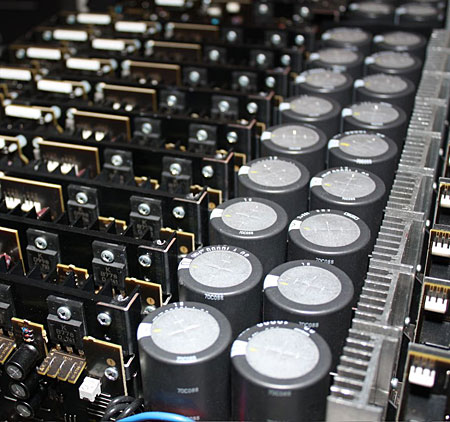 To match the balanced outputs on the AVP-A1HDCI, the POA-A1HDCI has balanced (XLR) inputs in addition to unbalanced (RCA) input connections. A switch on each channel selects either the balanced or unbalanced connection.
The rear panel has 10 identical channels. From left to right, the first five channels are labeled R1- R5, and the next five channels are labeled in reverse order L5-L1. You can configure the channel assignments any way you like, but there are factory assignments as indicated by these additional labels:
R1 = Front Right
R3 = Surround Right
R4 = Surround Back Right
R5 = Center
L4 = Surround Back Left
L3 = Surround Left
L1 = Front Left
All you have to do is match these to the corresponding connectors (either XLR or RCA) on the AVP pre/pro.
Every pair of channels (R1/R2, L1/L2, etc.) has a toggle switch that selects one of three options—Bi-Amp, Normal, or Bridged. When two channels are bridged together, the output power is twice the rated single-channel power, and you connect the speaker to the second output of the pair. For instance, when bridged, R1/R2 becomes one 300-watt channel instead two 150-watt channels, and you connect the speaker to the R2 output.
On each channel, there are two sets of speaker terminals, labeled A and B, providing maximum flexibility for sophisticated multi-zone installations. At the bottom of the amp is a 12-volt trigger and an RS-232 port for integration with automated systems.
The Control Link connectors look exactly like S-video. There are two of these connectors, which lets you daisy-chain two POAs together, and one AVP preamp can control them both. When two POAs are linked together, the Option Mode switch determines which amp is considered the first or second unit. The Control Mode switch determines if the amp is being operated from the AVP or an external controller.
There are three analog meters on the face of the POA. By toggling the respective meter button, you can read the output level of each channel. Meter 1 reads channels L1-L4, the middle meter reads channels L5 or R5, and the third meter reads channels R1-R4. A small LED indicates if the AVP preamp is controlling the POA. While the meters normally emit a soft white glow, they can be completely turned off.