David Coverdale Adds a Special Aural Bite to 30th Anniversary Whitesnake Box Set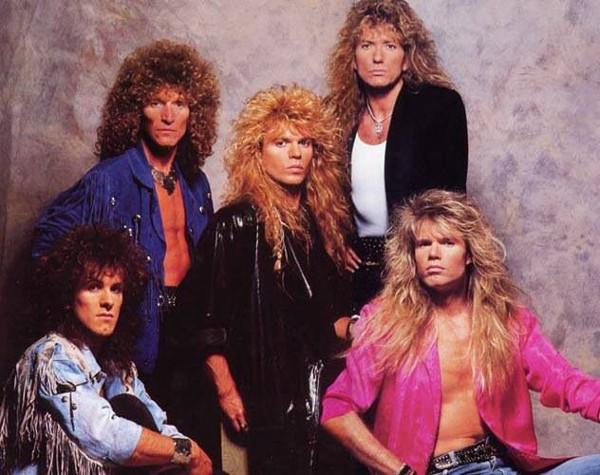 David Coverdale was at the crossroads when he beat a retreat to the south of France with guitarist John Sykes to work on the demos for what would become the biggest album of his career, 1987's mega-multimillion-selling Whitesnake — or, as it's better known internationally, 1987 in Europe, and Serpens Albus in Japan. (The phrase Serpens Albus, which can be seen adorning the band's iconic seal/logo on the album cover designed by Hugh Syme, is Latin for, of course, Whitesnake.)
To celebrate the 30th anniversary of the album that spawned such massive FM hits as "Here I Go Again," "Is This Love," and Still of the Night," Rhino has uncoiled an exhaustive 4-CD/1-DVD box set featuring a disc of demos titled 87 Evolutions, properly mastered live bootlegs, and four of-era videos remastered in surround sound on DVD.
While it's clear the writing team was well on its way to creating one of the decade's most iconic hard-rock records, Whitesnake's label at the time, Geffen, had also asked Coverdale if they could do more "FM-friendly" versions of "Here I Go Again" and "Crying in the Rain," a pair of songs originally found on the band's 1982 album, Saints & Sinners. "That was what I had always called The Contractual Obligation Album, so I wasn't averse to the idea of doing 'Here I Go Again' again," Coverdale admits. "John Sykes, though, was very averse. He loved all the new stuff we had — as I did — but I said, 'John, we could do a really great version of it!' I had no idea it would then become the biggest f---ing song in the Whitesnake universe." (I ain't wastin' no more time, indeed.)
Coverdale, 66, and I got on the line to dissect the critical change in his vocals on the original album, how Tina Turner came thisclose to singing "Is This Love," and the reason the core Whitesnake songs retain such universal appeal.
Mike Mettler: Did you feel any change in your vocal character in terms of what you sang on the Whitensake album, following the vocal surgery you had to clear up a sinus infection?
David Coverdale: No, I think it was more… (pauses) You could hear me better. On the earlier records, my voice was always back in the mix.
We did all of the vocal mixes for Whitesnake in ten days, after I got the all-clear from my ENT — my Ear, Nose & Throat doctor who, thank God, saved my life. He said to me before my surgery, "There's a 50/50 chance you may not be able to sing in the same way." But I actually added an octave to what I could do.
Mettler: You're much more out front in these 1987 mixes, that's for sure.
Coverdale: For me, to listen to isolated tracks from the 1987 project has been breathtaking. We also remastered the videos, which I don't even think was ever done before. It was exciting to remix "Still of the Night," "Here I Go Again," "Is This Love," and "Give Me All Your Love" to get rid of some of those '80s "tinkerbells" Keith Olsen [the original album's co-producer] talked me into.
And on the Evolutions disc, you can hear how we never rested. It was always that way, from that very first time I played John an idea, or when he played me an idea. Like when we were preparing to track the song "Looking for Love" in Vancouver, we started with an atmospheric thing and were sampling things like (sings), "I'm tired of waiting for the ma-a-an" — the sort of thing that was kind of atmospheric.
From there, you get led to the evolution of "Still of the Night" when we were still working on making the transitions. And while I thought "Still of the Night" was really spectacular, the solo sequence was kind of ordinary. It was like what you'd expect, you know? I said to John, "What if we try that, then that?" And that's what led to the cello riff — the "da-na-na-na" part — which is one of the most chilling moments of the record, I think.
Mettler: I also love the fact that it's Track 1, by the way. It was great to have a 6½ minute song open the album.
Coverdale: That was part of the running order that [noted Geffen A&R executive John] Kalodner had changed. "Crying in the Rain" isn't first. I know some people are going to go, "F---, I'm used to the original running order!" But I had worked with Jimmy Page [on 1993's Coverdale Page], who told me, "You have no idea how pissed off people got" when he put those Led Zeppelin best-ofs together. What's that beautiful box set, the one with the cornfield? I'm blanking on the name of it.
Mettler: That one was just called Led Zeppelin — the box set with the crop circles on the cover [i.e., the self-titled four-disc set, originally released in 1990].
Coverdale: Yes, yes, it had four CDs, and it was beautifully done — and Jimmy changed the running order of the songs! (chuckles)
Anyway, what was I saying? Well, on "Still of the Night," I could hear the difference. It was one guitar player instead of two. John would be double- or triple-tracked, whereas normally, I would have six guitars, trying to beef up those song in the earlier Whitesnake chapters. And they were all great musicians. I would never, ever dismiss these guys I've worked with, but it's just like any relationship. You get to the end and go, "It's not fulfilling me anymore, or motivating, or inspiring." And really, you have two choices: One, stay there; or two, move forward. And I've never regretted any of the decisions that I've made. I'm like the Edith Piaf of rock.
Mettler: (laughs) There's another covers album you have to do immediately.
Coverdale: Well, I'm a notorious whistler, and my people are trying to coax me into doing David Coverdale Whistles Whitesnake's Greatest Hits. (chuckles heartily)
Mettler: I'd totally pay to hear you do that. Now, I have to ask you about "Is This Love." In the booklet for the 20th anniversary edition of Whitesnake, you said the song was originally intended to be solicited to Tina Turner. Did the song ever actually get to her, or no?
Coverdale: Let me give you some background first. During those days in London, I'd hang out with a lot of the EMI guys. Most of them are gone by now, of course, but there we were in the pub, where I was telling my EMI exec friends that I was off to the south of France. I had rented a villa in a small village called Le Rayol, about 40 minutes from Saint-Tropez. I rented the villa off of a Czechoslovakian film producer — a very dear friend of mine — out of season, and it was really good.
I said I was going over there to correlate all of the bits and pieces I had — and this time, I was going to take along my new guitar player, John Sykes, and see what he had to offer in the creative department.
This is when Tina had just come back with a vengeance with [1983's] Private Dancer, and they were looking for something to follow it up. I said, "Well, I'll have a look." One of the ideas I had that I never thought was for Whitesnake was, ultimately, "Is This Love." I was writing it on the piano, and John was up all night — youth, you know, has its fabulousness — but he walked out of his room while I was playing it somewhat quiet, and he said, "Wow, what's that?" And I said, "Oh, it's not for us. It's an idea for Tina Turner." So he got his guitar, sat down, and immediately started doing those amazing twinkles and shimmers up the guitar.
I was writing this chorus, and on the Whitesnake Evolutions disc, you can hear me say, "This is the chorus that's going to take over the world! We're going to make it a huge f---ing hit!" And then David Geffen heard it and went, "Oh, no no no — you keep it."
It was a scary moment for me, because I hadn't really done a real, full ballad. You can hear my style of arranging in a song like "Here I Go Again" being all reflective and stuff, and then go, "Oh f---, we better bring the band in!"
And the song has cousins, and brothers, and sisters: "Here I Go Again," "Now You're Gone," "Ain't Gonna Cry No More," "Love Ain't No Stranger" — all of these songs started as kind-of ballads, and then I just went, "F---, I better bring the band in!" And then it became a recognizable element of Whitesnake, and it's featured on every record.
Mettler: It is kind of a signature sound for you, David.
Coverdale: Thank you. Thank you, darling!
Mettler: (laughs) You're welcome — and no charge, either. So, back to my original question — did "Is This Love" ever get sent to Tina Turner?
Coverdale: (laughs) I have no damn idea!
Mettler: Did you ever talk to her personally?
Coverdale: I did. I met her in New York for a huge celebration for EMI Capitol, where the streets were closed down. And I just adored her. I mean, I'm a huge fan from the early days, you know? And I've known her husband [Erwin Bach] for forever. I was working with Pagey [i.e., Jimmy Page] at the time in Florida, and EMI flew me up to New York for this huge dinner.
Who else was I with? I was with Robert Palmer, and Iron Maiden were there, whom I'd known forever — you know, just all the EMI acts. And Tina, like the goddess she is, was like the f---ing empress of the event. I was catching her hand, and kissing her hand. But I'm not a hustler, you know, like (mock yells): "You've got to record this song!!" (cackles heartily)
Mettler: Maybe she can cover it for another kind of anniversary album, or something. Well, I also see we have a remastered vinyl version of Whitesnake, so you must be pleased about that too.
Coverdale: Oh yeah, it's total. And we sell every piece of vinyl that we do. We've been doing vinyl for years now, from the moment it was just a whisper — and now it's definitely a scream.
Mettler: Whatever happened to the Jaguar X6 from the infamous "Here I Go Again" video — the one with Tawny Kitaen, er, dancing on the hood?
Coverdale: It's in storage, actually. And that was my car too! It's funny — when the Hard Rock Hotels and Cafes were starting up and doing big business, we were negotiating with a guy who sadly passed away about buying the Jag to put on display. It's such a famous vehicle known the world over, you know? It's just in storage now, but who knows — everything's negotiable now.
We have a song on the new album we're preparing, and I was talking to Tyler [Bourns], my video guy, about the idea of just bringing in a bunch of people into a parking lot in Reno, having the car there, and film them doing some fun stuff with it, for a new video. No one else could f---ing get away with it, you know? But we could. (chuckles)
Mettler: To wrap things up, given all the options we have these days, how would you prefer people listen to this box set?
Coverdale: Any way they want, as long as the music connects with them. My feeling is, I spend a lot of time writing as many human elements into the songs as I can — love, heartbreak, the search for direction. I mean, I love trees and I'm a huge environmentalist, but I can't write songs about tree-hugging.
Mettler: Do you have a favorite record from when you were growing up? An album you still listen to personally?
Coverdale: Oh my God! The pivotal stuff to me was like "My Generation" by The Who (1965), and I still feature that before we walk onstage. It's the best rock record ever.
My favorite album in the past few years is The Bravest Man in the Universe by Bobby Womack [released in 2012]. I also thought Damon Albarn's Everyday Robots [from 2014] was f---ing fabulous.
This always puts me on the spot, but there are always a lot of rock bands that are grabbing the blues, and that fabulous early AC/DC or Zeppelin or Jeff Beck stuff, and harnessing it all into more modern sounds.
Mettler: Royal Blood is a band like that. Greta Van Fleet is too. And both of them do it the right way, I think.
Coverdale: Yeah, that's it. My thing is, whenever I'm getting ready for a writing session, I listen to '60s Motown, Stax, Muddy Waters, and Willie Dixon. They're really inspiring to me because that music is perfectly played and perfectly arranged with beautiful poetry, great melodies, and great singers. What more could you ask for?
So when I create a song like "Here I Go Again," I want people to put it in their pockets to accompany them on their journey. That's a good deal for me. I want people doing f---ing handstands on their Toyota! (chuckles)