Cutting-Edge Camcorders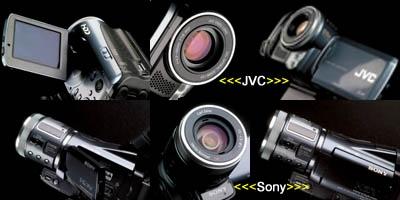 Family gatherings are always a convenient excuse to pull out the camcorder and start shooting. If you thought your choice of weaponry was confined to the 10-year-old MiniDV tape format, guess again. You'd be ignoring two of the hottest trends of the last few years: hard-disk recording and high-definition TV. It's not your fault. After all, while TiVo and the iPod garnered all the attention, it was their embedded - and unseen - hard drives that did all the work. Similarly, HDTV quality is something you might watch, but probably not something you thought you could create.
What We Think

Everio GZ-MG30
Sony HDR-HC1
This camcorder gets thumbs up for its compact size, high-quality video, and tapeless day-long capacity.
A compact, full-feature camcorder that shoots gorgeous high-def footage and costs less than a new car.
Both technologies, hard drives and high-definition, are available now in camcorders, though there isn't yet a consumer model that records high-def to a hard drive. Maybe next year. Meanwhile, JVC and Sony are pushing the envelope. JVC's Everio GZ-MG30 ($900) contains a tiny (1.8 inch) but massive (30-gigabyte) hard drive that makes tape obsolete. Sony's HDR-HC1 ($2,000) is the least-expensive high-definition camcorder we've seen to date, yet the picture quality is so dazzling that professionals using much more expensive equipment are eying it up. Weight-wise, the two cams are about a pound apart, but compared with the current generation of camcorders, each is in a class by itself.