Cutting-Edge Camcorders Page 4
SONY HDR-HC1 High-Def MiniDV Camcorder
In a small, comfortable package, Sony's HDR-HC1 camcorder packs all the ease-of-use and convenience features demanded of consumer-grade camcorders. For instance, a nifty LCD touch-panel viewscreen with layers of easily accessed menus eliminates most of the control buttons found on other cameras. You'll also find all of the setup features craved by advanced users, including manual control of exposure, focus, zoom, and mike level.
But the big story here can be summed up in four powerful letters: HDTV. That's right - the HDR-HC1 shoots video in the widescreen, high-definition 1080i HDV format directly onto standard MiniDV tape, and you can easily transfer the content to a PC or Mac for editing. For only $2,000, moviemaking image quality is now within reach of ordinary folks. In comparison, the Sony high-def cameras George Lucas used for the last Star Wars movie list for $115,800 each!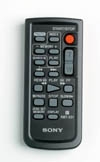 RECORDING QUALITY New York City is great camcorder country - especially when the camera is high-def. And from the gridlike arrays of skyscraper windows in the skyline and the sparkle of the sun off the water at the Lake in Central Park to the brilliant colors of Times Square at night, the HDR-HC1 delivered images of stunning clarity, sharpness, and color accuracy. At the same time, the picture was remarkably free from video noise or encoding artifacts such as "blocking" or "mosquito noise."
For nearly all the scenes I shot, the picture from the HDR-HC1 - with its single-chip high-def image sensor - was fully the equal of that from the larger, heavier, and considerably more expensive ($3,800) Sony HDR-FX1, a three-chip professional-grade HD camcorder I tried out a few months ago. Only when ambient light got very, very dim did the HC1 stumble - for example, when I tried shooting the flags around the skating rink at Rockefeller Center at night after all the lights were turned out, the picture got objectionably grainy and the autofocus had difficulty locking in. But there's no question that in overall image quality the HDR-HC1 blows away every standard-definition DV camcorder.
That said, the camcorder does have some less desirable characteristics, most of which are common to all consumer camcorders. For example, when zoomed all the way out, the HDR-HC1's lens caused vertical objects on the sides of the image, like buildings and flagpoles, to seem to tilt inward. It takes practice to keep the variable-speed zoom control working at its slowest speed, which is still a bit too fast for my liking. Then again, most amateur camcorder footage, mine included, uses too much zooming, the effects of which are amplified in widescreen format.