Coraline (Blu-ray)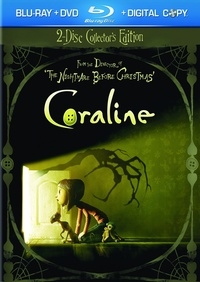 Eleven-year-old Coraline Jones (voiced by Dakota Fanning) has just moved with her parents (Teri Hatcher and John Hodgman) to a new home in Oregon. With her parents distracted by work and no one to play with except an annoying boy, Wybie Lovat (Robert Bailey Jr.), she spends her time visiting her older neighbors. When she convinces herself that her new home is the most boring place on earth, she uncovers a secret door that leads to a parallel world much like her own—but much better. Is the grass greener on the other side or is it all an illusion?
Pixar has changed the way animated films are made, but the days of stop-motion are far from over as director Henry Selick (The Nightmare Before Christmas) proves with this visually stunning and wildly entertaining tale of a young girl in search of attention. One caveat—this isn't really a kid's movie. There are some intense sequences in the "other world" that may frighten younger viewers, so a prescreening is recommended for parents with young children.
The VC-1 1080p encode is flawless with its visually stimulating color palette, amazing depth, and perfect print. Black levels are inky with rich contrast and shadow detail, and the lighting is amazingly realistic. Interior shots have the warm yellow glow of incandescent light bulbs, and the detail is phenomenal. Every intricate feature in the clothing, character faces, and sets comes through with crystal clarity in what is the best video presentation of 2009, and maybe even ever on Blu-ray. It's that good!
A 3D experience is available with the use of anaglyph glasses (uncomfortable cardboard surrounding magenta and cyan lenses). Blu-ray isn't ready to unleash a true theater-like 3D experience yet, and after five minutes, I gave up on this version due to distorted colors and fear of a paper cut on the bridge of my nose.
The DTS-HD MA 5.1 soundtrack is just as impressive as the video. Stereo spread across the front is wide and expansive, dialog is clear and distinct and firmly rooted in the center speaker, and the surround experience is demo-worthy. The LFE has a lot of kick and blends in with the wonderful score from Bruno Coulais, which adds an inviting dynamic to the production, complimenting the magical world in which Coraline is drawn to.
This two-disc set offers both the 2D and 3D versions of the film, an interesting assortment of supplements, and a DVD with a digital copy. The bonus features include a feature commentary from director Henry Selick and composer Bruno Coulais, a must-watch 36-minute featurette on "The Making of Coraline," a brief look at the voice actors, and deleted scenes—all of which are presented in HD. Other supplements include Universal's U-Control with PIP, a closer look at adapting Neil Gaiman's book into a feature film, and BD-Live for scene sharing as well as an online interview with the director.
This is the first feature film from animation studio LAIKA and the first stop-motion animated feature originally produced in stereoscopic 3D, although the 3D presentation on Blu-ray isn't that great. This is one of the best films I've seen in 2009, and the 2D presentation is amazing. Highly recommended.
Release Date:July 21, 2009
Studio: Universal
Movie: 9/10
Picture: 10/10
Sound: 10/10

Review System
Source
Oppo BDP-83 Blu-ray player

Display
JVC DLA-RS1 projector
Stewart FireHawk screen (76.5" wide, 16:9)
Electronics
Onkyo Pro PR-SC885 pre/pro
Anthem PVA-7 power amplifier
Belkin PF60 power conditioner
Speakers
M&K S-150s (L, C, R)
M&K SS-150s (LS, RS, SBL, SBR)
SVS PC-Ultra subwoofer
Cables
Monoprice HDMI cables (source to pre/pro)
Best Deal analog-audio cables
PureLink HDC Fiber Optic HDMI Cable System (15 meters) from pre/pro to projector

Acoustical treatments from GIK Acoustics
LATEST VIDEO