Cinderella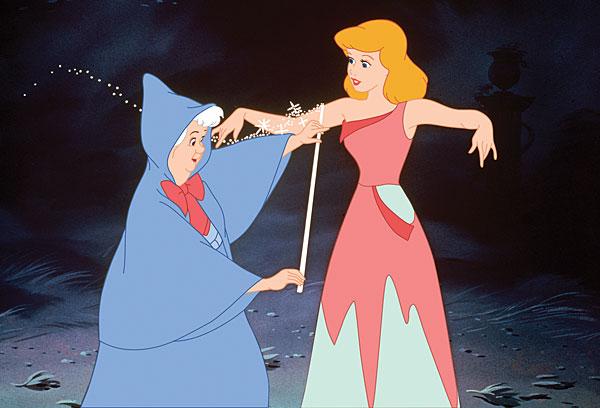 The Cinderella fable has been part of our culture from antiquity, but until 1950 the best-known version was from the Brothers Grimm. I read it as a child, and it was…um…grim. One of the evil stepsisters cuts off her heel to make her foot fit into the glass slipper. But it's the 1950s Disney animated feature, sans surgery, that has defined the story for us and for future generations.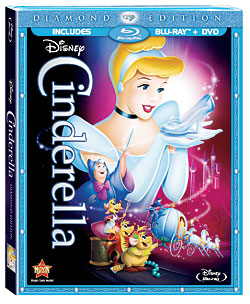 Animated films of the '40s and '50s were aimed unapologetically at children, and nobody did this better than Disney. Cinderella is a sweet tale with little of the edginess embraced in some early features from the studio (1940's Pinocchio, 1942's Bambi, or 1958's Sleeping Beauty with its frightening dragon battle)—not to mention more recent productions. It makes no apologies for omitting the sort of contemporary humor aimed at keeping adults entertained while their kids just enjoy an easy-to-digest story told in broad strokes, spiced with kid-friendly action, and filled with brilliant colors.
The animation has the slightly jittery motion common to early hand-drawn features, and as with all films of its time, this is a 1.33:1 production. But the Blu-ray transfer is about as crisp and clean as you could wish for, with barely a trace of dirt or faded color throughout its 75-minute length. There are two English audio options: the original sound mix and a 7.1 DTS-HD Master Audio track. The former has the somewhat canned and edgy quality found in most older soundtracks. And while the latter is limited in top- and bottom-end response, dynamics, and directionality (it is, after all, processed from a mono original), it's better balanced than the original track and has a pleasingly clean, open sound.
Extras include several making-of features and short subjects (some are standard definition and drawn from pre-HD sources); an alternate opening sequence; an animated short, Tangled Ever After, based on the recent Disney feature Tangled; and a Disney Second Screen interactive feature for use with your separate computer or tablet.
Blu-Ray
Studio: Disney, 1950
Aspect Ratio: 1.35:1
Audio Format:
DTS-HD Master Audio 7.1
Length: 74 mins.
MPAA Rating: G
Directors: Clyde Geronimi, Hamilton Luske, Wilfred Jackson
Starring: Ilene Woods, Eleanor Audley, Verna Felton
If you don't know the Cinderella story, you must have had a deprived childhood. It goes like this: Girl's father dies, leaving her to live with her evil stepmother and two noxious stepsisters; royal ball is held for all the eligible young women, but Cinderella is left out; cue fairy godmother, coach, dancing with the prince, midnight magic hour, quick exit, search for who fits the glass slipper, yadda, yadda, yadda; wedding bells.
LATEST VIDEO