Chips
Writer, director, and star Dax Shepard should at least be commended for his efforts in endeavoring to etch his name into that distinguished group of artists with his magnum opus, CHIPS, but he should also be derided for the results. Yet another tiresome cinematic retread of a popular '70s TV show, Shepard magnanimously casts himself as Officer Jon Baker, a war-weary and battle-scarred Evel Knievel with mad bike skills who gets a second chance at a bankable career with the California Highway Patrol. Michael Pena is Frank Poncherello, an undercover FBI agent who approaches his job with a wild and reckless abandon and gets assigned to the same motorcycle division at the CHP to crack a string of high-profile armored car heists. Naturally, these two hapless misfits are paired together, and all manner of hijinks and calamity ensue to uproarious results.
I have to concede that CHIPS does offer some fairly impressive photography and picture quality. Daylight exteriors of the L.A. freeways and city streets are crisp and sharp, with little or no motion blur, and nighttime cityscapes and aerial shots carry no residual strobing effects. Colors are rich and vibrant, like in the shimmer of a bright red sports car, and the skintones are consistent and even throughout. The sound is rendered for DTS-HD 5.1 Master Audio, and the results are stimulating, with plenty of over-thetop pyrotechnics and relentless carnage. Whizzing motorcycles, gunshots, explosions, and an appropriately aggressive music score will fill your surround speakers with much gusto and good directionality without overpowering the dialogue.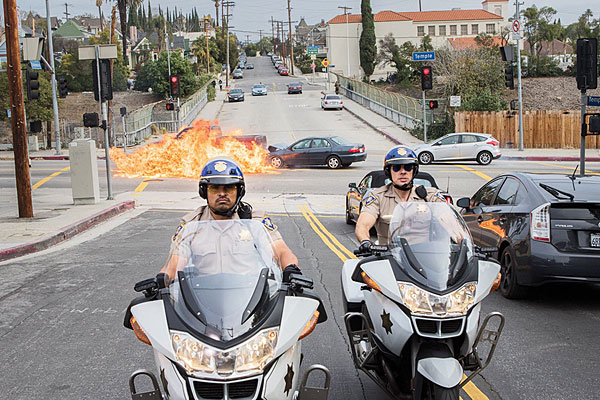 Extras consist of three short featurettes on the making of the film and the motorcycles used, and a collection of deleted scenes with optional commentary from Shepard. A gag reel would have gone a long way, but alas, it is curiously absent. Bonus DVD and Digital Copy are included. Proceed at your own risk.
Blu-Ray
Studio: Warner Bros., 2017
Aspect Ratio: 1.85:1
Audio Format: DTS-HD Master Audio 5.1
Length: 101 mins.
MPAA Rating: R
Director: Dax Shepard
Starring: Dax Shepard, Michael Pena, Vincent D'Onofrio
I have a great respect and admiration for auteur filmmakers—guys like Woody Allen and Quentin Tarantino who write their own screenplays and direct them into cinematic classics. Oftentimes the temptation of appearing in their own movies proves too great for some of these filmmakers… like Woody Allen or Quentin Tarantino. Kevin Costner, Mel Gibson, and George Clooney have also directed themselves into great acclaim and Oscar glory, and even Alfred Hitchcock, Oliver Stone, and Martin Scorsese have managed to sneak themselves into their films here and there.