Charlie Daniels Explores the Sound Quality Trail on Night Hawk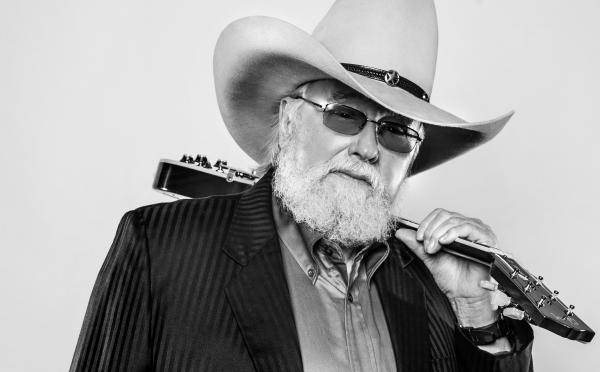 Charlie Daniels is an American treasure. Still going strong on the cusp of his 80th birthday, the man best known for fiddle-driven story songs like "The Devil Went Down to Georgia," "In America," and "The Legend of Wooley Swamp" has just released a long-gestating passion project,
Night Hawk
(CDC Records), which covers all different shades of the authentic cowboy lifestyle. From the on-the-range manifesto of opening track "Big Balls in Cowtown" to the hard-charging stride of "Running With the Crowd" to an almost otherworldly janglified cover of "(Ghost) Riders in the Sky," Daniels ropes you in with his trademark storytelling chops as framed by a refreshingly clear production courtesy of Daniels and co-producer Casey Wood, accenting the man's still-strong vocals, distinctive fiddle chops, and shimmering acoustic guitar lines.
"It was a long time in the making," Daniels recounts. "Night Hawk is an album I'd always intended to make for many, many years, so I had been collecting songs for it for a long time. I wanted it to be an album with songs about the working cowboy, because that culture still exists. It's what cowboys really are, as opposed to the gunslinger we usually see in the movies always going into shootouts in the old cattle-drive days. There are still people making a living handling cows on ranches out West, so I wanted to do something that reflected their way of life."
Daniels shows no signs of slowing down his own gallop, either. Not only is he a 2016 inductee to The Country Music Hall of Fame, but the Charlie Daniels Band (a.k.a. the CDB) will helm his 80th birthday Volunteer Jam at Bridgestone Arena in Nashville on November 30, which is slated to feature a range of guests including Chris Stapleton, Travis Tritt, Kid Rock, and Luke Bryan (with more guests yet to be announced). "It's the 42nd anniversary of the Volunteer Jam, and the 80th anniversary of my life," Daniels says with a chuckle. "We're going to do it all."
I got on the line with Daniels, 79, to discuss the changes in recording technology over the years, the art of storytelling, and the many ways his band transforms other people's material into CDB songs. With Night Hawk, the Long Haired Country Boy finally comes full circle.
Mike Mettler: Tell me about when you first started making records in the '50s and '60s, which I believe began with a band of yours called The Jaguars.
Charlie Daniels: Yessir, that's right. I started recording back in the '50s, and we were doing instrumentals in monaural — all 1-track mono, because there was no 2-track stereo yet. If we wanted to overdub, we had to play along with what we had already recorded, on another machine. It was pretty interesting — and pretty noisy! (chuckles)
But I'm glad I had that experience to go through all of those different degrees of recording. I think I got a better understanding of what it's all about. You can fix things now so easily with a flick of a button, where you would have had to use a razor blade to do it all back then. Now you can do as many tries as you want, and you don't wear out the emulsion on the tape. It's just a totally different world, but I'm glad that I know the other side of it.
Mettler: The sound of Night Hawk is so clean, and so clear. Did you and your co-producer Casey Wood have a specific production goal in mind for it?
Daniels: The thing is, it was a pretty simple record, with very few instruments involved — which makes it a lot easier to get a clean sort of sound on it. And there were acoustical instruments too, which made a difference.
Mettler: The opening of "Billy the Kid" is a good example of that — just that Spanish acoustic guitar intro on its own.
Daniels: Yeah. Having a smaller amount of technology to deal with makes it a lot simpler to get that clean sound there.
Mettler: You vocals sound as good as somebody who's half your age. What's your secret, Charlie? Is there any particular regimen you've followed over the years to keep it at a certain level?
Daniels: No, not really. I use it a lot; that's about it. I talk a lot and we sing a lot and play a lot, so that keeps it up. So it strengthens in that way, I suppose. I don't do any scales, or anything like that.
Mettler: In your case, it's like a muscle. You keep using it and you've never really abused it, so you can cover pretty much any range you want to.
Daniels: So far so good! The Good Lord blessed me with keeping it in pretty good shape.
Mettler: Night Hawk is an honest representation of the cowboy lifestyle. It's a great storytelling album, which is something you've done quite well with over the years — telling stories. It's been a hallmark all throughout your career, since we essentially get a history lesson with your songs. Were you a history teacher in another life, Charlie?
Daniels: (chuckles) Not hardly! For some odd reason when I first started, it would seem a lot of the songs I would write would come to me in that way — with a story. It was just a good place for me to start, and as you well know, a lot of the songs I did over the years were stories with a beginning, a middle, and an end. I favor that kind of thing. I love those kinds of songs.
Mettler: Besides other songwriters, were there any other writers or literary authors you'd consider as influences?
Daniels: Well, quite a few. I'm an avid reader, but a lot of my storytelling came from when I was a kid, when a good storyteller was somebody who was really revered. This is before TV, when people actually talked with each other. (both laugh) In other words, there were front-porch conversations at night, where people would literally sit on their front porches and tell a good story. Or they'd be sitting around a campfire, or something.
There were certain people who could tell a good story while you were sitting there. They were gifted in that way, and I always admired them. You could hear them tell the same story several times and you'd still get into it, because they were just that good at it.
So I always have revered a good storyteller, and I think my admiration for storytellers has something to do with the kind of songs that I write.
Mettler: Will you be able to do a vinyl release for Night Hawk?
Daniels: I don't know yet if we are or not. The first vinyl we had done in 25 years was the tribute to Dylan album [2014's Off the Grid – Doin' It Dylan]. We hadn't done vinyl for a long time, but a lot of people are getting back into vinyl again. We just figured the Dylan album would be a good one to do vinyl on, because it seems to lend itself to that era, since Dylan was so hot then. Of course, he's always hot.
[Daniels is no stranger to Bob Dylan's music, by the way — in fact, he played bass and guitar on Dylan's legendary 1969 country-oriented album, Nashville Skyline, as well as on the folk bard's pair of 1970 releases, Self Portrait and New Morning.]
Mettler: Since this album clocks in around 30 minutes or so, I think two sides of about 15 minutes apiece on 180-gram vinyl for this music would be the best way to get into its honest, analog type of sound.
Daniels: I would like to do that if it would be feasible to do it, and there's a market for it. We'll have to wait and see.
Mettler: Many of us have heard different versions of "(Ghost) Riders in the Sky" over the years, so I'm curious about your thought process behind the way you approached doing it for this record. ["Ghost Riders" was written in 1948 by Stan Jones, and has been recorded by scores of artists, including Johnny Cash, Elvis Presley, Judy Collins, and The Outlaws.]
Daniels: I just thought it was a great Western song. It paints a picture and it tells a story, like we were just talking about. The first time I remember hearing a recording of it was by a guy named Vaughn Monroe [in 1949]. He was actually a pop singer, and more like a crooner. And this wasn't really thought of as a cowboy song when it first came out; it was just another one of those "pop things," you know?
But I've been aware of it and heard a few versions of it, and I just decided for this particular album, it would be a good time to give it a shot. And as we do with everything on all of our recording projects, if we do somebody else's material, we try to make the song our own. Our ultimate goal is to make it a CDB song, and that's what we tried to do with this one.
Mettler: You definitely succeeded with that. One thing I like is the nuance you give to the word "range," where you draw out the 'a" syllable. I love that choice of inflection.
Daniels: I appreciate that. By the time I got to the point where I had to pick the songs for what the album was really going to be all about, I had to go with this one. We did have a couple of other ideas — and I even thought about doing one of Marty Robbins' troubadour songs — but we ended up doing "(Ghost) Riders in the Sky."
Mettler: I love that decision. And I love the sound of Bruce Brown's dobro on the "Night Hawk" title track, too.
Daniels: I discovered that song [written by Tom McKeon and Ron Peterson] through a third party years ago. I don't even know how many years ago, but I had never heard it. A friend of mine used to sing it. And I kinda earmarked it back then and thought, "Gosh, one of these days, if I ever get to do my working cowboy album, I'm gonna do that one." It's been a lot of years coming.
And then Taz [William "Taz" DiGregorio, the CDB's late keyboardist] wrote the song "Can't Beat the Damned Ole Machine," and I loved it from the time I heard it. And that was the same sort of thing — kind of cataloguing it for doing something with it later on.
A lot of these songs have been in my sights for quite a few years, and I'm just glad to finally get 'em recorded. It was something I really wanted to do, and one of those things where you think, "Well, I'm going to do that one of these days." It always seemed like "one of these days" would never get here, but then it finally does, and the situation is right there.
Mettler: After people listen to this record, I'm hoping they also look at the writing credits and go, "Hmm, I have to find out who these people are."
Daniels: Well, I would like that, because some of these people are well-known in that particular small world of people who listen to authentic cowboy music — like Utah Phillips, who wrote "Goodnight Loving Trail" — but some of the other guys are not. I think they deserve the recognition because they're great writers.
Mettler: Will you be playing Night Hawk songs in any of your upcoming live sets the rest of this year?
Daniels: None as of yet. It's kind of an obligation when you play shows to dance with the ones who brung ya. People buy tickets because of the songs they heard on the radio. They don't buy tickets for stuff they've never heard.
You have to kind of "work in" the other stuff — the extracurricular stuff. You have to work them in under the wire, if you will, to make sure you don't leave out a "Devil Went Down to Georgia" or a "Long Haired Country Boy," or something like that. We don't have any spots right now, so it'll probably be next year's tour before I get to do some of these songs.
Mettler: You have a lot of shows and events coming up. Are you ever going to slow down?
Daniels: (chuckles) Well, I don't want to slow down that much. I don't do as many dates as I used to do and I do take off January and February just about every year, but it's just the way I choose to spend my life. I'm always ready to go back to work again.
Mettler: Before we wrap this up, I have to congratulate you on getting into The Country Music Hall of Fame.
Daniels: My gosh, I am just so honored. That's the best way I know how to put it. I'm deeply honored by this happening. It's something you don't have any control over. The people who vote for that in the CMA [Country Music Association] are kept secret, so you don't have anybody to lobby for it.
Mettler: So the tough final question is, if we project 50 years into the future, what do you think the CDB legacy is going to be?
Daniels: Well, I'd like to think that people would still be finding the validity in our songs. And maybe somebody will dig it up, listen to it, and have it mean the same thing then as it means now. That's kind of how our music has always been. There are songs that we wrote many, many years ago that we're still doing. Songs like "Uneasy Rider" (1973) and "Long Haired Country Boy" (1974) — that song is 42 years old, and we still do it every night. The hope is people will still enjoy listening to it, all those years later.