CES 2022: The Latest News and Gear Page 2
Cleer's New Headphones Boast Intelligent ANC + Dirac
Though Cleer Audio is not an official CES exhibitor, the company has come to Las Vegas with the intention of advancing the state of the art in wireless headphones. It's its new Alpha wireless headphones ($250) offer the one-two punch of intelligent adaptive noise cancellation and Dirac Virtuo spatial audio processing.
Cleer's noise suppression technology automatically changes the levels of noise cancellation in real-time based on what it "hears" to achieve the best possible performance and provides an ambient mode to make the listener aware of his surroundings. The system differs from other adaptive noise canceling algorithms in its use of a 24-bit, low-power stereo codec based on 1-bit delta-sigma modulation. Meanwhile, Dirac's patented processing is designed to improve overall sound quality while delivering "optimal and immersive audio without requiring specifically encoded 3D formats."
In addition to offering technology designed to help their patented 1.6-inch drivers shine, the Alpha headphones support streaming via aptX-enabled Bluetooth 5.1 with multipoint pairing and use Qualcomm's dual-microphone cVc (clear voice capture) technology to improve call quality in addition to offering up to 35 hours of playback with noise-cancellation engaged.
As in past products, including the Enduro 100, Cleer engineers focused on low-power consumption chipsets and software management to extend the life of the Alpha's lithium polymer battery and provide a 10-minute quick-charge option that provides up to 4.5 hours of playtime.
The Cleer+ app has also been streamlined to simplify use and now provides multiple ways to control and optimize the listening experience. To improve wearability over previous models, Cleer outfitted the Alphas with upgraded earpads designed to keep ears comfortable and cool.
The Alphas are available in midnight blue or stone. For more information, visit cleeraudio.com.
HDR10+ Technologies Unveils New Gaming Standard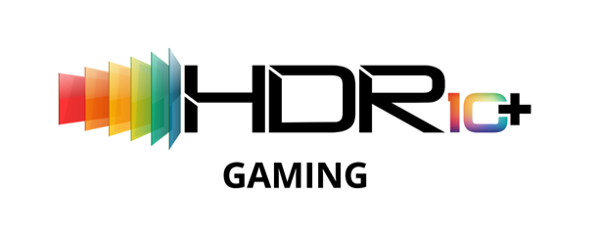 HDR10+ Technologies LLC, the industry group that administers the licensing and certification program for products that adopt the HDR10+ high dynamic range (HDR) standard, has announced a new standard for gaming that aims to deliver a more compelling and consistent experience across a wide variety of consumer electronics products.
Based on input received from the game industry, the HDR10+ Gaming standard embraces HDR10+ Source Side Tone Mapping (SSTM) for more accurate game output to compatible displays and includes automated HDR calibration, which automatically sets a TV or display in a low-latency reference mode. The standard also supports variable refresh rates (VRR) at 4K 120fps as part of an overall effort to make gameplay more convenient and realistic than ever before.
To receive an HDR10+ Gaming certification mark, the device must undergo rigorous compliance testing to ensure it meets performance requirements. HDR10+ Technologies LLC is partnering with a number of companies around the world to establish the certification process. Partners include Teledyne LeCroy, which is working with the LLC to provide multiple solutions for SSTM.
HDR10+ GAMING products are expected to be available later this year in cooperation with a broad range of companies, including Game Mechanic Studios, Nvidia, and Saber Interactive.
"We are very excited to help usher in a new era of video game picture quality", said Todd Hollenshead, the head of publishing at Saber Interactive, one of the companies demonstrating games at CES 2022 that take advantage of the new standard. "HDR10+ Gaming is truly raising the bar and we are proud of being at the forefront of bringing it to market, with games like Redout 2, the fastest 8K anti-gravity racer ever made; and Pinball FX, the king of digital pinball. Both of these titles are brought to life in a brand new way."
Game Mechanic Studios is also demonstrating 4K and 8K titles that showcase the HDR standard, including Happy Trails & the Kidnapped Princess, which will be available in 2022. Samsung also recently announced that all of its 2022 televisions and game monitors will support HDR10+ Gaming.
The HDR10+ format, which uses dynamic metadata to perform tone mapping on the fly, has more than 128 licensees and upwards of 5,000 supported devices.
Noise Canceling Earbuds that Help You Sleep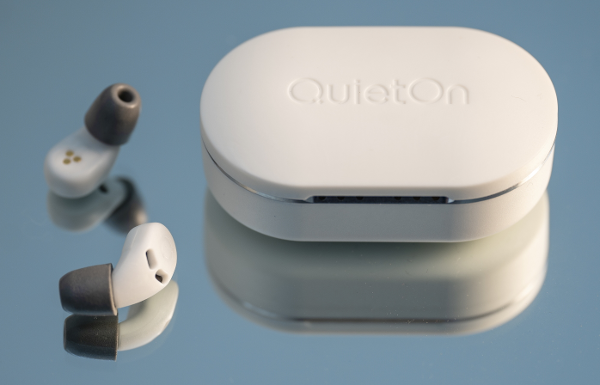 Finland's QuietOn has come all the way to Las Vegas to promote a new take on the ubiquitous wireless earbud: 'Buds designed specifically to help you get a good night's sleep.
Hailed as the world's smallest active noise canceling (ANC) earbuds, the new QuietOn 3 earbuds ($269) sit entirely inside your ear and foster tranquility by "significantly reducing low-frequency noise regardless of one's sleep environment."
The company argues that white-noise machines and other noise-masking devices designed to help lull you to sleep can actually prevent or disrupt deep sleep. So instead of masking potentially distracting sound, the QuietOn 3 earbuds use specialized ANC technology that automatically generates opposite waveforms to "nullify low frequencies and eliminate ambient sounds that would otherwise disturb a restful sleep." And unlike conventional music earbuds, there are no transmitters or receivers, which the company believes presents a healthier option for sleep.
When fully charged using the included carrying case, QuietOn says the earbuds will work their magic for up to 28 hours. And to ensure maximum comfort for everyone — including side sleepers — each set of earbuds comes with four sizes of eartips
"As sleep quality increasingly becomes a priority in the health and wellness space, our mission to provide easy-to-use solutions that assist in delivering quality sleep to all users will continue," explained QuietOn CEO Jussi Lemiläinen. "Traveling for events like CES can be tiring, meaning it's of utmost importance to have a restful sleep when the excitement dies down at night. However, many attendees cannot rely on hotels for quietude due to thin walls, rowdy neighbors and city noise. Our ANC technology is specifically designed to nullify these noises, resulting in a much quieter and more peaceful environment for sleep. And a good night's sleep is the key to success for a productive day on the trade show floor."
For more information, visit quieton.com.