CEDiA Expo 2014 Wrap-Up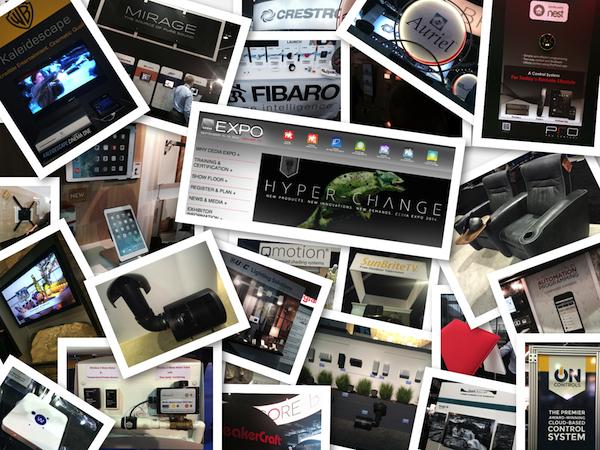 CEDiA 2014
is over and done, but its effects will linger on in the form of first impressions, developing trends, and new technologies. By the numbers, it was a great convention with more than 480 exhibitors and well over 18,000 attendees who made the trek to Denver from 82 countries around the world. But those are the dry statistics. What's much more exciting was the stuff we saw and heard, as well as the trends we noticed and how they're going to affect the industry. (By the way, CEDIA didn't officially change the organization's name. I did, but I'll get to that later.)
Dolby Atmos was still too new to have been everywhere on the Expo floor. In those booths where it was being demonstrated, though, it was the height (so to speak…) of the convention with long waiting lines to get into the demo rooms. One of the benefits of being a member of the press is that you get to bypass the riffraff and revel in their angry looks as you get ushered to the front of the line. Even with that advantage, none of us from S&V were able to take in every Dolby Atmos demo there was to be had. From the buzz at EXPO, two demos kicked everyone else's butt: Steinway Lyngdorf's Dolby Atmos- and Auro-3D-enabled, $18,000 P200 "three-dimensional surround sound processor"; and the JBL Synthesis Dolby Atmos system. The total cost of the gear JBL used came to around $200,000. The speaker configuration included 12 discrete height speakers, 16 surround speakers, eight subwoofers, and a pair of JBL M2 front speakers.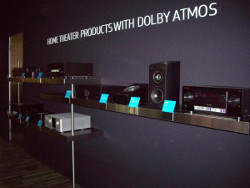 There were other less-expensive Dolby Atmos system demos at CEDiA. Several speaker companies brought new Dolby Atmos speaker systems (or add-ons) to EXPO. GoldenEar's stellar Dolby Atmos demo system used standard GoldenEar in-ceiling speakers, while Triad introduced its InRoom Bronze LR-H Dolby Atmos-enabled speakers with built-in, upward-firing drivers for the height channels. Multiple companies took the height speaker add-on approach, including Atlantic Technology and Definitive Technology.
It wasn't all about Dolby Atmos speaker systems at CEDiA. Marantz showed off its new AV7702 pre/pro ($1,999) and SR7009 AVR ($1,999); and sister company, Denon, put the spotlight on the company's first AVRs with Dolby Atmos, the AVR-X4100W0 ($1,499) and AVR-X5200W ($1,999). Pioneer's Dolby Atmos demo included new Andrew Jones-designed Atmos-enabled Pioneer Elite speakers. By the way, the promised free firmware update that enables Dolby Atmos in Pioneer's Elite SC AVRs—the SC-85 ($1,600), SC-87 ($2,000), and SC-89 ($3,000)—is available for download now. Not to be left out, Yamaha did its Atmos demos in a small, semi-enclosed room and had static display samples of the RX-A3040 ($2199) and RX-A2040 ($1699) AVRs with Dolby Atmos elsewhere in the booth.
Wireless gear was everywhere at CEDiA 2014. The WiSA (Wireless Speaker and Audio Association) folks were there, giving private demos of how its open-standard technology can be adapted to provide wireless multi-channel sound or wireless multi-room sound. More companies have signed on and are developing products that we may see and hear more of at CES 2015. In the meantime, having already announced its first WiSA-certified speakers at CES 2014, Bang & Olufsen used this year's CEDiA to do spectacular demonstrations of the Danish company's BeoLab 18 wireless tower ($6,590/pr), BeoLab 17 wireless monitor ($3,990/pr), and BeoLab 19 wireless subwoofer ($3,395/ea). If either Bang & Olufsen or high-performance wireless sound strikes your fancy, watch for our upcoming review of a complete B&O WiSA-certified system that'll include the aforementioned speakers as well as a 55-inch B&O BeoVision Avant Ultra High-Definition (4K) TV, which will also perform as the center channel and pre/pro in a 5.1-channel system.
But B&O and WiSA didn't make up the entirety of the wireless systems at this year's CEDiA. Denon took the opportunity to make a lot of noise with its new, extremely impressive HEOS wireless multi-room music system. Watch for our review of the HEOS system in the very near future. (Spoiler alert: it's pretty f'ing awesome.)
While the HEOS system uses traditional Wi-Fi (and Ethernet), Definitive Technology's Wireless Music System incorporates DTS's Play-Fi technology as its wireless protocol. Def Tech's new wireless ecosystem consists of five models, including two wireless speakers—the ultra-compact W7 Wireless Speaker ($399) and the $699 W9 Wireless "Tri-Polar" Speaker (it's Tri-Polar because bi-polar speakers are so 1990s…)— along with the 3.5 inches deep W Studio wireless 5.1 sound bar/wireless subwoofer combo ($1,299). The last two models in the initial lineup are non-speakers. The W Adapt ($399) is a wireless adaptor designed to connect to any AVR. An unusual feature is that the W Adapt includes a rack-mount kit for integrating into pro-style rack systems. The W Amp ($499) is a wireless 150 watts x 2 amplifier with customizable EQ settings plus a line-level sub output and left/right channel line-level inputs and outputs.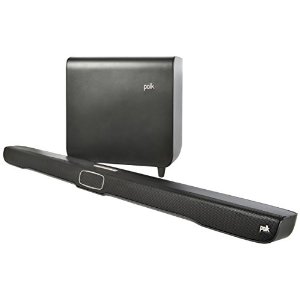 Polk, Def Tech's sister company (this industry is rapidly becoming one big, incestuous family), also introduced a wireless music system. Polk's Omni Wireless Music System, not surprisingly, utilizes DTS's Play-Fi technology and has five models in a lineup that's similar in nature to the quintet from Def Tech. The price points, however, are lower and start at $179 for the Omni S2 ultra-compact speaker. The $249 Omni S2 Rechargeable Wireless Speaker has a built-in lithium ion battery with up to 10 hours of battery life and is both highly portable and weather-resistant. There are also the Omni SB1 wireless Soundbar/Sub ($699), the Omni P1 Adaptor ($299), and the 75-watts x 2 Omni A1 wireless Amplifier ($399).
There weren't as nearly as many DIY-oriented smart home systems at CEDiA 2014 as there were at CES 2014. That's not because there are fewer DIY smart home hubs on the market. There are actually more of them than ever. So many so, in fact, that smart home hubs are becoming the Tribbles of the consumer electronics industry. The limited presence of DIY smart home gear is because, as you might guess, DIY isn't terribly popular with custom installation companies and installers who make their living designing and installing AV and home automation systems. DIY systems are direct competition for them, although it does create limited opportunities when a homeowner gets in over his or her head and turns to an integrator to install an automation or multiroom music system that's more hands-off for the homeowner.
Austin-based WigWag hasn't begun shipping its WigWag Relay smart home hub nor its unique, multi-parameter WigWag Sensor. Despite that fact, WigWag was showing the company's upcoming smart bulbs and lighting starter kits at CEDiA, too. When I spoke with WigWag's co-founders, Ed Hemphill and Travis McCollum, shortly before the Expo officially opened, they told me that they felt a mutually respectful (and profitable) co-existence would be the natural evolution of the DIY smart home and custom integrators. The future they'd like to see is two-tiered, with basic, if-this-then-that types of features and programming in the WigWag Hub being made available to the DIY customer with more sophisticated multi-conditional programming/features being reserved for more qualified, professional installers to access. In other words, WigWag is attempting to be a DIY home automation company that also wants to embrace the custom installer.
This brings me to why I've been typing CEDiA with a lower-case "i". The traditional big guns of the home automation industry—Crestron, Control4, and Savant—demonstrated new software tools that dramatically cut down the amount of an integrator's programming time and effort when installing both small and large systems. Control4's Composer Express app is supposed to reduce programming time by as much as 70 percent. With Crestron's Pyng system, you can walk from room to room holding an iPad and configure a mansion without needing to know any programming. Considering it used to take longer and required more in-depth training to become a Crestron programmer than it would to become a Jedi Master, that's a stunning change for Crestron. Savant showed off its new Savant App that lets homeowners customize and tweak the way their systems operate, including the look of the GUI. Lutron even got into the minimal programming act with the $200 Caseta Wireless Smart Bridge Pro wireless lighting control system hub that's said to be super-easy to program. As a matter of fact, it's an integrator's version (with additional features) of the company's Caseta Wireless Smart Bridge that's specifically designed for consumers to buy and program.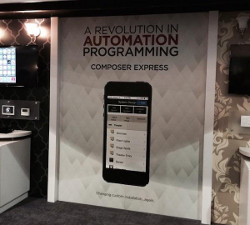 Does all this mean we'll soon be seeing our favorite integrators and installers behind the counter at Wendy's taking orders to try and make ends meet? At first glance, you might conclude that scenario is the only way this de-emphasis on the integrator is going to work out. After all, if you pay attention to the various Kickstarter and Indiegogo campaigns attempting to fund yet more DIY smart devices, you'd think the entire world is filled with nothing but makers and tinkerers who want to spend all of their free time programming home automation systems via apps on their smartphones. I think that the future is brighter (and less time consuming) than that.
With any luck, the falling prices of automation hardware combined with significantly reduced programming costs should mean more home automation for everyone. Sure, it may soon take a lot less time to program a Crestron or Control4 system, but that doesn't mean homeowners will have the expertise (or the patience) to think through how they want their system to work ahead of time. The value of the integrator will be in his/her knowledge of what to program a customer's system to do and under what conditions, instead of how to write the code for it. And if it takes a third less time to configure a system, that hopefully will mean that three homeowners will be able to afford systems instead of just one.
So I guess I got it wrong. CEDiA 2014 didn't de-emphasize the need for integrators and installers. This year's CEDIA worked overtime to show us their true value.