Brokeback Mountain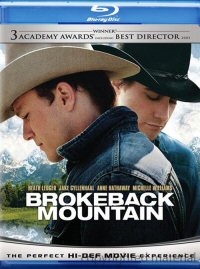 In 1963, two ranch hands, Ennis (Heath Ledger) and Jack (Jake Gyllenhaal), spend most of their time in the Wyoming wilderness watching a flock of sheep. One thing leads to another, and they develop an "emotional bond" between them. The story follows their lives and how their hidden love tears apart the people around them.
This may be sacrilegious to many, but I don't understand why people rave about this film. While the cinematography is spectacular, the adulterous storyline's only uniqueness is the non-traditional relationship between two men. Would it have received the critical acclaim if the relationship was between a man and a woman? I found the performances moving, but the pacing is laborious and seemed much longer than the 135 minutes.
The 1080p encode showcases the beautiful vistas of the Canadian Rockies, highlighting the rich green of the trees and the sparkling snow on the mountaintops. Detail is above average in both close-ups and long shots where I could see the individual leaves on the trees. Unfortunately, the picture does look a bit processed in some spots, with some occasional edge enhancement in an otherwise acceptable presentation.
The laid-back DTS-HD Master Audio 5.1 soundtrack isn't what one would call "demo material," but it showcases a brilliant sound design. There are long stretches of silence, which only heightens the effect when something is audible. The dialog has a natural tonal quality and is always intelligible, and the acoustic-heavy score by Gustavo Santaolalla is very engaging, which enhances the storytelling.
The HD bonus features include two featurettes, a 14-minute love-fest from critics proclaiming Brokeback Mountain a classic, and a short feature on the wonderful music. Other supplements include a still montage, three additional featurettes (SD), and a 22-minute TV special. Although the disc has a BD-Live logo, the only feature available is the ability to bookmark scenes and upload them for your friends to see.
I personally don't connect with the story, but I appreciate the fine acting and beautiful cinematography. The solid audio and video are enough to warrant a purchase for fans, and the new supplements, while underwhelming, may entice a double-dip from owners of the previously released HD DVD.
Release Date: March 10, 2009
Studio: Universal
Movie: 6/10
Picture: 8/10
Sound: 8/10

Review System
Source
Oppo BDP-83

Display
JVC DLA-RS1 projector
Stewart FireHawk screen (76.5" wide, 16:9)
Electronics
Onkyo Pro PR-SC885 pre/pro
Anthem PVA-7 Amplifier
Belkin PF60 power conditioner
Speakers
M&K S-150s (L, C, R)
M&K SS-150s (LS, RS, SBL, SBR)
SVS PC-Ultra subwoofer
Cables
Monoprice HDMI cables (source to pre/pro)
Best Deal analog-audio cables
PureLink HDC Fiber Optic HDMI Cable System (15 meters) from pre/pro to projector

Acoustical treatments from GIK Acoustics