Bose @ 50: A Look at The Legacy, and What's Next
This week, at a massive loft space in NYC, the people of Bose constructed a temporary museum of sorts: an impressive array of both consumer technology and fascinating prototypes, chronicling the company's history. Bose is celebrating its 50th anniversary, an accomplishment for any company, but especially in technology, a field where so many businesses launch with great fanfare only to sink into obscurity. Built on the shoulders of engineer, MIT professor, inventor, and entrepreneur Dr. Amar Bose, the Bose corporation began with a single product, the pod-looking Bose 2201. The 2201 screams 1960s design aesthetic. With its burlap-esque fabric and wooden housing, it's fun to imagine what stereophiles thought of this unique and bizarre design in a sea of rectangle and square speakers.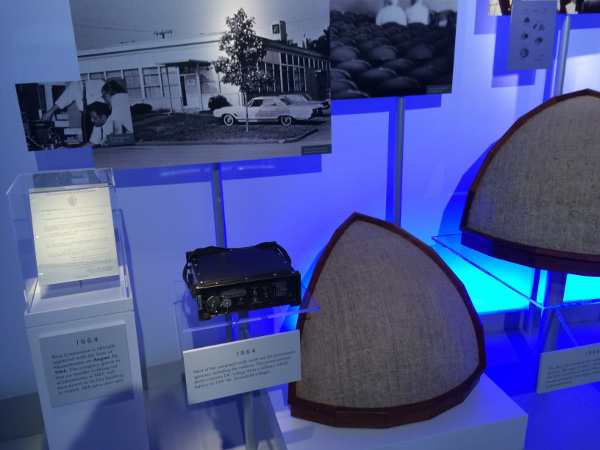 Thinking outside the box, as it were, permeates the entire Bose structure. From the first Acoustic Wave speaker built in 1984, the first-ever commercial ANC headphones made in 1989, it's clear that Dr. Bose was never satisfied with the status-quo.
Prototypes of both products were on display, and it was fascinating to meet the engineers hear the stories from the actual people associated with these pieces of tech history. Finn Arnold, an engineer and pilot who has been with Bose for decades, recalls selling the first commercial ANC headsets made for pilots while he was under in a leaky tent in the pouring rain at Oshkosh, a pilots' convention.
Back then, the headsets retailed for $1,000. "Originally," he tells me, while fiddling with the silicone gel pads on the prototype display, "the injection molded pads were blue. The color really popped," he said. But sadly, they had to return the gel to clear after one pilot ended up with huge blue rings stained into the skin around his ears after a particularly long flight. "We're constantly learning new things and adapting," he added, with a chuckle. "See how the back is clear?" He spins the headset around for me.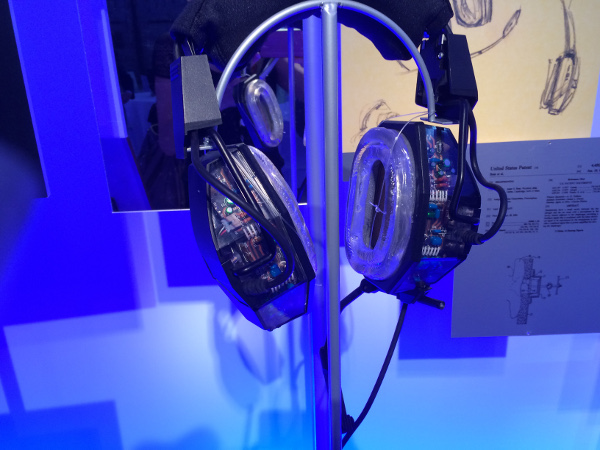 "Back then, people didn't understand how noise canceling worked. It was difficult to explain to them that it was more than just muffling your ears from plane engine noise, the way the rest of the headsets on the market were. So we added the clear windows to help the pilots see, 'look, there's a lot of work and technology put into these.' Of course once they tried it, they got it. I used to tell pilots, these are the only headsets that will help you fly faster! Back then the main limitation to how fast I could fly was how much engine noise I could stand before it got too fatiguing for me. With the ANC, I could fly much faster because it cut out so much more noise! So, it was technically true!" He laughs.
Talking to the folks who have worked with Bose for decades, you get a real sense of enthusiasm about their work with an added sprinkle of curiosity and fun. It seems this philosophy of "Let's make money so that we can fund innovation" as opposed to the reverse has driven a few projects that seem decidedly tangential to an audio company. Like when Bose decided to successfully disprove cold fusion in 1991. They weren't sponsored by the government. They just wanted to know. So they researched and ran tests. And ultimately disproved claims that cold fusion worked. Yup. That really happened.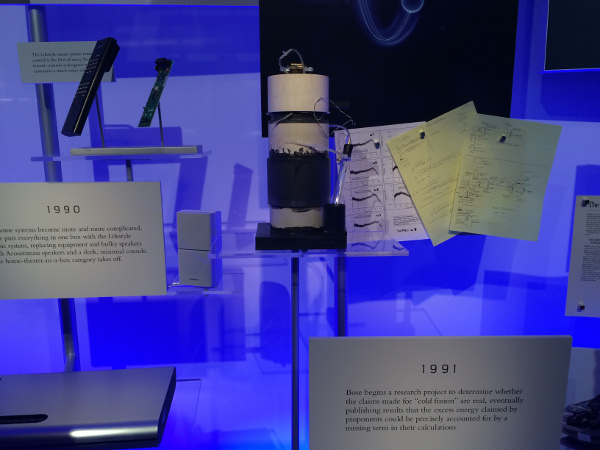 Or when Sean Garret, another engineer I spoke with, told me how the QC 20i, Bose's in-ear ANC headphones, came to be. Apparently, back in 2008, the question was posed as to whether in-ear ANC was actually possible. In-ear ANC is far more difficult to create successfully than over-ear, as the components have to be so much smaller and so much quicker to adapt to external sounds. He gave one team the assignment, and a full year later they came back with word that it was "possible that it could work." But for the idea to function, they needed a few components that just didn't exist yet. They explained to Sean what they were looking for, and it just so happened that another team that Sean oversaw were working on a project nearly identical to what the ANC team needed, but intended for a different application. Sean connected the teams, and it was several years later that the QC 20i finally came into existence.
Sometimes, when they've finished a project Sean tells me, he'll give his teams a month to research whatever is interesting them at the moment. "I'll say, okay guys, the month of October is your month to do whatever you want. Go in whatever direction you're being pulled. Try things out." At the end of the month, they regroup with what they've learned, and many times the results inform projects down the road.
Dr. Bose often funded projects that he himself didn't think would work, simply because he thought nurturing curiosity was more important than the outcome. A sign on his desk read, "If you think something is impossible, don't disturb the person who is doing it."
It's a decidedly academic approach for businesses to take, which is fitting, as Dr. Bose donated the majority share of the control of Bose the company to MIT upon his passing. This funding at MIT helps to educate the engineers who may one day work at Bose and whose work will, in turn, fund the generation that comes after. It's a smart approach. Nothing secures your company's future like fostering the minds that will run it tomorrow. What will those minds be working on?
"As soon as I'm allowed to tell you, I will!" Sean says to me, almost apologetic. "But we have some really exciting stuff in the works! I can't wait." I've heard this line from a million PR people at many companies. But the look in Sean's eyes is the gleam of a kid with a delicious secret. I can't help but want to believe him.
Bose's documentary on their first 50 years is currently available to stream and Bose's latest release, the Sound Touch Series II WiFi music system was also released this week. More info is on Bose's site.