Face-Off: 8 Noise-Canceling Bluetooth Headphones
Just a few years back, if you wanted Bluetooth(BT) headphones equipped with noise-canceling (NC), a feature combo especially desired by frequent flyers, you pretty much had only one place to go: Bose and one of its Quiet Comfort models. Over the last couple of years, though, an increasing number of manufacturers have solved the vexing battery life issues that combining the two power-hungry features presented, with a surge of nearly a dozen models introduced in 2019 alone. Suddenly, traveling audiophiles have a wide variety of fit, feature, ergonomic, noise-canceling, and audio quality options in the BT-plus-NC headphones category, with battery life ranging from 11 to 36 hours (20 hours is average) and prices ranging from $100-$400.
Most BT/NC headphones fold up either flat or into a compact ball for easy carry-on portage, and include some or all of the following attributes:
Varying levels of NC, including being able to hear ambient sound plus a "conversation" mode that either dampens or pauses media playback and activates the external mics so you can conduct conversations
A smartphone app that provides more extensive NC, EQ, and operational settings Voice status prompts to indicate Blue- tooth connectivity, remaining power, and NC levels
Access to your smartphone's voice assistant, or Amazon Alexa/Google Assistant
On-earcup volume, skip track, and next track controls
Accessories including airplane seat headphone adapters, charging cable (either micro USB or USB-C), 3.5mm stereo audio cable, carrying case or fabric pouch (generally supplied with pricier models)
With BT/NC headphones, audio quality is often a fourth purchase consideration behind noise cancelation effectiveness, battery life, and fit—how long can a set of 'phones be comfortably worn over the course of a lengthy flight. Headband and earcup cushions play a role in comfort, and so does weight. Most BT/NC models tip the scale at 10 ounces or less, and while a one- or two-ounce difference might not seem like much, you'll start to feel that extra weight after several hours of continual wear. You also want to be able to quickly feel-find the varying control touch-points, buttons, and toggles and switches arrayed on and around the earcups.
To test noise-canceling with this 8-pack of BT/NC headphone models, I dialed up an airplane cabin noise video from YouTube (believe it or not, there are several such videos available) to 85db on my external PC desktop speakers and turned my TV to a 24-hour news channel to simulate nearby conversation—all harsher conditions than you're likely to encounter in real life. To evaluate sound quality, I listened to a wide variety of pop, rock, rap, jazz, and classical tracks available on the Qobuz CD- and hi-res audio-quality music streaming service. (Many premium BT/NC models are compatible with Sony's hi-res LDAC audio codec, which enables Bluetooth streaming of up to 24-bit/96kHz tunes, and/or Qualcomm's aptX HD, which supports up to 24-bit/48 kHz streaming.) I also watched clips from several movies.
---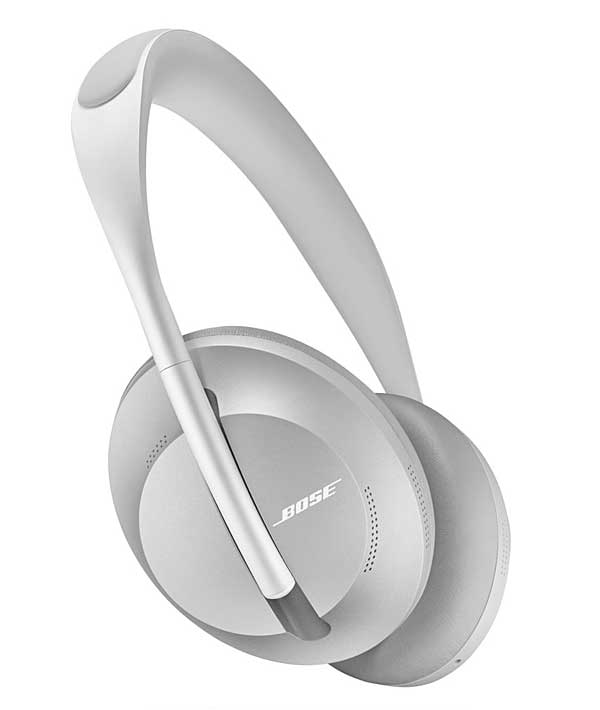 Bose Headphone 700
($399.95)
bose.com
With seemingly every headphones-maker extant now getting into the BT/NC market, Bose needed a way to stay king of the kingdom it had created. To that end, the company added a "duh" feature to its new Headphone 700 that no other model has: an ability to reduce ambient noise on both ends of a phone call so that no matter how noisy your environment, the folks you're chatting with will only hear your voice.
From a comfort stand- point, the Headphone 700's rubbery cushioned headband and its lighter- than-average 8.96-ounce weight allow it to rest almost imperceptibly on your cranium for several hours. But the 'phones oddly don't fold-up like most BT/NC models. The Headphone 700's deep ear cups not only give your ears a bit more breathing room, but they create a more open sound when listening. Even though the 700s don't include LDAC or aptX HD support, you get a wide and deep soundstage, plus just enough bass in beat-heavy tracks to satisfy all but the most Beats-indoctrinated ears. Compared with the other BT/NC headphones tested here, movie sound effects and especially dialogue were clearer and more front-and-centered, which helped to create a more surround sound-like presentation.
With a few tweaks made to Bose's existing and already superior NC technology, the Headphone 700 sits at the top of the noise-canceling heap. These headphones nearly obliterate ambient racket, and whatever rattle and hum that does remain will be easily absorbed by the music or movie soundtrack you're listening to.
All music transport and call controls are accomplished via varying touches of the front of the right earcup. There are two physical buttons: one for on/ off/Bluetooth pairing and voice assistant access on the right earcup rim, and a three-position NC-level toggle on the left earcup rim. You can more finely tune the 11-level NC, EQ, and power-saving modes in the Bose Music app. Meanwhile, press-and- holding the single button on the left earcup pauses your media and places the 700 into conversation mode.
Headphone 700 runs for 20 hours and fully charges in just 2.5 hours; you can get 3.5 hours of listening with just a 15-minute recharge. Oddly, turning the Headphone 700 off manually was more difficult than necessary, though it will auto-shutoff if movement isn't detected for 10 minutes.
Despite its lack of fold-ability and higher-res audio codec support, Bose's Headphone 700 remains the leading BT/NC choice.
---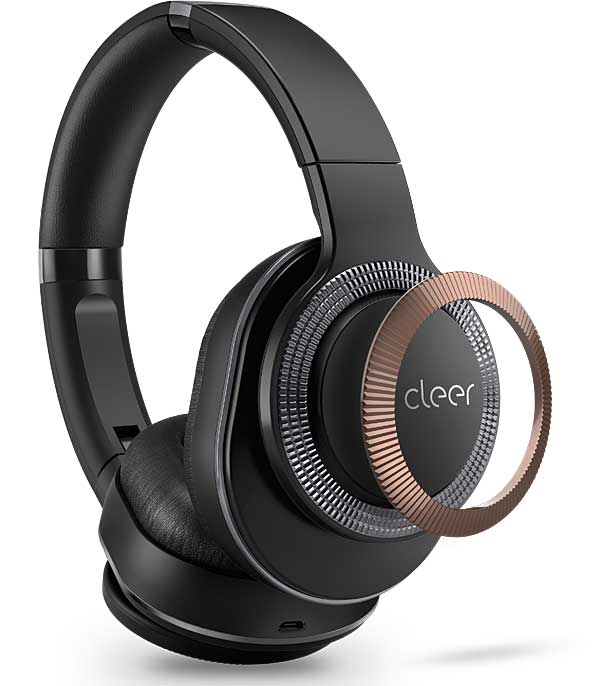 Cleer Flow
($280)
cleeraudio.com
The promotional copy for Cleer's Flow BT/NC head- phones claims that it "competently suppresses (~30dB) wide-band ambient noise." In practical use (and in plain English), the Flow's NC eliminated nearby chatter and most airplane cabin engine hum—more effectively than I expected. But Cleer giveth and Cleer taketh away: at 11.6 ounces, the Flow is the heaviest of the headphones I tested. Also, its headband is not as deeply cushioned as some of the other models, and it felt the tightest around my 7-1/4 fitted hat-size head. All of these factors make the Flow less than optimal for continual long-flight wear.
Control-wise, the Flow seems clearly designed for a left-hander since everything is operated via the left earcup. On its perimeter there's power, NC on/off, and a separate Ambient Noise control that toggles between Normal (best for street jogging) and Voice (best for casino poker-playing) modes, both of which open up the external mics but keep the audio playing. There's also a Conversation mode that will dampen sound during media playback by press-holding the Ambient Noise button. Volume, track transport, and call answer/ hang-up are controlled via touch on the left earcup, while removing the 'phones from your head auto-pauses playback.
Full recharge requires only two hours for 20 hours of BT/ NC listening, and the 'phones fold flat. Flow is available either in matte black or silver/gray with swappable silver or gold earcup rings.
Even with LDAC and aptX HD support, music playback lacked the sparkly detailed presence of other thusly enabled phones, but I still heard crisp treble, a clear midrange, and booming bass with standard AAC- or MP3-compressed fare. For movie sound, the dialogue wasn't as sharp, or the surround as wide, compared with other BT/NC models in the same price range, but it was still above- average. However, I did find I needed to raise the volume to nearly maximum to get full clarity.
Cleer is due to soon release an upgraded Flow II model at the same price, and at that time the original Flow will drop to $249. The Flow II will add a simpler-to-activate audio-dampening conversation mode that involves simply tap-holding the left earcup. It will also boost overall loudness, add left earcup touch-access to Google Assistant, and provide the option to loosen headband tension for a more comfortable long-term fit. There are also no swappable earcup rings on the Flow II, which, quite frankly, isn't a bad thing. I expect that these enhancements will make the Flow II more comfortable and a better value than its predecessor. At the same time, it will make the original Flow a bargain if you want peace and quiet for shorter music-listening sessions.