Bluesmaster Buddy Guy Is 'Alive and Well'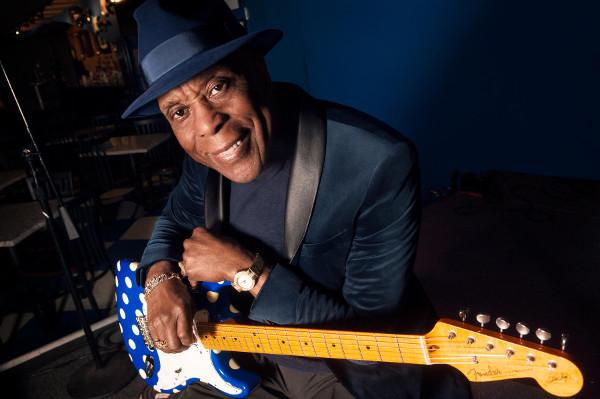 There are legends, and then there's Buddy Guy. The Chicago-based octogenarian blues guitarist originally from Lettsworth, Louisiana just keeps going and going. And if his new album,
The Blues Is Alive and Well
(Silvertone/RCA) is any indication, the Guy train won't be making its final stop anytime soon.
"The lyrics of the blues are about everyday life," the man observes in a respectful, observational tone. The evidence of that is stamped all over Alive and Well, from the rueful admittance of "Guilty as Charged" to the chilling challenge of "Nine Below Zero" to the hopeful slow-roll of "Blue No More," featuring James Bay on vocals. Other guests on the album include longtime Guy advocates Mick Jagger and Keith Richards of The Rolling Stones (albeit on different tracks), along with Jeff Beck.
I called Guy, 81 years young, at Legends, his, well, legendary Chicago blues club, to discuss the future of the blues (and/or the potential lack thereof), the deep connection between gospel and blues, and the real reason polka dots became part of his signature sense of style. Damn right, Buddy Guy is a blues master through and through.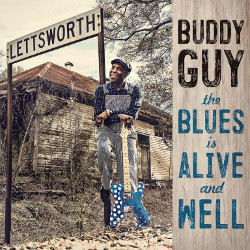 Mike Mettler: The blues world, according to the news I have here, is quite Alive and Well, according to this great album you've put together for us. Did you have a goal in mind for how you want to sound on a record these days?
Buddy Guy: My whole goal on record is exactly what it would be if my friends spoke to me like it was yesterday. Years ago, when Muddy Waters, B.B. King, Howlin' Wolf, and all those great blues players were living, we talked about the blues staying alive before all these different types of music came along. Those others are under a different name, but it's still [spells out the word] m-u-s-i-c. We didn't have rock, we didn't have soul. We didn't have all these different names. Everything was R&B and jazz and gospel.
So, man, we would go to sleep, wake up, and talk about keeping the blues alive. And we'd say to whoever would be around the longest, "Just don't give up on it." And I'm not giving up. Next month, I'll be 82 years old. I'm still trying to hold on, and I hope some young people will come along to carry it on.
We're catching hell with exposure of the blues. A lot of the big FM stations don't play the blues anymore — not just not mine, but anybody's blues.
Mettler: That's why I'm glad we have satellite radio and the blues channels like B.B. King's Bluesville. And even Little Steven plays you and other blues artists on his Underground Garage channel.
Guy: That's what I was about to say. I appreciate that — what they do on satellite. Back in the late '50s and early '60s, we had mostly AM stations, and the disc jockey could play what he wanted. You could take a tape up there and he could play it all day if he wanted, and nothing was said about it. He could play a gospel song and a jazz song, and then he would play a blues song. And today, I'm not saying he has to play Buddy Guy. Just let me hear Howlin' Wolf once a month.
Mettler: Or even some Lightnin' Hopkins, one of the true originals.
Guy: Tell me about it! Lightnin' Hopkins and Arthur Crudup, and all those people who these young people should know more about. Those people were doing this thing before Jeff Beck, myself, Eric Clapton, and all these other guitar players' and even before some of their fathers were even born. This is history, so far as I'm concerned.
It's almost like the Ford automobile. I don't know how long Henry Ford been dead [he passed away in 1947], but his cars are still running on down the street as a full deal.
Mettler: Right — Ford is still going, last I checked. At one point, you said, "My blues are like a gumbo," because you mix a little of everything in there.
Guy: Oh yeah, oh yeah! And when you taste it, that gumbo is pretty good!
Mettler: Damn good! Damn right it's good, you might even say! How do you listen to music when you have the time? Are you a fan of putting a vinyl record down on a record player? Is that something that's still important to you?
Guy: I still like to play the vinyl, yes. I still put on the vinyl. I never did fall in love with the CDs and all the new technology. New technology and me don't get along for three seconds, from the cell phone all the way down to my car! When I get into my car, I sometimes have to ask my children what button to push to not get what I don't want. (both chuckle)
Mettler: Do you have a favorite vinyl record you maybe grew up with that you still like to listen to?
Guy: Well, when I was coming up and learning how to play, I listened to more gospel than I did rhythm and blues, and I still try to listen to some gospel. But as blues players, we also listen to blues records, and that's what it's all about — gospel and blues. And gospel and blues are very closely related. I'll never forget when I first met B.B. King. He gave me his guitar, and he told me to play it while he was going to sing. I kept on missing something as I was playing it, but he said, "You just keep on playing it. You'll get there when you get there."
Mettler: There you go. I certainly feel the lineage connection of gospel and blues in a song you did some years ago — your cover of John Hiatt's "Feels Like Rain."
Mettler: Yeah! I had heard that song, and Bonnie Raitt said, "I think you can do a good job with this song." And that's when I went into the studio and decided to do it. ["Feels Like Rain" subsequently became the title track to Guy's 1993 studio release.]
Mettler: Did you ever interact with John Hiatt himself about it? You must have spoken with him at some point.
Guy: We did some shows together, but we haven't done one in quite a while. Last time we did, he told me after he heard me do it, he don't sing it anymore! (MM laughs) I told him, "That's not a compliment. You're trying to make me feel good, man! You don't beat an old dogs at his tricks." (both laugh)
Mettler: I also like that when a song on this new record like "Nine Below Zero" comes up, it shows how you continue to put two worlds together of music — from that of five and six decades ago with what a 2018 feel is.
Guy: When I was doing this record, I thought about the Chess people. When the Chess people were doing alright with the Muddys, the Wolfs, the Sonny Boys, and Little Walter, if I had cut that for them, they would have waited. It would be on one of those sub-zero days when you'd turn the radio on in the morning, and you didn't know what you might hear.
My dad gave me a lyric once, and I think it was around 1960 or '61 when I cut it. The lyric was, "I'm going back down south/Where the weather done suit my clothes." Because in Chicago, it's too damn cold! We cut it at night, and the next morning I got up and I heard it. I went, "Oh sh--, somebody done beat me to my song!" Leonard Chess had went in, got the demo, and got it on the station in the early morning. He wanted to cash in because it was below zero! [That song, "Stone Crazy," was released as a B-side on Chess in 1962.]
Mettler: How about that! Keith Richards, who played on "Cognac" on this record, calls you "The Godfather." When you hear something like that from people who came up after you, how do you feel about it? Are you carrying on that mantle?
Guy: Well, you know, all of these guys are my friends, man. Mick Jagger wanted my number about three weeks ago, because he was trying to call me. I had my manager give him my number, since I didn't know if he wanted me to play on something of his or theirs because he played harmonica on one of the cuts I've got here ["You Did the Crime"]. When he first heard it, Mick said, "I didn't know Buddy could still holler that loud at his age."
Mettler: You still got it! I'm curious — you have polka-dot guitars, there's the Checkboard Lounge, and you wear shirts with symmetrical patterns on them. Does that come from you having a patterned, orderly visual sensibility about style?
Guy: No no no, that came from when I left Louisiana. I was the only child who was going to leave Louisiana, and my mother always worried about her children. And I told a big lie to my mom, that I was going to Chicago and make a little more money: "I'm going to Chicago to get a better job so I could give you a little more money than I can give you now. And I'll drive back down here in a polka-dot Cadillac." I never got the chance to tell her I was lying, because she passed away before I had the chance to tell her that. Something told me, "Man, you lied to your mom."
I went to Fender to get the polka-dot guitar made, and it took them 18 years to perfect it — but they did, because they thought it was a nut for me to be wearing a polka-dot guitar. And I understand that when they [brought the guitars] to the NAMM Show with them, they had sold out before they even got there. And then people started showing me polka-dotted shirts and other things like that, so I just locked in on it.
Mettler: We're glad to have you out here doing your thing, and also how you keep the Legends club going is vital. Seeing the blues live is important too, don't you think?
Guy: Well, if you saw my club last night — they had rented the club out. They had come to me, because blues clubs is like blues musicians. You can count the ones that are left. You look around. You go to sleep and then wake up and you go, "Now wait a minute, Buddy. Who's left now besides me?" Like I said before, next month I'll be turning 82 years old, and I'm just trying to help these young kids to celebrate the blues, and keep it going.
I just hope we can influence things, because like I said earlier, you didn't have to do that years ago with the AM stations. Young kids including myself had heard it, and they don't play this kind of music on those big FM stations no more. If you ain't got satellite, you don't hear Lightnin' Hopkins, T-Bone Walker, or B.B. King. Even when the British guys [i.e., Clapton, Beck, et al] were playing the blues, they don't play that hardly much anymore on the big FM stations.
Mettler: We mentioned "Cognac," with Jeff Beck and Keith Richards playing guitar together on it with you. Does it feel like you guys are cutting heads, or are you sharing something there? What's it like when you work with gentlemen like that?
Guy: That's the fun of playing guitar. You get yourself a couple of drinks, look at a couple of good-looking women, and play well. And the cognac makes the hair stand on your head.
Mettler: It's that, plus some "Champagne & Reefer," a song you did with The Rolling Stones. [Guy guested on this Muddy Waters-penned track in the 2008 Stones concert film directed by Martin Scorsese, Shine a Light.]
Guy: Yeah yeah, and you know they love that Muddy Waters thing. He was the one who put a brand on that. He made a record back then [in 1956] that went, "I got my brand on you" — and who can forget it? That's what I worry about a lot. At least you should be able to hear Muddy Waters, Howlin' Wolf, and somebody else doing their original songs at least once or twice a month on any radio station. But they don't play that, and I'd like to know why they don't play it, you know? I don't know why I'm hanging in there, but I just know that the next young lady or young man who comes along could be a superstar years from now. Don't know from where, but we all were discovered back in some blues club back in the day.