Binaura Sound Environment B102A At A Glance & Ratings
At A Glance: Binaura Sound Environment B102A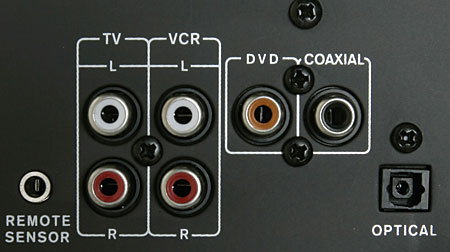 Subwoofer/processor
Inputs: Digital coaxial (2), Digital
optical (1), Analog stereo (2)
Outputs: Proprietary five-pin connector to main speaker
Enclosure Type: Vented
Woofer (size in inches, type): 6.5, paper cone
Nominal Impedance (ohms): 6
Frequency Response: 20–180 Hz
Power Rating (watts): 60
Crossover Bypass: No
Available Finishes: Charcoal Gray, Gloss Black, Silver
Dimensions (H x W x D, inches): 18 x 15.2 x 6
Weight (pounds): 19
These listings are based on the manufacturer's stated specs; the HT Labs box below indicates the gear's performance on our test bench.
Main Speaker:
Type: Three-way, monitor
Midrange (size in inches, type): Three full-range drivers, 3, paper cone
Nominal Impedance (ohms): 4
Frequency Response: 150 Hz–20 kHz
Recommended Amp Power (watts): 20
Available Finishes: Charcoal Gray, Glossy Black, Silver
Dimensions (H x W x D, inches): 4.6 x 14.0 x 5.8
Weight (pounds): 6.1
Features:
Processing
Modes: DTS, Dolby Digital
Other: Binaura Stereo, Binaura Vocal, Binaura Home Theater
Ratings: Binaura Sound Environment B102A
Build Quality: 90
• Wood-product housing for subwoofer and main speaker, not plastic
• Hefty amplifiers and a brawny heatsink around back
Value: 89
• A quality product, no doubt. But, for $600, are we paying for the gear or the technology?
Features: 86
• An audio-only home-theater-in-a-box with multiple digital and analog inputs and Dolby/DTS support
Performance: 93
• Sonic preeminence and a truly enveloping soundfield—an unexpected home theater experience from a convenience product
Ergonomics: 91
• Small footprint, big sound; even the cables are clearly labeled
• Some aspects of the manual and remote control could be clearer; otherwise simple
Overall Rating: 90
This is a serious alternative to conventional home theater audio setups. I would recommend it for anyone who's concerned with aesthetics, space, and simplicity, yet still wants superior audio.
General Information
Sound Environment B102A, $599
Binaura Audio Research Corporation
(831) 426-4244
www.binaura.com
Dealer Locator Code BIN