Arcam irDAC USB DAC Review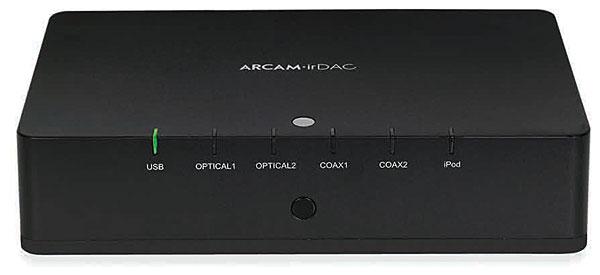 PRICE
$699
AT A GLANCE
Plus
PC-worthy USB DAC
iOS-worthy rear USB input
Coaxial, optical inputs
Minus
No headphone amp
THE VERDICT
About the size of a thick paperback, the Arcam irDAC is a USB DAC that will make your audio files—from lossless to lossy—sound great.
The USB DAC is the missing piece in many of today's audio systems. Most AV receivers have iOS-friendly USB inputs, but few have the PC-friendly kind. If you want to connect a computer's USB output to your system, you probably need something like the Arcam irDAC to mediate between computer and system.
The irDAC is purely a converter. It does not drive speakers or head phones and does not serve as a volume-controlled preamp. It is about the size of a thick paperback book and has a wall-wart power cord. The size is sensible, big enough to fit in some serious circuitry—including eight separately regulated power supplies—but not big enough to take up much space on a desktop or in a crowded rack. You might even stand it on its side, leaving a footprint of just 1.8 inches wide by 4.8 deep.
Stereo analog and coaxial digital outputs are provided to feed an audio system. The back panel has two of every kind of input—coaxial digital, optical digital, and USB (one Type A, one Type B)—represented by indicators on the front. A button on top cycles among the inputs.
Setup was pretty easy. I used the irDAC with a USB connection to a Lenovo Windows 7 PC. USB Class 1 (up to 96 kilohertz) works out of the box. Getting up to 192-kHz resolution requires a procedure that's become familiar to me in numerous USB DAC reviews: I downloaded the driver from the Arcam Website, connected the two devices, toggled the USB Class switch from setting 1 to setting 2 on the back panel, and installed the driver on my PC. Then I designated the Arcam as the default sound device in the Win 7 Control Panel and chose 192/24 as the default output format. The last step was to open Foobar 2000, my high-res playback software, and select the Arcam driver in the Output menu. If your library is limited to bitrates of 96 kHz or less, you needn't bother with this. I did it just to play the few 192-kHz files I have.
I took the irDAC on a tour of music I love using mostly Apple Lossless CD rips. It generally displayed a warm, inviting tone not unlike that of Arcam's high-performing (and pricey) AV receivers. While it did not indiscriminately sweeten everything it touched, it definitely had a personality of its own that mingled with the music.
In the title track of Jan Akkerman's "Passion," the dominant melody of Bach's St. Matthew Passion, it plumbed the complex nuances of the well-recorded acoustic guitar. But it didn't flinch from the techno percussion and digitally processed guitars in Akkerman's "In Between the Sheets," from C.U. I was less pleased, however, with its treatment of Rossini's "Barber of Seville Overture," with Claudio Abbado conducting the London Symphony Orchestra in his DG collection of Rossini Overtures. The strings seemed slightly canned and reticent.
Linda Thompson's complex soprano on "Love's for Babies and Fools," from It Won't Be Long Now , is a litmus test I use to detect edginess. The irDAC aced the test, providing all of the beloved voice's beauty and none of the side effects. It also made the duet between June Tabor and John Jones on the Oysterband cover of Joy Division's "Love Will Tear Us Apart," from Ragged Kingdom, a feast of vocal texture and color. It's one of those recordings that sounds good on everything but great only on the best gear.
I auditioned both the stereo and mono mixes of the Beatles' "Girl," the song from Rubber Soul that features a sharp intake of breath on the John Lennon vocal. The irDAC did the best it could on the stereo mix's skewed perspective, with all instruments at left and all vocals at right, but it needed the mono mix to display its finest qualities: a judicious warmth that reveals more than it conceals. At this point I fell into the bottomless hole that is The Beatles in Mono (digital version), and the next several hours went unrecorded in my notebook.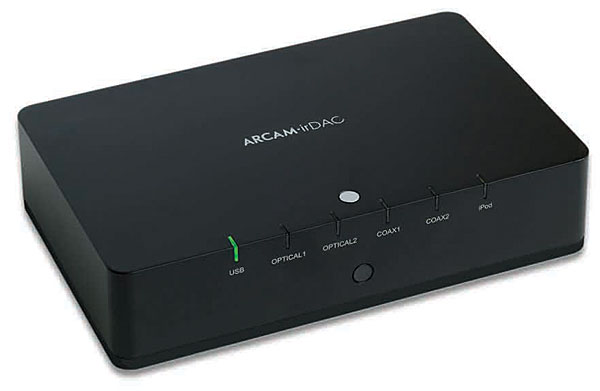 Stepping up to high-res material, the Arcam navigated the first two Led Zeppelin reissues in 96/24 FLAC. In "Babe I'm Gonna Leave You," a storm of acoustic and electric guitars and percussion from the untitled debut album, the irDAC preserved the track's characteristic warmth but also extracted the dynamism of the new remix. "Whole Lotta Love," from Led Zeppelin II, was a feast of ingeniously recorded guitar textures, and the irDAC's presentation of it was the best I've heard from any DAC functioning with my desktop system.
I used the irDAC primarily for its USB input, but Arcam's spokesperson was quick to point out that, with its coax and optical input options, it could constitute a great audiophile upgrade for any device with a digital ouput, from an old CD player to a modern-day media streamer like Apple TV. I didn't try any of those inputs, but what I can tell you is that, from inherently flawed lossy MP3 files to the highest-resolution material in my library, the irDAC made nearly everything sound great. If versatile virtuosity is what you want in a DAC, the irDAC delivers.