Arcam FMJ AV8 7.1-channel preamplifier-processor & FMJ P7 7-channel power amplifier
Though it's a relatively small company, UK-based Arcam has long been known to place heavy emphasis on R&D. When I visited the factory a few years ago, I was shown some of the impressive development work then in progress. This effort, said by Arcam to run well over $1 million, has resulted in some impressive new products, including the FMJ AV8 preamplifier-processor and its companion FMJ P7 power amp.
Arcam FMJ AV8 Around the Block
In the world of high-end audio, the more expensive and higher-performance a product is, chances are the fewer knobs it will have. The opposite seems to be true in the A/V world, where more money means more knobs, more complexity, and, usually, more confusion. That there's no reason for this is proved by the sleek, refreshingly simple, and clean-looking FMJ AV8 surround preamp-processor. Its faceplate gives no indication of the complexity and flexibility to be found within. It has almost every feature you could want in a pre-pro, yet it's easy to install, configure, and operate.

Dominating the front panel is audiophile comfort food: a big-ass volume knob. There's also a relatively small, easy-to-read display that shows you volume (via a number and bar graph), source, and mode. A discrete assortment of other buttons provides full control, including access to a status information screen, an onscreen display (OSD), and THX and other surround modes.
Arcam's learning remote isn't sexy, but it is effectively backlit, and lights up automatically when you push any button. Exceedingly well-laid-out, it features a wide variety of button shapes and sizes, making it about the most pleasant, most easy-to-use remote I've had in my hands. A small, 12-page guide plus three pages of manufacturers' codes tell you everything you need to know about programming it to operate other brands of gear, though under "Laserdisc Players," Arcam inexplicably leaves out Pioneer, the company that invented and popularized the format.
The AV8 features switching facilities for eight analog sources (including an optional module for moving-magnet and moving-coil phono cartridges) and seven digital sources, as well as what Arcam calls broadcast-quality video switching for composite, S-video, and three sets of component or RGB signals. There's a single 8-channel analog pass-through facility for SACD and/or DVD-Audio, as well as audio and video analog tape loops. The main line output features 10 channels: 7.1, plus two additional subwoofer outputs, though unlike a few other premium preamp-processors, there are no stereo subwoofer outputs.
While some might wish for two sets of analog multichannel audio inputs, a more serious issue in today's digital audio world is the inclusion of only two TosLink optical inputs. That won't be enough for many videophiles. There's room for at least two more optical outs on the AV8's gratifyingly clean rear panel; hopefully, by the time its second generation hits the market, it will include them. Still, for those who need to expand the AV8's input capabilities, inexpensive outboard optical switchers are available from Audio Authority and others.
Unlike some pre-pros, the AV8 doesn't include video format conversion. That is, it doesn't upconvert composite and S-video sources to component—a conversion that can simplify hookup by requiring only a component connection from pre-pro to display. Arcam argues that this degrades the signal. If you use the AV8 to switch different video format sources, you'll need to connect separate video leads for each format from the AV8 to your video monitor.
The AV8 is also designed for easy installation in an automated home theater, with an RS-232 port, trigger outputs, and second-zone line outputs for analog audio and composite video. But those who prefer—or might need—the advantages of balanced operation in terms of noise-canceling for long cable runs are out of luck: the AV8 is single-ended only.
What's Inside
If you're going to build a product from scratch, you might as well pack it with top-quality parts, and that's what Arcam has done with the FMJ AV8. Like all of Arcam's FMJ (for Full Metal Jacket) models, the AV8's chassis is made of AcouSteel, a laminated antivibrational material originally developed for Toyota's upscale Lexus brand. Eight channels incorporate British-made, 24-bit/192kHz Wolfson WM 8740 audio DACs. The video switching, which can be used with either component or RGB video, is claimed to be good to around 300MHz.
Even the implementation of the OSD is unusually meticulous, as Arcam's manufacturer's rep demonstrated during the installation. Companies concerned about video signal degradation often avoid passing component-video signals through degrading OSD signal generators, forcing you to either view setup screens via composite connections or use an informationally challenged front-panel display. Arcam lets you access the OSD via the AV8's component-video outputs using a broadcast-quality pixel-switching device that superimposes the OSD on the video signal, pixel by pixel. You can even access it with a progressive-scan signal. When you pay $5000 for a processor, you should expect such convenience and attention to detail.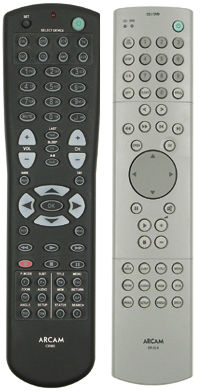 A unique switching-mode power supply contributes to both the AV8's compactness and its sonic performance. By syncing to incoming digital clock frequencies in two tiers—44 .1kHz and its multiples of 88.2kHz and 176.4kHz, and 48kHz and its multiples—the supply is said to eliminate switching-noise artifacts. In normal operation, analog signals are digitized so that bass management and surround modes such as Dolby Pro Logic II can be applied, with the supply syncing to the frequency of the unit's A/D converters. In Direct mode, DSP is turned off and the analog signal is passed unprocessed, with the power supply operating via a self-generating clock.
Digital signal-processing modes included are Dolby Digital EX and Pro Logic II, DTS ES and Neo:6, and the full complement of THX modes. There are also six custom DSP modes for enhancing 2-channel stereo signals.
Connections, Configuration, Control
Thanks to a combination of clearly written instructions, that easy-to-use universal remote control, and an uncluttered OSD, connecting and configuring the AV8 could not have been easier—though its slim chassis makes for a mighty crowded rear panel once everything is hooked up. Unlike the instructions for too many A/V products, Arcam's are written in conversational prose instead of jargon-packed shorthand. Incredibly, there's not a single wiring diagram in the entire booklet. Arcam's approach proves that wiring charts as complex as a Manhattan subway map are unnecessary and mostly confusing—especially those showing every possible video format connected simultaneously.
Configurability options are numerous and unusually flexible, yet the default settings are so logical that I was up and running in a very short time. Under Basic Settings are the usual menus for speaker size, delay, and level, along with THX settings that include a Boundary Gain Compensation control. This provides a bass rolloff to reduce the boominess caused by speakers that are positioned close to a wall or wall/floor junction.
Advanced menus also provide individual bass and treble control for each channel, assign video and digital inputs (and customize their names), set up the second zone, and even trim input levels so that when you switch between them, volume levels remain constant. You can also compensate for video processing delays to improve lip-sync accuracy. As for bass management, the crossover frequency can be set to either the THX standard of 80Hz or anywhere from 40Hz to 150Hz, in 10Hz steps.
Once you're set up, should you wish to make temporary level changes to individual channels, including the subwoofer, those facilities are available at the push of a button. All of this configurability is presented with such elegance and clarity that I never got lost or confused, and I always had sound and picture.
Audio and Video
As the Guide's resident reviewer of receivers—I'm happy to dwell with the plebes here at home-theater ground level—I haven't had access to any of the current crop of top-shelf A/V processors (the best I've heard was Linn's superb-sounding AV51; my review appeared in the February 1999 Guide). So I can't tell you how the AV8 compares to them. But with 15 year's experience reviewing the highest echelon of 2-channel audio gear, I know how transparent, dynamic, and quiet audio preamps can sound—and, when they cost a great deal of money, should sound. However, for a high-quality 2-channel preamp, $5000 is not expensive by high-end standards. That Arcam can sell a high-tech multichannel product packed with the FMJ AV8's level of flexibility and performance for that amount is impressive.