Anthem AVM 30 Pre/Pro, Anthem MCA 50 Amplifier, and KEF KHT 9000 ACE Speaker System
The Canadians and the Brits are at it again.
If you know your history, then you already know that the Canadians and the English can do some good things when they get together. While we were taking care of our business down at Utah and Omaha, the Canadians and the Brits were giving the Germans a pretty good working-over of their own up the beach at Normandy. They even teamed up rather effectively against us during the American Revolution and War of 1812, managing to hang on to Canada despite our various efforts to take it and, in the process, preserving one of England's last real toeholds in the New World.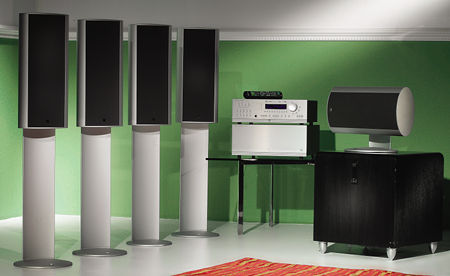 These two countries usually team up nicely in the listening room, as well. Whether it be English electronics and Canadian speakers or vice versa, I've rarely heard this collaboration fail. For this month's Spotlight System, it was vice versa: English speakers in the form of KEF's KHT 9000 ACE system and Canadian electronics in the form of Anthem's AVM 30 pre/pro and MCA 50 amplifier.
Logistics
The KHT 9000 ACE system sits at the top of KEF's KHT line. It must not only assume flagship duties, but also handle the pressure that all plasma-friendly speakers face in proving that they can do more than just look pretty mounted next to a plasma. Some interesting proprietary technologies are in place to help. The first is KEF's UniQ system, which places a tweeter within the midbass driver's throat to create a coaxial, coincident driver array. The primary idea is to improve off-axis performance and widen the sweet spot considerably. Also at work is the ACE bass system, which seeks to reduce cabinet pressure that restricts cone movement and bass extension. This is obviously of particular benefit in cabinets of this size, where low-frequency performance has long been an Achilles heel.
The five KHT 9000 satellites are identical, each employing two 6.5-inch bass drivers flanking a 6.5-inch UniQ driver. Your only setup decision is whether to use floor stands or tabletop stands, which are available for L/R or center-channel configurations. You can also easily mount the satellites on the wall. Both the L/R and center floor stands allow for placement at various heights, thanks to an interesting coupling system that feeds the audio signal through rails that run along the stand's length.
The Anthem AVM 30 pre/pro takes over for the well-regarded AVM 20. Considering its performance, connections, and ergonomics, the AVM 20 was my choice for cream of the crop in inexpensive pre/pros. The AVM 30's résumé is no less impressive. Like its predecessor, it has more connections than most of us could ever use. And this isn't just window dressing. There are legitimate bonuses like balanced outputs, ten channels of analog audio output (including two centers and two subs), and a two-way RS-232 connection that, among other things, makes for easy software upgrades. There are also accommodations for two extra zones.
The internal components and processing are just as impressive. AKM AK5383 24-bit/96-kilohertz analog-to-digital converters, AKM AK4382 24-bit/192-kHz digital-to-analog converters, and a Motorola 56367 processor cranking at 150 megahertz highlight the internals. There isn't really a processing stone left unturned here. All the flavors of Dolby (including EX, PLII, and soon PLIIx via a quick download and software update) and DTS (ES, 24/96, and Neo:6) are here, along with THX Ultra2. There's also the company's AnthemLogic processing, with both music and cinema modes, that provides up to 6.1- or 7.1-channel output from any two-channel source. The excellent onscreen menu provides control over these processing modes, crossovers, and most every other aspect of audio handling like nothing I've seen this side of a Lexicon.
The MCA 50 amplifier is Anthem's top power plant outside of the Statement line, rated at 180 watts with all of its five channels driven into 8-ohm loads. It too sports balanced connections, as well as sturdy five-way binding posts. A trigger input and output are also supplied. Anthem offers both the AVM 30 and the MCA 50 in a more-utilitarian black finish or with a silver faceplate for what, these days, would probably be termed a more-plasma-friendly finish.
The Setup
Anyone who thinks that HTIBs and receivers have the monopoly on easy setup these days hasn't played with separates lately. Most pre/pros now are just as friendly. Many, like the AVM 30, offer a basic round of settings for the less tweakish and an advanced round for the more control-freakish among us. The AVM 30 offers considerably more of the latter than most pre/pros, regardless of price. The KEF speakers' dimensions make them easy to handle. Some basic assembly of the stands is required, but it's simple and quick. I used floor stands for the fronts and surrounds and mounted the center channel on a tabletop stand. I set the front speakers away from the side and rear walls, and I switched between toed-in and not to see how effectively the UniQ driver would expand the sweet spot. While most people would probably wall-mount the surrounds, I used the stands, placed 120 degrees to the listening position with the speakers set as high as possible, putting them slightly above ear level. I confirmed that these speakers are effective on the walls, but, as with almost any speaker, they're that much better with some breathing room. A KEF PSW 4000 sub contributed low frequencies with movies.
The Listening Ground
I could tell almost immediately with music that the amp and speakers were going to be successful allies—never a given, even with two elements that sound good with other playmates. The MCA 50 fully exploited what is an impressive bottom end for a speaker of this size. At the same time, the KHT 9000s presented the MCA 50 with a load that kept it well within its comfort zone (which, I would find out later, is fairly large). You never know if these proprietary systems are more marketing than legitimate technology, but in the case of the KHT 9000's ACE bass system, I'd say it's the latter. I've rarely heard bass this solid and deep from speakers this size. The same could be said of the UniQ driver system, as the two-channel sweet spot was indeed wide and the sound rather impressive off-axis. In our medium-sized room, I had to get well off to the side before I heard any major shift, and no one but your in-laws should be sitting out there, anyway.
High-resolution material confirmed that the AVM 30 does exactly what a good preamplifier is supposed to do: stay out of the way. Signals passed as cleanly from the Denon DVD-2910 universal player to the MCA 50 as if the AVM 30 wasn't there, which I confirmed by temporarily running the DVD-2910 straight to the amp. The rest of the chain was no less adroit, and material like Bucky Pizzarelli's Swing Live (Chesky, DVD-Audio or SACD), Muddy Waters' Folk Singer (MCA, SACD), and Resphigi's Pines of Rome (AIX, DVD-Audio) offered considerable definition, stage presence, and accuracy. Certainly, the KHT 9000s will not visually dominate a room, especially a larger one, the way that quality towers will. But they are possibly the best example I've heard so far of the increasing quality of plasma-friendly speakers ("lifestyle speakers," or whatever you want to call them) and, in particular, the impressive, full-bodied presence that they can deliver when they're done right.
Speaking of impressive and full-bodied, the Anthem combo was just that with movies as well as music. Only my resident amp-busters (big MartinLogan electrostats) were able to temporarily trip up the MCA 50 with their occasional sub-1-ohm loads, and only at high volumes. I noticed that the KEFs didn't offer all of the presence that they did with the Anthems when I set them up with a couple of the flagship receivers we have laying around (which cost as much and, in some cases, more than the Anthem combo). Having to buy six more interconnects and give up another spot in your rack is a small price to pay for clean, uncompromised power that will open up quality speaker systems to their full potential.
Fittingly enough, the system fully realized this potential with the Normandy-assault scene that opens Saving Private Ryan. Here, the Anthems coaxed far more soundfield depth, more dynamics, and more raw SPL out of the KEFs than I thought cabinets of this size were capable of, and with a surprising sense of effortlessness. Captain Miller's emergence from his temporary state of delusion was a fine example. The system instantly and seamlessly switched gears from the soft, ethereal ringing that signifies Miller's trance to the screaming bullets, frantic voices, large reports, and larger heavy-artillery explosions that mark his return to consciousness.
The Lord of the Rings trilogy also gave the system a powerful workout, in terms of both agility and power. Direct-radiating surrounds are almost always easier to localize than bi/dipoles, but the KEFs do a solid job as surrounds with what they have to work with. I particularly liked how they handled the circular pan of Sauron's voice as the fellowship gets their first look at the ring. The rear field may have lacked some of the diffusion that quality dipoles can produce, but it did not lack for accuracy and cohesion. The most impressive effort from the KEFs probably came from the center channel. It transcended its limited dimensions to reproduce dialogue that was clear and full, with only slight, occasional coloration. Effects and music were carefully developed and uncluttered.
When the smoke cleared, I was left with the impression that the Canadians and the English have done it again—another example of an alliance that appears to be successful whether you're on the battlefield or simply watching it from the comfy confines of the listening room. In addition to supplying quality performance, logistical ease, and even first-rate aesthetics, both sides of this collaboration proved some interesting points. The Anthems showed once again that, dollar-for-dollar (beyond a modest price point), you'll almost always get more out of separates than a receiver, especially when it comes to power. The KEFs showed that not all plasma speakers are willing to settle for just looking pretty, and not all small cabinets have to sound small. I'll raise a Bass ale, and a Moosehead lager, to that.
Need a Display?


We recommend the following displays to mate with this Anthem/KEF combo:
Panasonic TH-42PD25 Plasma HDTV, $3,000
Screen size: 42 inches
Best video connection: HDMI
Weight: 79.4 pounds
Sony KDF-50WE655 LCD HDTV, $3,000


Screen size: 50 inches
Best video connection: HDMI
Weight: 85 pounds