Alan Parsons Does 5.1 Live on XM Page 2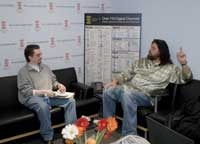 You went on a joint surround tour with Yes in 1998, and now you've just done an Artist Confidential in surround at XM HQ. How did it feel to perform in surround? It felt really good. But I have to say it was slightly strange working with the surround elements since sounds takes time to travel from a speaker in the back of the hall to a person at the front of the hall.
Were you tweaking as the show went along? A little bit. It's always the effect-y things that work the best. The [Pink] Floyd were doing that in their shows in the '60s.
You've said in other interviews that you feel surround is an extension of quad. Is that still true in your mind? Oh yes. Quad was early surround, and 5.1 is 21st century surround.
I know you have to go, so one final question: If you had the chance to mix The Dark Side of the Moon in surround, what would you do differently, if anything? I'd make it not sound like stereo on four speakers. [chuckles]
Alan and I spoke again after he finished mixing the show for 5.1 broadcast. Besides that experience ("We were fairly adventurous with it. We put most of the keyboards in the back"), we also talked about the surround mix he did for the A Valid Path DualDisc ("The consumer pays for his six speakers, he might as well hear them") and his involvement in the upcoming Alan Parsons Project reissues ("I'm looking through the archives for demo material, things like that"). Read that part of the chat with Alan Parsons here!
Satellite Goes Surround more of this month's entertainment Back to Homepage What's New on S&V
LATEST VIDEO