Alan Parsons Does 5.1 Live on XM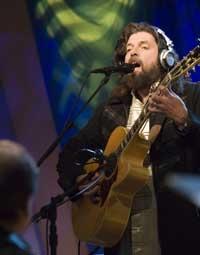 Live music in surround: You just can't beat it. When S&V was asked if we'd like to head down to our nation's capital and see Alan Parsons do an installment of Artist Confidential in 5.1 for XM Satellite Radio back on March 4, we jumped at the chance. So features Editor Michael Gaughn and I hopped on Amtrak around noon that Saturday, eager to hear how the master producer would pull off his new project.
We arrived at XM HQ in Washington, DC, a few hours later, and were greeted by reps from Neural Audio, a company known for their innovations in audio signal processing. They ushered us into one of XM's studios and gave us the lowdown on just how HD Surround works, complete with a few telling A/B tests for good measure. [For the nitty-gritties, check out "Satellite Goes Surround."]
Then it was time. Mike and I went into the studio where the show was being recorded and took our seats in the third row, stage right. (Alan and the band's families and close friends got dibs on the front row.) Host George Taylor Morris commenced the proceedings around 5:25 p.m., and Alan and the band got the music started with a taut rendition of "Eye in the Sky." My favorite performances were "Wouldn't Want to Be Like You" (with killer high-hat work from drummer Steve Murphy) and "Games People Play" (awesome impact when the band kicks into gear after Alan first sings the line, "nobody gives us a damn"). Plus, his reminiscences about working with the Beatles ("you were on the rooftop!" exclaimed Morris about Parsons's involvement with the Fab Four's infamous final "concert") and Pink Floyd (he revealed the real movie to watch while listening to The Dark Side of the Moon - it's not The Wizard of Oz!) were fascinating. [Alan's Artist Confidential episode debuted on XM May 15. You can catch it on Deep Tracks (Channel 40) and Fine Tuning (Channel 76); check www.xmradio.com for dates and times.]
After the show ended and Alan took some time to greet his fans, we retired to the green room for about a half hour before he headed out to dinner with family and friends.