8 Mile (Blu-ray)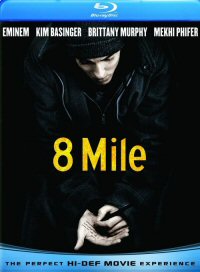 In the slums of Detroit, it's a daily fight to keep hope alive. For trailer-park kid Jimmy "B-Rabbit" Smith Jr. (Eminem), his music is the only way out of the ghetto, but he must overcome many obstacles to realize his dreams.
8 Mile doesn't break any new ground in its storytelling, but the music is decent—if you like rap—and the debut acting performance by Eminem is quite good. The script is a bit shallow and predictable with its suspect character development, but it's entertaining.
The AVC encode does an admirable job of complimenting the story with its bleak, urban environment. Colors aren't oversaturated and look natural, and the black levels are rock-solid and stable. Detail is very good in close-ups but occasionally soft in longer ones, and edge enhancement is never an issue.
The dialog-intensive DTS-HD MA 5.1 soundtrack doesn't disappoint with excellent imaging across the front speakers. The urban-centric score has decent dynamics with tight bass and a full-bodied midrange. The surround speakers offer the occasional ambient effect during the concert sequences but are otherwise nonexistent.
The sparse supplements include a "making-of" featurette and a look at the tryouts for the rappers who battle Eminem in the film—both in standard definition. Rounding things out is the music video of Eminem's "Superman," also in SD.
Even though Eminem isn't the star he once was, I can't deny the man has some talent—both musical and dramatic. Some may be turned off by the music, but I grew up listening to rap music and wasn't offended. The presentation is solid, although the supplements are very weak.
Release Date: April 14, 2009
Studio: Universal
Movie: 6/10
Picture: 8/10
Sound: 8/10

Review System
Source
Oppo BDP-83 Blu-ray player

Display
JVC DLA-RS1 projector
Stewart FireHawk screen (76.5" wide, 16:9)
Electronics
Onkyo Pro PR-SC885 pre/pro
Anthem PVA-7 power amplifier
Belkin PF60 power conditioner
Speakers
M&K S-150s (L, C, R)
M&K SS-150s (LS, RS, SBL, SBR)
SVS PC-Ultra subwoofer
Cables
Monoprice HDMI cables (source to pre/pro)
Best Deal analog-audio cables
PureLink HDC Fiber Optic HDMI Cable System (15 meters) from pre/pro to projector

Acoustical treatments from GIK Acoustics
LATEST VIDEO