PSB VisionSound 300 Speaker System and Marantz SR8500 A/V Receiver
The sweet sounds of success.
Neil Young was on NPR chatting about his new movie, Heart of Gold, when he uttered a line that stuck with me: "The art of singing is making a sound that comes from your heart." Thanks Neil, I'm co-opting the idea to describe what distinguishes great home theater systems—their sound touches your heart. Yeah, that's it. While components are getting better all the time, many lack that special something. There's nothing obviously out of whack, it's just that their sound doesn't connect on an emotional level. Sometimes the individual components are all top notch, but, if they're not well matched to each other, the sound suffers. When everything clicks, you know it. That was certainly the case when I hooked up Marantz's SR8500 A/V receiver with a set of PSB's VisionSound VS300 speakers and SubSeries 5i subwoofer. They're all charmers.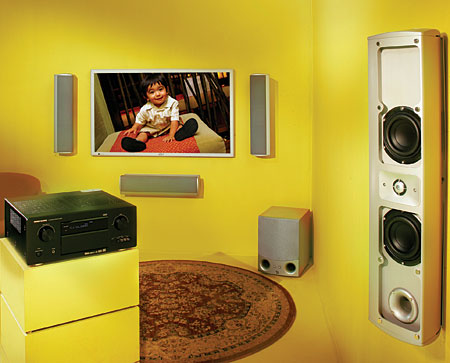 I knew something was very right with the Marantz/PSB marriage because I played a steady stream of discs without ever thinking about their sound quality. Take Elvis Costello's Live in Memphis concert DVD. I'm a huge fan, but, on most of the systems I review, this DVD's harsh sound and screwy mix distracts me to the point where I can't enjoy the music. The Marantz/PSB ensemble didn't hide the sonic snafu; it instead somehow revealed more of the great music from this 2004 concert. When I looked over the VS300 speakers' specifications, I saw that their sensitivity rating is somewhat less than what many others claim (86 decibels at 2.83 volts at 1 meter). Elvis was on fire that night, and I just had to take him in at maximum volume. More feebly powered receivers might have run out of juice, but, with the SR8500's lusty 125 watts per channel on tap, power was never an issue.
Of course, the best recordings, like Bowie's David Live DVD-Audio came awfully close to providing a virtual-reality experience. I could clearly hear Bowie and the band on stage, and the ambience of the concert hall filled my home theater. The PSB/Marantz system's laid-back demeanor didn't shortchange the disc's über resolution one bit. I was there.
Form Following Function
Flat-screen TVs created a market hungry for skinny wall-mountable speakers, and an industry-wide feeding frenzy of manufacturers rushed to meet that demand. The catch is, on-wall speakers face a daunting acoustic challenge, so the designer who merely crams even good-quality woofers and tweeters into a trendily thin cabinet probably won't produce a satisfying-sounding on-wall speaker. I must be extra sensitive to this dilemma, because I find most on-walls to be woefully anemic.
That's why I was relieved to find that PSB's engineers had successfully wrestled with the design constraints and developed a selectable wall-boundary-compensating EQ circuit for the VS300. The task was trickier still because the VisionSound speakers also had to sound great mounted vertically or horizontally with the speaker's integrated bracket. Yes, I bet the engineers were tempted to develop digital-signal-processing techniques to compensate for the varying acoustic requirements of on- and off-the-wall mounting, but that would have dramatically boosted the speaker's retail price. PSB instead devised a purely passive system that staggers the response of the VS300's two 4.5-inch polypropylene woofers: one crosses over to the tweeter at a higher frequency than the other. This approach is often called a two-and-a-half-way speaker.
PSB uses the VS300's 1-inch aluminum dome tweeter on a number of their speakers, but, for the VisionSound speakers, they've fitted it to a contoured waveguide. The rakishly angled, three-sided speaker cabinets are fabricated from aluminum extrusions. Magnets hold their form-fitting grilles in place. The speakers are available in titanium or black finishes. An optional stand transforms the VS300 into a tabletop miniature tower.
For this review, I listened to the VS300s on stands placed up against a wall and out into the room. (I switched off the boundary EQ when I listened with the speakers away from the walls.) The tonal balance remained fairly constant, but on-wall placement flattened the speakers' soundstage depth compared with the away-from-the-wall sound. You can toe-in the VS300s toward the listening position or aim them straight ahead. I tried it both ways and much preferred the toed-in sound. It's easy enough to experiment, so try it both ways and hear for yourself.
Rather than offer dedicated front, center, and surround VisionSound models, the engineers went with a single design that you can use throughout your home theater. That's a smart approach; I find that using the same speaker up front and as surrounds always produces the most coherent soundstage. The other VisionSound Series speaker, the VS400 tower ($999 each), wasn't yet available when I was writing this review, but it should be out by the time you read this. With its four 4.5-inch woofers flanking a 1-inch tweeter, I'd think of it as a VS300 on steroids.
PSB doesn't offer a VisionSound Series subwoofer, so they recommend their SubSeries 5i for use with these speakers. The venerable sub has been part of PSB's line for years, but the 10-inch, 150-watt bad boy is still a terrific design. It goes nice and low, without forfeiting definition. It's definitely a synergistic match with the VS300s—that's for sure.
Easy Does It
I'm not going to name names, but an increasing number of receivers are annoyingly complicated. Sure, they're loaded with a gazillion processing tricks and features, and that's part of the problem. But, when you just want to watch a flick or play a tune, they make demands. So, the Marantz SR8500's easygoing demeanor was an altogether pleasant surprise. I never once found myself mired in multizone confusion, baffled by a system configuration menu, or unable to get the sound I was looking for. Being the audiophile that I am, I zipped through the manual setup routine in a minute or two. Home theater newbies can take advantage of the Marantz Room Acoustic Calibration (M.R.A.C.) auto-setup system. So, you see, the SR8500 combines extraordinary flexibility with truly useful features.
Surround-processing modalities include all of the usual Dolby and DTS 7.1 plans, as well as something a bit out of the ordinary: Dolby Headphone. Through my Grado RS-1 headphones, the SR8500 spread the sound beyond the usual stereo, stuck-inside-the-head norm. Once you hear what Dolby Headphone can do, you won't want to live without it.
Marantz's high-end heritage is evident in the SR8500's copper-plated chassis, generously sized power transformer, and discrete components. This approach costs more, but it's probably responsible for the SR8500's sweeter sound. If you're still running 5.1 instead of 7.1 surround and have biwirable speakers with separate connectors for the tweeter and the woofer, you can reassign the surround back channels to biamp the front left and right speakers. It's a neat trick that doubles the amount of available power—up to 250 watts total—for each speaker.
Connectivity options are extensive, although I was surprised to note that the SR8500 features DVI—not HDMI—switching capabilities. Chances are good that you'll be able to hook up HDMI-equipped video components with a set of HDMI/DVI adapters, but compatibility isn't guaranteed.

The SR8500's remote is a lot less intimidating than most remotes that come with receivers in this price class. Yes, some include nifty touchscreen remotes that look really cool, but they're too touchy for me. And I frequently get lost in some weird submenu. The SR8500's fully backlit remote's large LCD screen offers some of the flexibility of a touchscreen, but it's a hell of a lot easier to navigate.
Start Me Up
The system's sound took flight with The Aviator. I love the scene where Howard Hughes (Leonardo DiCaprio) test flies a beautiful silver plane, and his swooping aerial ballet was truly exhilarating with this system. Ah, but then things go terribly wrong, and Leo crashes somewhere in Beverly Hills. The plane strafes low-lying buildings on its way to its fiery impact, which was visceral as hell. Ouch!
The SubSeries 5i's mighty thrust made a big splash unleashing the depth-charge explosions on the World War II submarine drama U-571. The sub was a fine performer, but, for folks who want to enjoy audio as a contact sport, PSB's full-size SubSeries 6i or SubSeries 8 might be an even better choice.
A History of Violence isn't loaded with special effects, but Cronenberg's latest just seethes with creepy energy. The movie's chilling opening sequence had cicadas coming from everywhere, and its ominous score kept me on the edge of my couch. The PSB/ Marantz system's home theater skills were definitely in order.
What with the record business' on-again/off-again affair with SACD, DualDisc, and DVD-Audio, it's nice to see that the High Definition Compatible Digital (HDCD) CD format is still around. The SR8500 is the rare receiver with the ability to decode HDCD discs, and I was sure glad it did when I picked up the beautifully remastered HDCD version of Crosby, Stills & Nash's self-titled first release. Those voices' harmonic convergence is absolutely timeless, and the transcendent music still raises goose bumps. The all-acoustic tunes like "Lady of the Island" and "Helplessly Hoping" held me spellbound. If I had to pick on one thing, I noted that, when I was listening in stereo, the VS300s never produced a sharply defined center image; imaging focus was mildly diffuse.
Back here in the 21st century, The Life Pursuit by Belle & Sebastian's wonderfully odd mixture of retro pure pop and quirky modernism was tons of fun. I know the band has been around for years, but they never made much of an impression on me before. The Scottish indie faves' yummy confection of melodies worked, or at least it did on a system as refined as the PSB/Marantz. I should check out some of Belle & Sebastian's back catalog.
PSB and Marantz deserve kudos for designing lifestyle-friendly components without forfeiting performance. Or, to put it another way, the SR8500 A/V receiver and VisionSound VS300 speakers will work for you instead of the other way around. Isn't that special?