SoundandVision.com SVS Upgrade Sound to New Heights and Depths Sweepstakes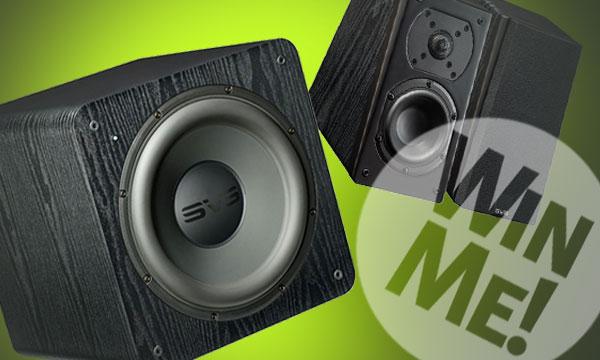 Register to win a SB-2000 Subwoofer and SoundPath Interconnect ($725.00 retail value) or Prime Elevation and SoundPath One Cable ($430.00 retail value) we are giving away.
According to the company:
SVS SB-2000 Subwoofer & SoundPath RCA Audio Interconnect Cable
The best-selling SVS SB-2000 subwoofer is a Sound & Vision "Top Picks" winner for good reason. It unleashes effortless deep bass extension below 20Hz and room-energizing power while maintaining lightning-quick speed in transients and musicality.

The massive sonic impact from the SB-2000's 12-inch high-excursion driver and 500 watts RMS, 1,100 watts peak Sledge amplifier is made all the more impressive considering its compact cabinet measuring only 15-inches on all sides.

Of the SB-2000, Sound & Vision's David Vaughn remarked, "You'll be hard-pressed to find a better bass value…reproduced deeper bass response that I could literally feel in my sternum; it shook the house!"

SVS Prime Elevation Speakers & SoundPath One Speaker Cable (50-ft)
The world's most versatile high-performance home theater speaker, the SVS Prime Elevation is a direct radiating height effects speaker for Dolby Atmos, DTS:X and Auro-3D formats and a brilliant solution as side/rear surrounds or even front stage LCR speakers.

Amazingly transparent with crisp dynamics and smooth frequency response, the Prime Elevation can be used on their own or blend seamlessly into any speaker system. The speakers are easy to mount on the wall or ceiling and a great solution when perfect placement isn't possible in a surround sound set-up.

"This is one of the smartest and most practical speakers I've ever come across…The perfect height speaker for any Dolby Atmos, DTS:X, or Auro-3D installation." -PCWorld
To enter the sweepstakes, all you need is an account on this website. If you don't already have one, click on the link labeled "register" at the bottom of this announcement or "LOG IN/JOIN" in the nav bar at the right. Then, enter a username and a valid e-mail address, and click on the "Create new account" button. A message will be automatically sent to the e-mail address you specified, which will include a link to activate the account.
The final step (and only step for those who already have an account) is to log in and leave a comment right here on this announcement—any comment will do, as long as it's not profane or spam. Then, when the sweepstakes closes, a lucky commenter will be chosen at random to receive the prize. So post a comment, and good luck!
For complete sweepstakes rules, click here.
[This Sweepstakes is now closed.]