Fluance Limited Edition All-White RT81 Turntable and Ai40 Powered Bookshelf Speaker Bundle Sweepstakes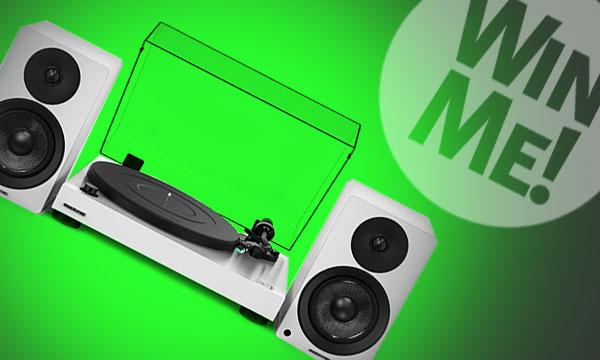 Register to win a Fluance Limited Edition All-White RT81 Turntable and Ai40 Powered Bookshelf Speaker Bundle ($399.99 retail value) we are giving away.
According to the company:
Fluance, engineers of serious performance, celebrates 20-years of redefining audio excellence. With humble beginnings in a local retail shop in Niagara Falls - Ontario, Fluance has grown to be a disruptor in the audio industry, commemorating their milestone and staying true to their vision. The passion for audio has resulted in the development of extraordinary products, enjoyed by countless music and home cinema enthusiasts internationally.

In honor of the occasion, Fluance is launching a Limited Edition All-White Bundle of the beloved RT81 Elite High-Fidelity Vinyl Turntable and Ai40 5" Powered Bookshelf Speakers. The release of this bundle credits Fluance's history of pushing the limits of audio performance and serves as a unique collector's item for audio enthusiasts with a passion for music. Limited quantities of the 20th Anniversary Bundle will be released on Thursdays at www.fluance.com for $399.99 starting on August 22nd.

Pairing the analog performance of the RT81 Turntable and the versatility of the Ai40 Bookshelf Speakers allows listeners to achieve faithfully reproduced and room-filling stereo sound. The visually striking and modern white color cements the two products as the centerpiece of any home theater set-up.

A Premium Vinyl-Listening Experience
The RT81 includes an Audio Technica ATN95E elliptical stylus that delivers freedom from noises and distortion, clarity on musical peaks and channel balance, offering a richer listening experience. Gold plated RCA line outputs help achieve captivating signal clarity, while the high-performance Texas Instruments preamp ensures high fidelity sound in its truest form.

Commanding Stereo Sound
The Ai40s are active speakers that feature an integrated 70W Class D amplifier, enabling them to deliver powerful, room-filling stereo sound that elevates the musical experience. The silk soft-dome tweeters produce natural highs, while the woven, glass fiber drivers round out the performance with detailed mids and deep bass, recreating the any musical number as if it was being performed live in the listeners home.

Refined Wood Cabinets
The beautifully crafted wood speaker cabinet and turntable plinth elicit a refined aesthetic and are acoustically tuned to deliver precise, warm, and distortion-free stereophonic sound.

Effortless Audio Excellence
The RT81 easily connects to the Ai40s through RCA without the need for a separate amplifier or AV receiver. Once the record finishes, a simple push of the button on the included remote control lets listeners switch over to aptX enhanced Bluetooth to stream music from their smartphone or tablet.

Pricing & Availability
The Limited Edition All-White Bundle of the RT81 Elite High Fidelity Vinyl Turntable and Ai40 5" Powered Bookshelf Speakers will be available for sale with limited quantities being released every Thursday starting at $399.99 on www.fluance.com starting on August 22nd. Fluance prides itself in the quality of its products, and thus, offers a 30 Day risk-free in-home trial period and a two year warranty on its Powered Speakers and HiFi Turntables. The perfect complement to any audiophile's lifestyle, customers will be enjoying live performances in their homes for years to come.

For more information on the Reference High Fidelity Turntables and all of Fluance's high-quality audio products, visit Facebook.com/FluanceAudio and follow @FluanceAudio.
To enter the sweepstakes, all you need is an account on this website. If you don't already have one, click on the link labeled "register" at the bottom of this announcement or "LOG IN/JOIN" in the nav bar at the right. Then, enter a username and a valid e-mail address, and click on the "Create new account" button. A message will be automatically sent to the e-mail address you specified, which will include a link to activate the account.
The final step (and only step for those who already have an account) is to log in and leave a comment right here on this announcement—any comment will do, as long as it's not profane or spam. Then, when the sweepstakes closes, a lucky commenter will be chosen at random to receive the prize. So post a comment, and good luck!
For complete sweepstakes rules, click here.
[This Sweepstakes is now closed.]