Serene Audio Talisman Powered Speakers Sweepstakes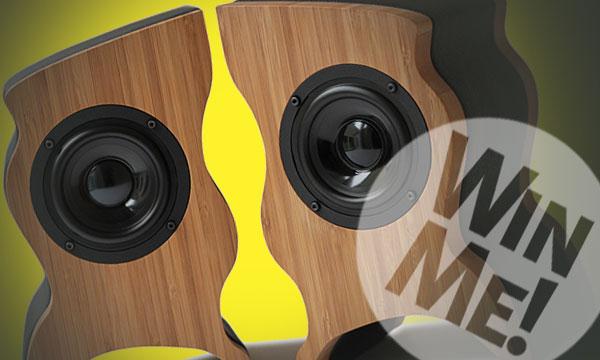 Register to win a set of Serene Audio Talisman Powered Speakers (MSRP $395) we are giving away.
According to the company:
Made in Vancouver, Canada, Talisman speakers are hand crafted from bamboo, leather, and brass, and meticulously engineered. Verified by experienced engineers and customers, they enthrall you with the clearest and most transparent sound to come from your desktop. Talisman speakers are designed to sit on your desk, but they have plenty of power to fill the whole room. They are self-powered, meaning they can be paired with almost anything.

Why are they special? Compared to other speakers in this category, Talismans have a truly unique aesthetic, premium quality materials and craftsmanship, and engineered components that are unique for speakers of this size.

Drivers: Expensive ultra low distortion driver with fast transient response. This means plenty of space of each instrument and voice to without masking or being masked by others.

Amplifier: Serene Audio's uniquely designed DSP audio amplifiers enables the speakers to push the performance envelope to levels that are not traditionally possible from speakers of this size. Meticulously designed internal amplifier saves the integrity of the signal from the moment it enters the amp to the moment it is converted to acoustic waves by the driver.

Craftsmanship: Wood, leather, and brass create a beautiful pallet of premium colours and textures that were carefully selected with quality and durability as a priority. Quality craftsmanship by hand allows tending to every detail, creating truly premium quality enclosures.
To enter the sweepstakes, all you need is an account on this website. If you don't already have one, click on the link labeled "register" at the bottom of this announcement or "LOG IN/JOIN" in the nav bar at the right. Then, enter a username and a valid e-mail address, and click on the "Create new account" button. A message will be automatically sent to the e-mail address you specified, which will include a link to activate the account.
The final step (and only step for those who already have an account) is to log in and leave a comment right here on this announcement—any comment will do, as long as it's not profane or spam. Then, when the sweepstakes closes, a lucky commenter will be chosen at random to receive the prize. So post a comment, and good luck!
For complete sweepstakes rules, click here.
[This Sweepstakes is now closed]