JVC TH-BA1 Soundbar Home Theater System
Price
: $400
At A Glance
: Wireless sub goes any place with a power outlet • Soundbar contains four full-range drivers • Dolby Digital, DPLII, and DTS 5.1 surround processing
One Less Cable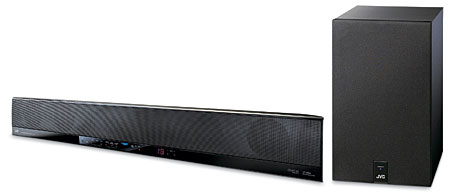 Do you become a different person when you walk into a different room? For many people, the answer is yes. They'll endure the rigors of component matching and system setup to equip the family room with a big phat flat screen and an AVR-based surround system. But they don't want to repeat the process in every bedroom. Outside the main system, it might be OK for the screen to be 720p instead of 1080p if it'll save a few bucks (especially if you don't wear glasses in bed). And it may be OK to substitute a no-hassle soundbar speaker for a discrete speaker system. But that doesn't mean you should go without surround—we're not going to extremes here.
Surround can take a less challenging form outside of your main system. The JVC TH-BA1 Système Home Cinéma (as this soundbar system is described on the French side of the bilingual box) eliminates the A/V receiver, delegates both amplification and surround processing to the soundbar, and leaves video switching to the TV. It also reduces the standard 5.1-channel surround array to the soundbar's 4.1, limits the surround channels to effects created within the soundbar, and eliminates the umbilical to the sub.
The wireless sub communicates with the soundbar via the 2.4gigahertz band. It requires a power connection for its built-in amp. However, in most homes, it's easier to find a nearby power outlet than to run a cable from system to sub.
No AVR Needed
The TH-BA1 comes with two pieces, the soundbar and the sub. The soundbar includes four full-range drivers that are slightly more than 3 inches wide, while the small sub has a 6.31-inch driver. All of the cones are made of a combination of wood pulps, including unbleached kraft pulp and Kapok-tree pulp. Or in simpler and looser terminology, paper.
The soundbar doesn't have HDMI or any other video switching. You don't need to feed it with an A/V receiver—its two digital optical inputs and one analog stereo input can accept signals directly from your disc player and cable/satellite box. It doesn't offer Dolby TrueHD or DTS-HD Master Audio lossless surround decoding, but it supports Dolby Digital 5.1 and DTS. It can also rechannel stereo sources into surround via Dolby Pro Logic II.
If you have a Blu-ray player, you can connect it with an optical cable (not supplied), and it'll output lossy Dolby Digital or DTS to the soundbar. You can also connect the player's stereo analog downmix jacks to the TH-BA1, and it will adapt the stereo input to Dolby Pro Logic II surround. Still, it's better to use the soundbar's built-in discrete surround decoding. You might want to save the analog inputs to connect a cable box or a portable device. People use iPods in their bedrooms, don't they?
The TH-BA1 comes with a simple remote, and it also has a full array of controls. The power and volume up/down buttons, both rather small, are at the far left and right of the front panel.
In between are more buttons that select input and surround mode with appropriate red LED indicators to confirm your selections. A bright blue LED power indicator hogs the center. The riot of blue and red can be distracting, but you can dim or turn off the blue part. Two optical inputs and one analog input are on the back of the soundbar. The sub doesn't have any controls or jacks.
The remote has a subtle design flair, with rounded right top and bottom corners and sharper left top and bottom corners. The uniformly large round buttons include a mute control that's labeled Fade Muting. That's what it does—it fades down to mute and fades back up to the last volume setting you selected. It also has a Dynamic Range Control (DRC) button that reduces the ratio of soft to loud sounds, but it only works with Dolby Digital soundtracks. There are two user-selectable surround modes, S1 and S2, as well as a plain stereo setting. According to the manual, S1 is for multichannel sources, and S2 is for stereo music sources. My source at JVC adds that the Dolby Pro Logic II stereo-to-surround mode operates in both S1 and S2. The main difference between the two is that S1 provides a wider soundstage than S2.
The three pairs of buttons that control the center, subwoofer, and surround levels are immediately useful. Each pair lets you adjust plus or minus six increments. The TH-BA1's front panel indicates this with large red digits that disappear shortly after you make the adjustment. (JVC should have adopted this strategy for all of the lighted indicators.) While the system doesn't have a built-in test tone, it's easy to make on-the-fly adjustments.
Associated equipment included an OPPO BDP-83SE universal player that fed the soundbar via optical cable. I also connected the analog stereo output of my Sharp LC-32D4U LCD HDTV to the soundbar's analog input for some desultory TV watching. The TV's QAM tuner was directly connected to the local cable system. Since my service is unencrypted broadcast basic, I didn't need a cable box or CableCARD.
Ninja Thunder
Of the three DVDs I played—all of which had Dolby Digital 5.1 soundtracks—Ninja impacted me the most. The impressively built Scott Adkins stars as a Western student of a Japanese martial arts dojo who battles a disaffected former classmate and an evil tycoon. The soundtrack gave the wireless sub plenty to do, with pounding war drums and echoing blows. In fact, the sub was so busy that I kept dropping the bass level until the control hit bottom.
Julie & Julia's twin stories of Julia Child and an admirer who cooks her way through all 524 recipes in Mastering the Art of French Cooking delighted me. Male voices popped out of the sub a bit obviously, even though Stanley Tucci, as Paul Child, doesn't have such a thundering voice. It was just a characteristic of the system. I got used to it, and I was endlessly entertained by Meryl Streep's hearty "Bonjour, bonjour!"