era D5 Series Speaker System
A grand canopy of surround sound.
Speakers come and go in my listening room—as I persist in calling it, although it also includes a front-projection system, an LCD HDTV, and my home office. But there's one review I relive every day. And that's my rave review of era's Design 4 speaker system, which appeared in our April 2006 issue. Why? Because I have only to look at my desk, where of course I'm typing this now, and there they are, the Eras, on either side of my recently and joyously installed 24-inch NEC monitor. When I do YouTube, this trusty pair of the Design 4 does the honors, along with an Onix OA21S integrated amp and a Pinnacle Baby Boomer sub.
Most shocking of all, perhaps, is that, when my workday is over, I often prefer the Era/Onix/Pinnacle system to my reference surround system, which lives in the same room on an adjacent wall. When music plays softly in the last hour before midnight, this is usually the system on which it plays. In 2.1 channels. So shoot me.
Life changed for the better when the Design 4's siblings came in the door. Please welcome the era D5 Series, including the Design 10 mini-tower, the Design 5 LCR, and the Design 5 monitor.
Japanese Silk and Kevlar
While era is not the only manufacturer using a tapered enclosure, these are well executed with a fine veneer finish. My review samples came in cherry; rosewood, sycamore, and gloss black are also available. Binding posts are plastic nuts loaded with gold-plated metal. Dual 8mm threaded mounts appear on both the back and bottom of the Design 5 and Design 5 LCR.
All of the D5 speakers—in fact, all era speakers—share a 1-inch Japanese-made silk-dome tweeter and a 5-inch Kevlar-fiber composite cone woofer. The Design 10 has, from top to bottom, the tweeter, two of the woofers, and a 2-inch port—the first one I've seen with a foam lining. On the Design 5 LCR, the woofers flank the tweeter, and a smaller 1-inch port (no foam) moves to the back. The Design 5 monitor is a basic two-way with a 1.5-inch port in back (no foam).
The Design 5's woofer is 1 inch bigger than the Design 4's, and the enclosure is 1 inch taller and 3 inches deeper, suggesting more bass extension. Rated bass response is 50 hertz for the Design 5, versus 60 Hz for the Design 4. Parenthetically, if you want a tower-based system based on the widely hailed Design 4, check out the Design 14. It's a three-way tower. There's also a Design 4 LCR and a larger Sub 10. All but the Design 14 tower appeared in our previous review.
If you're planning to mate an era tower with a flat-panel display, the Design 10 is a better choice than the Design 14. The Design 10 is designed to hug the wall, while the Design 14, more of a hard-core audiophile speaker, is meant to sit a few feet from the wall.
The Sub 8 is not just a smaller version of the sub I reviewed last time. In lieu of the Sub 10's sealed enclosure and low-end choke, the Sub 8 uses an hourglass-shaped port designed to reduce chuffing with no choke. Although it doesn't play as low as the Sub 10, the Sub 8 is rated to have 6 decibels more output, and the manufacturer says it's better able to withstand home-theater-worthy low-frequency effects.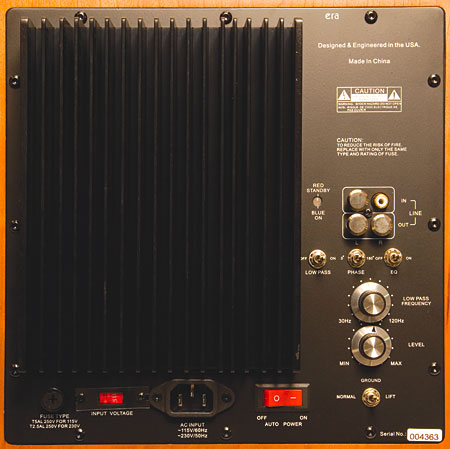 Sub installation may follow one of two scenarios. The 8-inch woofer fires down between a set of feet that elevate the enclosure's bottom more than 2 inches. However, the woofer can be arranged to fire forward for in-cabinet use, and the back panel includes an EQ toggle that provides boundary compensation for that application. The internal amplifier delivers 200 watts, Class AB. There are no speaker-level connections, and the only line-level connection is a single LFE input. Three more RCA jacks appear on the back panel, but they're covered with shiny metal caps.
I used the D5 system with two A/V receivers, a Marantz SR8002 for movies and my usual Rotel RSX-1065 for music. Disc players were a Sony BDP-S500 Blu-ray player for BDs (connected with Tributaries HDMI cable) and an Integra DPS-10.5 for DVDs, SACDs, and CDs (connected with Straight Wire Maestro cables). The Speaker cables were Monster M1.2s.
Beyond the Edges
For movie auditions, I ran the Design 10 towers full-range and the other channels small. The sub operated at an 80-Hz crossover.
Elizabeth: The Golden Age (DVD) enacted its historical drama in large royal spaces. The sound designers fully grasped the possibilities, delivering a Dolby Digital 5.1 soundfield loaded with depth. The eras took full advantage of the material, erecting a grand canopy of surround sound that extended well behind, in front of, and past the outside edges of the speakers. The noble Cate Blanchett as England's greatest queen got able support from Clive Owen and Geoffrey Rush.
The Blu-ray release of Vacancy delivered its brutal Norman Bates scenario in high-resolution PCM for the discerning horror-movie and surround enthusiast. There were some nice contrasts in the soundtrack, leaning on tympani and other orchestra noises early on and saving the synthesizer's low sub-borne pulses and all-channel midrange mayhem for later. The eras kept up with the loud, sudden low-frequency content and didn't stint on shock effects like a shattering mirror or a car plowing into a phone booth.
The Kingdom, though even more violent, offered more subtlety in the DVD's Dolby Digital 5.1 soundtrack. A kind of vérité audio scheme, the sonic equivalent of a sepia tint, enhanced the claustrophobia and paranoia of the scenario, in which FBI agents investigate terrorist bombings in Saudi Arabia. The more ultra-violent the story became, the more crudely but deliberately realistic the soundtrack became, and a lower-resolution system would have lost much of the flavor. It feels wrong to type this, for obvious reasons, but the sub handled the explosions with a satisfying degree of punch.
SACD: The Golden Age
For my music auditions, except when listening to music with a rhythm section, I ran all five speakers full range without a sub. That produced a bass that was cleanly defined though not exactly slammin'. For rock, I left the front left and right running large but reset the center and surrounds to small and turned the sub on. This, as you'd expect, pretty much switched on the bass drum and made the bass guitar more whole, with bottom and top strings in better proportion.
Intense and varied textures in a large but well-defined soundfield are among the treats in store for anyone who hasn't heard anything from Telarc's ongoing series of DSD-sourced 5.1-channel recordings on SACD. An unjustly neglected example from my multichannel slush pile is the disc of various Ravel works by Paavo Järvi and the Cincinnati Symphony Orchestra. The slow building of "Daybreak," from Daphnis et Chloé, shows how much tone color can fit into relatively few decibels. By the time the disc finishes with Bolero, Ravel's use of his orchestral palette has become truly inspired, often with striking combinations of reeds and woodwinds. To get sound of comparable quality, people pay hundreds of dollars for old RCA "Shaded Dog" LPs in good condition. By that standard, SACDs and universal players are pretty cheap.
It's been a while since I've treated myself to Mark Levinson's SACD compilation, Live Recordings at Red Rose Music, Volume One. Every listen brings something new. A good pair of speakers can make the contrast between nylon- and steel-stringed guitars sound like night and day. But it takes exceptional speakers to capture the precise overtone signature of Levinson's 9-foot Förster piano. The disc is in stereo—there's no multichannel track at all—but that didn't stop the eras from conjuring a soundstage of immense depth. Several of the varied instruments and voices were recorded just slightly off center, and the speakers commendably refrained from shoving them off to the sides. The Design 10 actually works well in stereo. It's shocking how many other floorstanding speakers and monitors don't.
Sex, Food, Death...and Tarantulas is the CD-EP that followed the CD Olé! Tarantula by Robyn Hitchcock & the Venus 3. These seven live tracks aren't as polished as the full-length studio CD, but the dual guitars of Peter Buck (Rickenbacker or 12-string, at least on some tracks) and Hitchcock (always a Telecaster when he plays electric) have plenty of zing. The eras brought their very separate personalities to the fore.
The D5 speakers also spent a lot of time playing Blu-ray Discs with Dolby TrueHD, DTS-HD, and high-resolution PCM soundtracks for my Blu-ray concert roundup in the May issue. This gave me a chance to hear the speakers' strengths—and their occasionally merciless nature—played out on a grand stage. The D5 Series was a little more intolerant of mercilessly equalized soundtracks than the D4. When surround mixers misbehaved, the D5 gave them a chance to misbehave badly. When they delivered the goods, the D5 gave high levels of pleasure.
No fancy talk needed here. The era D5 Series is simply a great set of speakers. They not only deliver satisfying performance, they do it in a form factor that's both modest and modern. Rarely do I trot out the old enthusiast-reviewer's cliche about a product sounding as good as much higher-priced competition—because rarely is it true. But the D5s are genuine overachievers that deliver a magnificent slice of what high-end audio can offer at a real-world price. Demo these speakers, and you'll see what I mean.
Highlights
Beautiful tapered enclosures have small footprints, don't appear big
Strikingly open midrange and good bass